Planking in Sopchoppy
JT Studio has the sustainable floor for you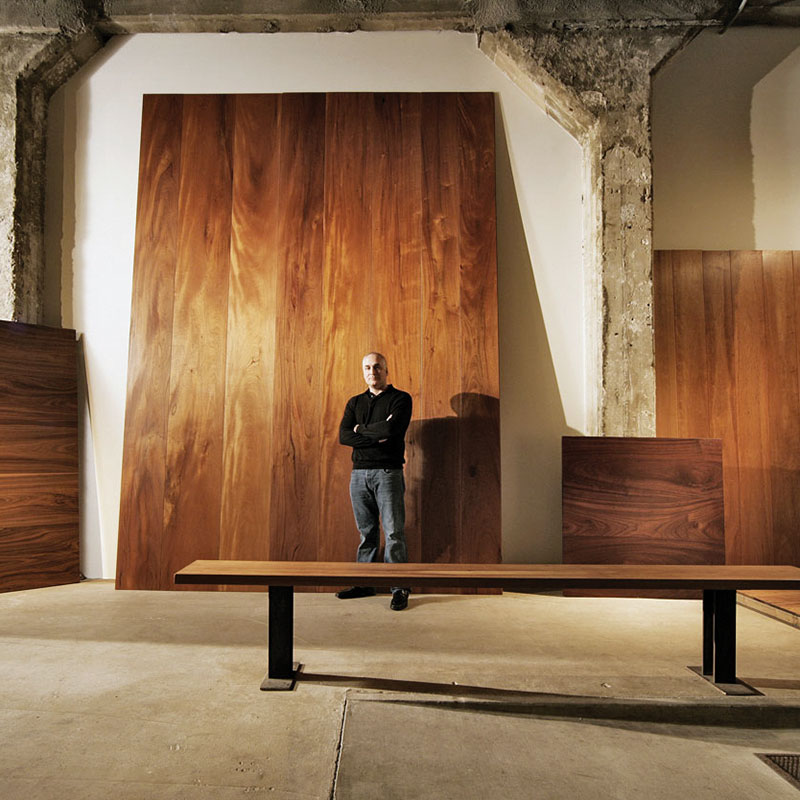 Some folks stand behind the quality of their product. But James Tinghitella could literally stand on his product to show the world how durable it is.
Tinghitella, owner of JT Studio, manufactures "wide plank" wood flooring and high-end wood tables in a 7,800-square-foot factory in Sopchoppy. A graduate of Savannah College of Art and Design, Tinghitella worked as a fashion photographer in South Florida before switching career paths to take up woodworking, something he had been interested in as a kid. He has been in Sopchoppy for five years.
"I started woodshop when I was a little kid," he said. "We had woodshop, I think it was in fifth grade, and we had a materials and processing class. It was like an experimental thing down in South Florida. My teacher taught us about plastics, taught us about woodworking, taught us how to work with glass, and he taught us how to work with all kinds of different mediums, but the woodworking medium really attracted me."
During this time, Tinghitella learned how to do a man's job when he was just a kid.
"It was dangerous, the stuff they had us doing, but I ran a big giant planer, I used to run a big radial saw, I ran the table saw, and that's where I started my woodworking experience," he said.
Tinghitella leans pretty heavily on that youthful experience today. The wooden planks he planes in his shop are massive. They measure between 13 and 20 inches in width and 10 feet in length. He uses both domestically supplied wood and imported wood from such exotic locales as South America and Africa. He worked in the jungles of South America and set up fair-trade, sustainable forestry concessions. Tinghitella can get rosewood, mahogany, American walnut, purpleheart from Central and South America, and African wenge (a type of ebony wood), among others.
"That's what my expertise is. I'm a lumber buyer. I know where to go for what," he said.
The use of wide plank flooring goes back hundreds of years to the days when every bit of a tree was used and not wasted. Resources were optimized, and when a tree was cut down, every plank was used, large or small.
"They didn't cut it up into little strips," Tinghitella said. "The little strip floor is a recent development, from only in the last 100 years or since the Industrial Revolution. What I do is a lost art. In New England, some of the old houses there that are 300 years old, there are big giant floors. If you go to St. Augustine, you might find some. Traveling in South America, I used to find old wide plank floors in old churches. Even in Tibet, you have these giant wood floors that are gorgeous. And they're still there. Naysayers say you can't do that, you can't make a wide plank floor because it's going to curl. No, it's not. You just need to know how to handle the wood and buy the proper wood that's dried properly."
As a testament to his work, Tinghitella's wide plank floors can be found all over the United States, from cold climates to humid climates, and JT Studios has never had a floor malfunction as a result of its particular manufacturing process. Not only are his products stable but they're sustainable as well. He was one of the first entrepreneurs to organize and own a mahogany forest management plan that complied with the 2003 Convention on International Trade in Endangered Species of Wild Fauna and Flora (CITES) treaty.
"Everything we get is all certified sustainable. It's all got papers and is regulated and all that," he said.
Tinghitella actually runs two businesses out of the same shop. There is JT Studio, the manufacturer of tables and floors, but he also makes his own wood finish.
"We source the wood for you, we design the table, we finish the table, we make the finish for the table here, and everything is all natural and sustainable and done the proper way. And it's built to last forever," he said.
The finish is a proprietary, all-natural wood finish and protectant called "Odie's Oil." The formula is something he tinkered with for years before arriving at just the right thing that was free from harmful chemicals and solvents and yet could put a glossy shine on just about anything.
"It's unlike any other finish on the market," Tinghitella said. "The reason why is it's 100 percent solids; 100 percent of the finish is the actual oil, the finish that stays there. Most other wood finishes on the market are 70 to 80 percent solvents, the chemical that thins it down. My product is 98 percent solids. You put it on and you work it in and then you buff it off just like a wax. And the cool thing about the wood finish is it works on plastic, works on leather and works on steel. We also make detailing products for cars, so you can do the dashboard on your car. Instead of lasting two weeks like Armor All, it will last two years. And we make it right here."
Tinghitella said that he had a much bigger company before the Great Recession. It forced him and his family to whittle things down a notch or two, but he's still doing very well in the new location. Plans for 2017 call for building an air-conditioned showroom and office next to the existing factory.
"I used to have a 25,000-square-foot warehouse loaded with about $2 million worth of inventory all the time out in Oregon and California," he said. "But when the economy died, we just kind of decided to slow down and take it easy, and we went where it was inexpensive. I grew up in South Florida, and I used to come up here in the summer and visit friends in Alligator Point. When we decided to shift gears, we decided to come back to Florida."