Pinnacle Awards Celebrate 10 Remarkable Women
Honor. Courage. Inspiration.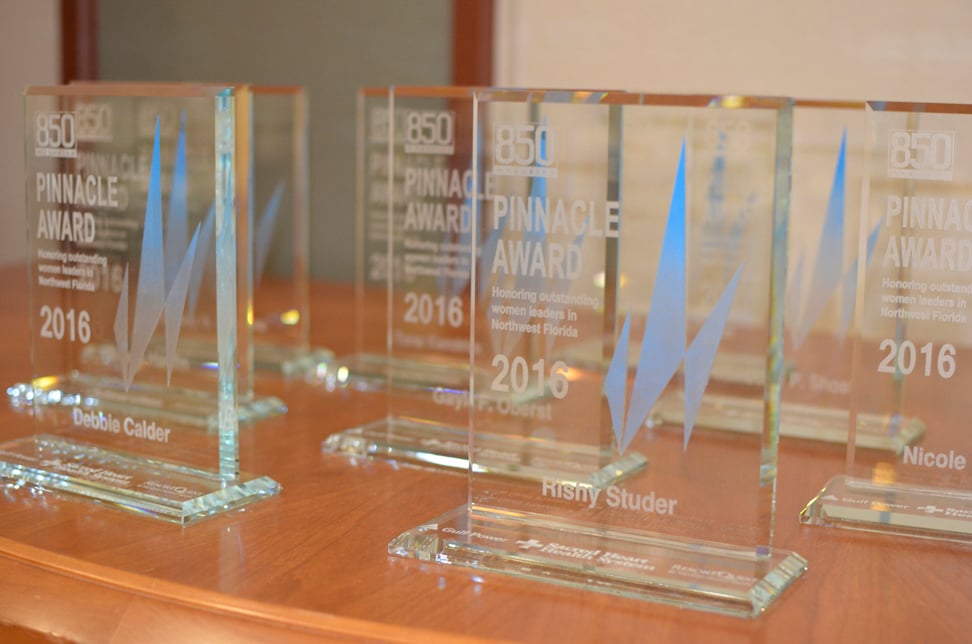 ---
Those words capture the emotions and the message shared during the third annual Pinnacle Awards luncheon held at the Greenhut Auditorium at Sacred Heart Hospital in Pensacola on Aug. 19 and sponsored by Sacred Heart Health Systems, Gulf Power, and ResortQuest.
The Fish House provided a grand spread for the occasion and a lucky door-prize winner took home a three-day/two-night Emerald Coast stay, courtesy of ResortQuest, and tickets to the South Walton Beaches Wine & Food Festival at Grand Boulevard.
Presented by 850 — The Business Magazine of Northwest Florida and Rowland Publishing Inc., the Pinnacle Awards honor and showcase women who have distinguished themselves in business and as community leaders. Ten remarkable women from throughout Northwest Florida were celebrated in front of their friends and families, work colleagues and area business executives.
The 2016 Pinnacle Award honorees had their hair and make up done by Volume ONE Salon for their photo shoot that will be featured in the October/November edition of 850 — The Business Magazine of Northwest Florida, were:
Bay County Corridor
Becca Hardin, Bay Economic Development Alliance president

Gayle F. Oberst, former Panama City Beach mayor
Capital Corridor
Linda Bond Edwards, attorney and partner at Rumberger, Kirk and Caldwell

Dr. Saralyn Grass, co-founder and general manager of Grasslands Brewing Co.
Emerald Coast Corridor
Debbie Calder, executive vice president, Navy Federal Credit Union

Rishy Studer, owner and founder of Bodacious Family of Shops
Forgotten Coast Corridor
Tana Kendrick, owner of 2KWeb Group and Plum Classy in Apalachicola

Kimberly P. Shoaf, Mexico Beach community development director
I-10 Corridor
Nicole P. Barefield, publisher of the Washington County News and Holmes County Times-Advertiser

Ashley Rogers, attorney at Chesser and Barr in Crestview
"Each of these individuals has demonstrated numerous accomplishments in leadership, corporate and community stewardship, and are known in their community as 'real good people,'" said Brian Rowland, president and publisher of Rowland Publishing Inc.
In addition to honoring the Pinnacle Award recipients, Carol Carlan, president of the Sacred Heart Foundation, spoke about the need for individuals to be courageous in life, no matter the circumstances they face.
Carlan's message of courage was also one of inspiration as she introduced through a video a young man, Drew Barefield, who was snorkeling in Choctawhatchee Bay when he was struck by a boat causing life-threatening injuries.
Over the course of 75 days, Drew, of Crestview, would endure 13 surgeries. He relied on his faith as he pushed through treatments and physical therapy. Now 14 years old, Drew was named Florida's 2016 Children's Miracle Network Hospitals Champion. As Drew's story played out over the monitor, few dry eyes could be found in the Greenhut Auditorium. To learn more about Drew, click here.
The Pinnacle luncheon dramatically demonstrated that courage, inspiration and honor can be found in every walk and stage of life.