Pinnacle Awards 2018
850 Magazine salutes women of distinction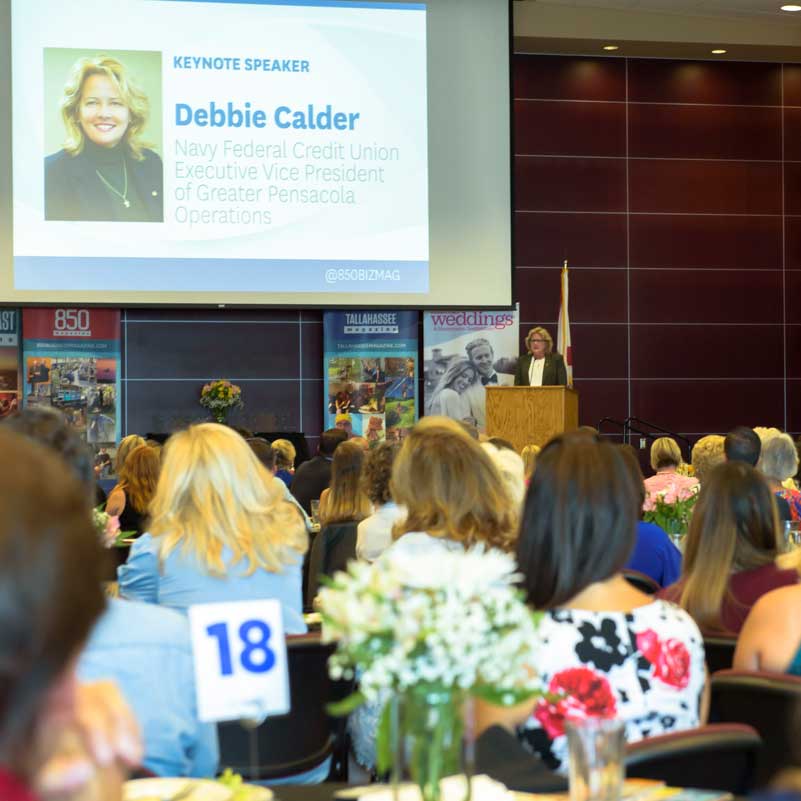 Video courtesy of Vivid Bridge Studios
Cecile Scoon appeared reluctant to leave the Holley Academic Center at Florida State University-Panama City. It was as if she were trying to make the moment last.
A short time earlier, Scoon and other women from throughout Northwest Florida had been celebrated as 2018 Pinnacle Award winners.
The awards, presented by 850 Magazine and Rowland Publishing, recognize women who have distinguished themselves both professionally and as community servants.
It impressed Scoon that the fifth annual awards presentation, held Aug. 22, had brought together women with much in common, that is, women who all are capable, experienced, highly regarded and committed to serving others.
She resolved to keep the honorees in touch with one another and to explore what the group might accomplish collectively.
"You'll be hearing from us," Scoon promised Rowland Publishing's chief content officer Larry Davidson and 850 Magazine editor Steve Bornhoft.
That can only be a good thing where Northwest Florida is concerned. Taken together, the 2018 honorees represent a tremendous number of connections and an awesome amount of firepower.
They are:
Kim Bodine, executive director, CareerSource Gulf Coast, Panama City
Kelly Dozier, senior vice president and chief community officer, Mad Dog Construction, Tallahassee
Paula Fortunas, retired president and CEO, Tallahassee Memorial HealthCare Foundation/retired TMH vice president
Laurie Hood, founder and president, Alaqua Animal Refuge, Freeport
Marcia Hull, chief executive officer, Mattie Kelly Arts Foundation, Destin
Stacey Kostevicki, executive director, Gulf Coast Kid's House, Pensacola
Jayna Leach, vice president/marketing, Visit Panama City Beach
Debbie Ritchie, president, The Studer Group, Pensacola
Cecile Scoon, attorney, Peters & Scoon, Panama City
Julie Sheppard, executive vice president/chief legal counsel, Institute for Human and Machine Cognition, Pensacola
The history of the world has been written substantially by dynamic small groups. One might properly look forward to the chapter that this group will write.
For the honorees, the presentation day started early. Upon arrival at the Holley Center, they sat for hair-and-makeup sessions with stylists from Project Style Salon in preparation for on-camera interviews with Bornhoft, filmed by videographers with Vivid Bridge Studios. Davidson captured individual photographs of the winners and a group shot.
Following lunch, Rowland's publisher and president Brian Rowland opened the awards presentation by welcoming the 20 tables of attendees and thanking event sponsors including Sacred Heart Health System/Ascension; Gulf Power; Florida State University-Panama City; ResortQuest by Windham Vacation Rentals and the law firm of Matthew & Jones LLP, Project: Style Salon & Spa and Vivid Bridge Studios.
Rowland introduced keynote speaker Debbie Calder, executive vice president at Navy Federal Credit Union.
Calder traced her career path at Navy Federal, beginning with an entry-level job in its credit card department, and discussed lessons learned as an executive.
"Your employees won't believe in you unless you demonstrate that you understand them," she said before introducing an in-house video that humorously depicted the parking problem that has resulted from Navy Federal's growing pains.
(The credit union employs some 7,000 people, a number that will grow soon to 10,000.)
Rowland turned things over to Bornhoft, who got the presentations started, first with a special posthumous Pinnacle award to Dr. Maxin Reiss, who died in July. Reiss was a behaviorist and humanitarian who dedicated her career to helping people with disabilities live independently.
Baker Wright of Tallahassee offered a remembrance of her. Reiss's husband, Andy, accepted a Pinnacle Award for his late wife.
Bornhoft then introduced the Pinnacle "Class of 2018," comprising women whose causes range from early childhood education and promotion of the arts to animal welfare, public schools, community development and more.
McKenzie Lohbeck, Rowland's vice president for corporate development, closed out the event with a drawing for a door prize: a Gulf-front resort stay donated by ResortQuest by Windham Vacation Rentals and tickets to the South Walton Beaches Wine and Food Festival at Grand Boulevard.
Then again, it may be a mistake to say that Lohbeck brought things to a close.
Scoon suggests the event was only a beginning.
See detailed profiles of the 2018 Pinnacle honorees in the Winter edition of 850 Magazine.
See more photos from the event below: