Pier Park
One-stop shop has contributed to increased revenues and visitation in Bay County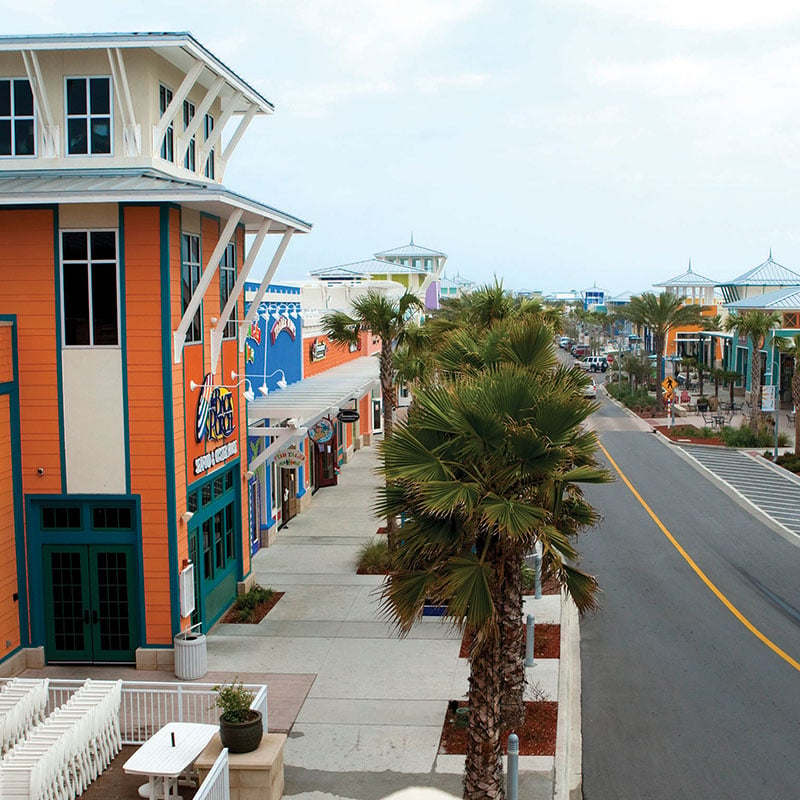 In 2008, Panama City Beach introduced Pier Park and thus began an evolution of Bay County. Owned by Simon Property Group — one of the country's leading commercial real estate groups that specializes in malls — Pier Park stretches over 900,000 square feet of land from U.S. Highway 98 to Front Beach Road. Now home to 124 stores, the al fresco shopping center by the beach has become the Emerald Coast's one-stop shop for clothing, home goods, entertainment, dining and grocery needs.
The centralized hub has helped reduce traffic congestion throughout the county by creating a large enough site for people to gather, with plenty of space to spare.
"Panama City Beach is a long, skinny island, so before Pier Park, a lot of shops were spread out along a wide area," says David Demarest, public relations manager at Visit Panama City Beach. "Pier Park has really helped Panama City Beach become a tourist destination."
Demarest notes a sharp increase in visitation to the area through event tracking alone. One of the major events in Pier Park happens to be the New Year's Eve Beach Ball Drop, an event that attracted 15,000 spectators when it began in 2008. Over the past two years, attendance has grown to more than 40,000 celebrants. With other events such as the Pirates of the High Seas Festival and the Mardi Gras and Music Festival, Pier Park continues to attract more visitors each year.
In conjunction with increased tourism, Pier Park has furnished the county with revenue. The gross receipt tax collected in Pier Park from the 2008–2009 fiscal year was just over $1.5 million. From 2014 to 2015, gross receipt taxes reached more than $2,135,000 — constituting about 18 percent of Panama City's business tax receipts.
Corresponding gross receipt taxes from other businesses within the city have grown from approximately $7,312,000 to $11,874,000 in the same 2008–2015 time period. The upward trends have contributed to a 10.58 percent increase in revenue to Panama City Beach over the past two budget years.
In 2013, Pier Park expanded to nearby Back Beach Road, bringing restaurants, a sporting goods store and more shopping to a "Pier Park North."
"Pier Park North is part of the city of Panama City Beach and is not tracked separately," City Manager Mario Gisbert points out. "The additional retail square footage from Pier Park North has contributed to the increased revenues, as noted in double-digit growth in 2013–2015."
According to Michael Kerrigan, director of marketing and business development at Pier Park, the real impact Pier Park has had on the Bay County community has less do to with facts and figures.
"All of the development that has taken place over the last 10 years has solidified the Pier Park area as Northwest Florida's premier shopping, dining and entertainment district," Kerrigan says. "Sales tax revenues, job creation and increased visitation are the first benefits that typically come to mind because they are easy to see and easy to measure. The social benefits, however, are equally impressive. Pier Park serves as the central socializing destination for Bay County, similar to the way a downtown would function within a community. People come here to take a break, enjoy time with friends and family, and to shop and be entertained. We are just as proud of that accomplishment as we are of the economic success that Pier Park has been able to sustain for the past eight years."