Pensacola's Institute for Human and Machine Cognition
How the Institute for Human & Machine Cognition made Pensacola a research hub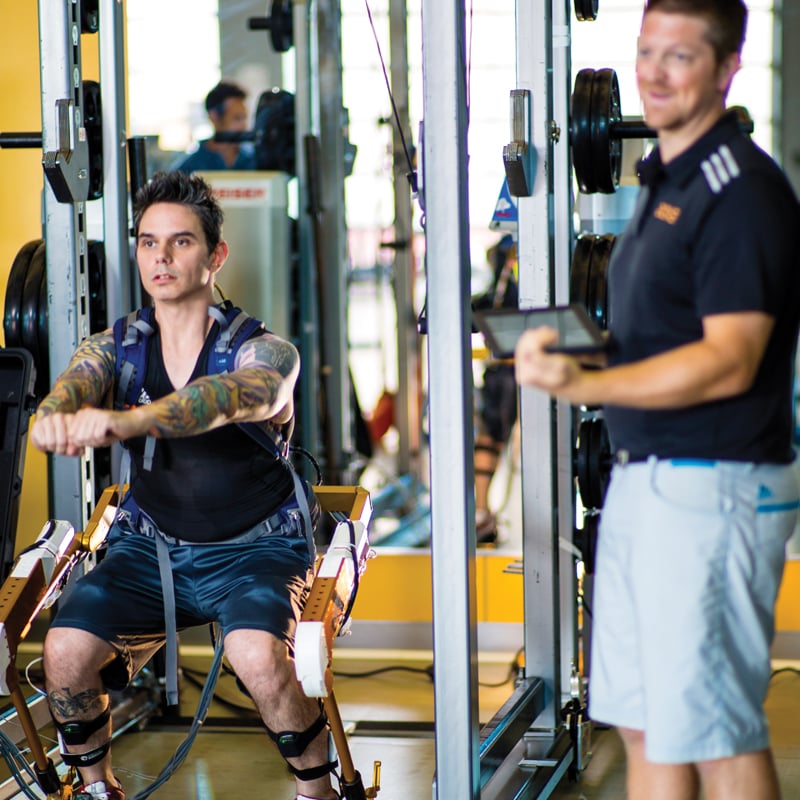 They have developed innovative technologies for space exploration. They've created apps to help kids monitor medical conditions via text message. And recently, they set a land-speed record for legged robots at a worldwide robotics challenge.
Meet the researchers of the Florida Institute for Human & Machine Cognition. Headquartered in Pensacola, the institute was founded by Dr. Kenneth Ford and Dr. Alberto Cañas at the University of West Florida in 1990.
By 2004, the Florida Legislature recognized its merits and spun IHMC into an independent not-for-profit organization and member of the state university system. Today, the institute has a staff of around 100 in Pensacola and 15 at a satellite campus in Ocala. Of the Pensacola-based team, 85 percent are technical — and half of those are Ph.D. research scientists.
What those scientists choose to do on a daily basis is largely up to them.
Associate Director Sharon Heise sums up their efforts for the layperson: "We refer to it as human-centered computing. What we really do is work on all manners of systems and technologies that essentially help people perform better."
As a society faced with a near-constant influx of new technology, we often feel a need to adapt to our personal devices more than they adapt to us. IHMC places an emphasis on making man's relationship with machine more synergetic.
"We look at people working with technology as a whole system, with the silicone-based element and the carbon-based element of equal importance from a design analysis and evaluation," Heise continues. "We think about 'fit' a lot. We fit our machines, but our machines need to fit us, so we can leverage and augment each other's best capabilities and mitigate each other's weaknesses."
Just Another Day at the Office
IHMC employs experts in the fields of cognitive science, computer science, mechanical engineering, artificial intelligence, mathematics and even medicine. Offices are scattered to facilitate interaction and learning.
Researchers celebrate their successes and work through inevitable challenges, each providing a unique perspective and knowledge base. They can pursue any passion they wish as long as it's consistent with the institute's philosophy of developing technologies that are helpful to people. (They don't develop weapons, for example.)
COURTESY OF THE INSTITUTE FOR HUMAN AND MACHINE COGNITION
Testing of the X1a Exoskeleton's powered ankle, designed to address paraplegic mobility.
"Since we provide our researchers so much autonomy, our people set down roots and they tend to stay," Heise says. "There is a pervasive sense of joy and satisfaction, because they are doing things that have a tangible impact on society and national security."
There's also a lot of diversity, adds Senior Writer and Communications Manager Carl Wernicke, because IHMC recruits the best of the best from all over the world. (You read that right — top researchers come from far and wide to put down roots in Pensacola, Florida.)
"To me, it shows that even in Pensacola, you can operate at the very highest levels," Wernicke says. "People come here and they walk down the street and we take them for lunch or coffee, and they really like it. The more urbane Downtown Pensacola becomes, the better we are able to sell it."
There's an economic impact, too. Research projects at IHMC are funded by grants —mostly government, some corporate and private sources — but all from out of town.
"We focus very hard on getting our goods and services locally if we can, so we do a lot of local business. Say a local restaurant, local people go and eat there, pay their salaries, and the money is recirculated," Wernicke notes. "But ours is coming from outside of the community and going into it. To me, that's an interesting difference and really creates an impact by bringing that new money in."
The Business of Discovery
Wernicke says his workplace sparks considerable curiosity, because it is a business of discovery, rather than production.
COURTESY OF THE INSTITUTE FOR HUMAN AND MACHINE COGNITION
Testing the Grasshopper exoskeleton.
"A lot of times people say, 'What do you produce?' but you don't actually see many products going out the door," he explains. "That's because we are imbedded in other projects, always doing research on portions of other projects."
Heise says the bulk of work roams the range of basic research all the way through prototype development. At that point, the institute relies on a transition partner to help carry its research into the market, where it can be of use to national security or society.
These so-called "transition partners" are major industry leaders, among them titans like NASA, Boeing and Honda.
Much of the research centers on assistive technologies in three primary classes:
sensory assistance (helping with sight, touch or balance)

mobility assistance (helping with gait or push recovery), and

cognitive assistance (helping with memory or perception).
The implications of technologies studied and produced at IHMC are as far reaching as they are awe inspiring. At any given moment, you might witness a paraplegic man take steps using advanced exoskeletons, learn how Alzheimer's patients may someday recall forgotten memories or get a glimpse of the latest trends in cybersecurity.
Or, you could see a funny-looking robot racing through the grass across the street.
(And that's just a typical Tuesday.)
Those robots have got people wondering what IHMC is all about.
"People jump on the 'cool' projects, but they don't see the other research we do," says Wernicke. "I think in the last couple years because of the 'cool' factor, people have a lot better idea of what we do and who we are."
To see for yourself, mark your calendar for the next Evening Lecture Series. These events are headlined by some of the most celebrated scientists around the globe (like the chief medical officer of the American Cancer Society).
There's always something new to learn. Visit ihmc.us — or the institute itself — to learn more.