Pensacola: The Upside of Florida
Public and private leaders join forces to breathe a new economic vitality into Pensacola.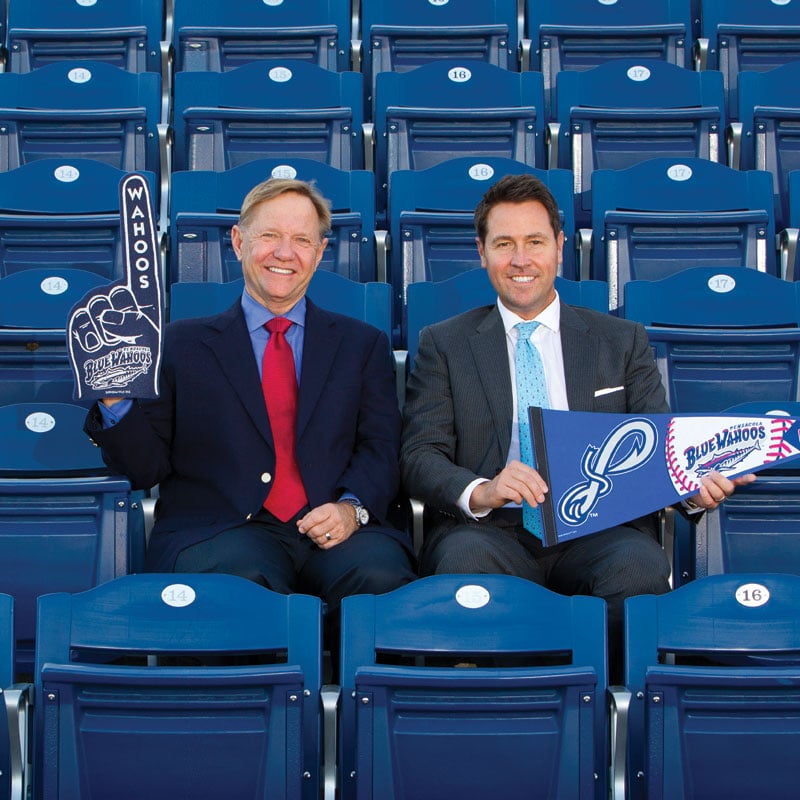 A gentle breeze blows off the Gulf while the aroma of grilling sausage permeates the air. As fans settle into their seats, a loud "Crack!" resounds across the stadium, an unmistakable baseball sound as the bat connects with the ball. Thousands cheer. The inaugural season for the Blue Wahoos is underway — and so is the beginning of a new era for the city of Pensacola.
The Blue Wahoos brought the sights, sounds and smells of big league baseball to Pensacola in 2012 — and the team quickly became a symbol of change that residents rallied around as the city embarked on a campaign to change its image and its future, breathing new life into downtown and polishing a pro-business agenda designed to encourage growth.
The winds of change, nourished by a cooperative effort of local business and political leaders, have brought a new energy to this area that city leaders hope will encourage existing businesses to expand and new businesses to locate here.
Play Ball!
In 2005, Quint Studer began his push to bring the Blue Wahoos, a Double A affiliate of the Cincinnati Reds, to Pensacola. It was something he had always been interested in, but he was motivated to act as he saw other downtowns becoming vibrant while Pensacola remained "stagnant." At the time, he remembers, people were still trying to recover from the 2004 onslaught of Hurricane Ivan.
"Five years ago, people didn't want to move here, they wanted to move out. We were at the point where we couldn't keep what we had, and we couldn't attract anything new," says Studer. One of the city's biggest cheerleaders, he is the president of Studer Group and owner of the team and Maritime Park, which houses the Blue Wahoos stadium. "One of the issues in creating a better downtown is to have something that will bring in lots of people. And I don't think private enterprise can sit and wait for the public sector to act."
Studer approached the city, and an ensuing public/private partnership agreement saw the city hand over 27.5 acres of unusable land to help kick-start the project. For his part, Studer invested $40 million.
"Five years ago, people didn't want to move here, they wanted to move out. We were at the point where we couldn't keep what we had, and we couldn't attract anything new," says Studer.
Now he is building a nearby 60,000-square-foot, $12 million office building where he plans to headquarter Studer Group, in 2012 ranked No. 4 in a list of 25 best companies to work for by Fortune Magazine. The move will bring more than 200 employees downtown. It's the first new office building to be put up in about 20 years. Meanwhile, Studer's wife, Rishy, has opened a popular olive oil store in the neighborhood.
Recent studies show that the people of Pensacola are developing a sense of confidence in moving forward.
That confidence is reflected in the success of the 5,000-seat downtown baseball stadium. In 2012 the team led the league in attendance, drawing in 328,000 people in its first year — running an average 95 percent capacity for each game. The Wahoos even beat out the attendance at the new $515 million Miami Marlins' major league ballpark.
"My wife and I have made the investment because we believe in the city, the people, the leadership — and creating a culture for the city to move in the right direction," Studer says.
Expanding on Success
Pensacola already has a lot going for it. There are three healthcare systems in the county, with three full-service hospitals. There's already a network of small IT and high-tech companies that are expanding. Tourism hit an all-time high in 2012. Military retirees provide a ready-made talent base. "Old Stinky," the downtown sewage treatment plant that local businesses campaigned to get shut down, is finally gone. The local airport, where a new hotel is going up, offers direct flights to places like New York City, Chicago and Washington, D.C., and boasts low-cost carrier service through AirTran (which will gradually convert to Southwest). The University of West Florida is expanding its enrollment, a big boost to the local economy.
The announcement that Airbus is building a plant in nearby Mobile has generated excitement and sparked hopes that Pensacola will benefit from auxiliary businesses sprouting up to feed Airbus needs.
But local leaders have known that more is needed to help the local economy take off.
A group of tech company leaders joined forces in spring 2012 in an effort to turn this section of the Emerald Coast into the Innovation Coast, a Florida version of Silicon Valley designed to draw innovators from across the planet to work in the region.
"As business entrepreneurs, we can't sit around and wait. That's not how our brains work. We can't expect others to lead. We need to move at the pace of business," says Niels Anderson, president and CEO of KAMedData and a major proponent of the city's new downtown technology park.
He would like to see the region become a magnet for the world's best talent, bringing them to work in already-established technology focused companies. "We have really cool companies in the area that are growing and have very high-skilled workers," he says. That, he adds, would be better than focusing so much attention on getting companies to move to the area.
"We know it costs eight to 10 times as much to recruit as retain," Anderson explains. "Economic development people want to be best friends with site selectors … but they are looking for sites that have been certified, and it costs millions to get sites ready for certification.
It's a risky proposition, and I don't know where we'd get the money."
Instead, he would like to see a concentration on promoting research and development.
"Imagine if we had 2,000 R and D engineers, each making $250,000 a year," he says. "We live and breathe product development. My personal philosophy is rapid prototyping. There are other obstacles, hurdles, battles that the cities and state and chamber have to go through to be able to do things that we just plow right through.
"We all want something good, and we will take risks to make that happen."
A Fresh Approach
Many local leaders credit Studer and Mayor Ashton Hayward with being the major impetus behind many of the changes. In a sense, they exemplify the idea of the public and the private sectors working in concert to improve an area's economy.
In July 2012, Hayward unveiled the city's new effort to change its image with a branding campaign that included a new logo and a new motto — Pensacola: The Upside of Florida.
At the launch event, Hayward invoked the words of blues singer Bonnie Raitt. "Let's give them something to talk about," he urged. "We want to position Pensacola to capture a larger share of the future."
Since 2000, Pensacola has lost 3.9 percent of its residents. It was viewed as an afterthought for companies looking for a new home. But Hayward and business leaders were determined to turn that around. "People are going to know where we are now, and that's our main goal," the mayor says. "We have a golden opportunity to put our foot on the accelerator and drive people to Pensacola."
"My immediate goal was to change the psychology of the citizens. We don't have to be the red-headed stepchild anymore, and we can rally the troops." — Pensacola Mayor Ashton Hayward
Hayward grew up in Pensacola and went to Florida State University. He met his wife in Miami Beach and then they moved to New York City, where he got a first-hand look at how positive change to an area can be brought about by a strong elected personality — Mayor Rudy Guiliani.
When it came time to start a family, the couple returned to Pensacola where Hayward became involved in politics. In January 2011, he took office as the first mayor elected under a "strong mayor" form of government that voters had approved two years earlier. He quickly went to work on changing attitudes and the face of the city.
"If you have a dead downtown, you have a dead city," he says. "My immediate goal was to change the psychology of the citizens. We don't have to be the red-headed stepchild anymore, and we can rally the troops."
He championed beautification projects in blighted areas like downtown, leveraged the oldest publicly owned natural gas company in the state to partner with the Emerald Coast Utilities Authority and become an environmental pioneer for more use of natural gas, reached out to the state for money to improve the seaport's infrastructure, pushed for change to the downtown (which at the time he dubbed "an environmental wasteland"), and aggressively courted and then convinced UPS to move its regional sorting operation from Mobile to Pensacola.
His attitude is that passion and energy and telling a story correctly can move mountains.
"I wanted to bring into office the attitude that we have to cold call, we have to tell people that we're open for business," he explains.
While his way of doing business has raised hackles in some quarters, many praise Hayward for his aggressive pursuit of economic development.
"He's done a great job of promoting the city," says Collier Merrill, CEO and founder of The Great Southern Restaurant and Merrill Land Company. "He is very pro-Pensacola. If someone wants to locate here, he gets on the plane and goes (to court them)."
Julian MacQueen, president and CEO of Innisfree Hotels, says the change from a weak to a strong mayor form of government has been instrumental in helping the city move ahead.
"It has given people hope that things can be decided on and issues won't be polarized by the district approach to government," he says.
"Before, there was no way to get everyone on the same page because there were endless discussions about what's in it for me. The new mayor can do what's good for the city as a whole — and that has given many people a lot of hope."
Jim Hizer, president and CEO of the Pensacola Bay Area Chamber of Commerce, says Hayward knew that change would only come if things were done differently. The mayor and chamber officials meet weekly to collaborate on projects.
"The mayor subscribes to the philosophy that the definition of insanity is to do the same thing over and over and expect different results," Hizer says. "He is trying to figure out how to do things versus how not to do things."
A New Downtown
Merrill's office is in the downtown 11-story Seville Tower, which was built in 1907.
"We went through a long period of closed-up buildings, but now downtown has really come alive. Now we're getting some quality growth," he says.
Julia Ussery is part of that new growth. She owns Scout, a boutique she moved to Palafox Street about a year ago, and is planning to open a younger women's store nearby. She grew up in Pensacola but moved away for awhile. She returned about 10 years ago.
"I've seen the growth since I've been back, but downtown seems extremely accelerated in the last year or so," she says. "The Studers have gotten people excited about the downtown area, and I'm on the same block as Bodacious Olives. People are coming downtown, walking the street, shopping the area."
During the summer 2012 tourist season, Ussery said visitors were excited about coming to the area and passing on the information to others about all there is to do. Local leaders hope that will lead to more folks deciding to move to the area. A prime example is one of Ussery's recent customers, a new transplant to the area from Missouri, where she and her husband owned a restaurant. Now the couple plans to open a restaurant in Pensacola.
2015 and Beyond
When the bottom dropped out of the economy in 2008, the private sector through the Chamber of Commerce decided to put together a plan that focused on creating jobs, opportunity and investment. It resulted in Vision 2015. The goal was to raise $6.5 million — and they raised $8.77 million. The goal was to create 3,000 new jobs by 2015 and more than half that number have already been announced: 1,658 jobs with an average $52,000 annual salary. About 80 percent of the jobs are coming from companies already in the area, including Navy Federal Credit Union, which is adding 700 positions at an average annual salary of $45,000.
But the Chamber's Hizer concedes that just reaching the 3,000 job mark isn't enough for the community to reach its economic potential. So it is in the midst of developing a strategic plan on where to go from here.
"One of the reasons that Pensacola spun its wheels a bit was because there wasn't a plan that the private and public sector was behind to guide us where we need to go," he says. "Communities that don't plan leave themselves vulnerable to winds of change that are beyond our control. That's perhaps one of the significant changes in Pensacola. We have said that we are going to take the reins and control our own destiny."
Meanwhile, the city continues to sell itself on other attributes that are already in place.
To residents and visitors alike, Pensacola offers the quintessential beach experience. But then you throw in a unique history, beginning with the landing of Spanish ships in 1559 — plus a symphony, ballet, opera, an improving historic district, the Navy's Blue Angels, the National Naval Aviation Museum and the unique National Flight Academy at Pensacola Naval Air Station, a downtown historic district … the offerings seem far out of proportion to the size of the town, which had close to a 300,000 population in 2011.
And, according to Valeria Lento of Visit Pensacola, a majority of businesses in downtown and along Pensacola Beach are locally owned and operated, guaranteeing an experience unique to Pensacola.
Collier Merrill sees it as the perfect situation to attract two types of residents who will help create jobs. One is the new "creative class," workers who want a certain quality of life, who go where they want to live and then have the jobs come to them. The other is retirees who are looking for a vibrant community — and who want to get involved locally.
"We have a good quality of life," he says. "It all comes together here."
Recovery Begins With Hospitality
The hospitality industry is one of the early indicators of any economic recovery. And, right now, when it comes to booking hotel rooms, people are loosening their pocketbooks — and that's translating into dollars for local hotels.
Julian MacQueen's Innisfree Hotels owns several of the top local hotels, and he was named the Chamber's 2012 business leader of the year. He is building the new airport hotel — and he is seeing an encouraging trend in the hotel industry.
He is anticipating the effect that Southwest will have on the region, from flights in and out of the airport to hotel bookings.
"The Southwest reservations system is the fifth largest booking engine for hotel rooms," he says. "That tells me there is a big monster out there that is ready to be awakened — and its focus is going to be on Pensacola. I think everyone is underestimating what we're going to do."
The Chamber's Hizer wraps up the general attitude that area business leaders have for 2013 and beyond.
"The story of Pensacola is one of momentum," he says. "In spite of a challenging global economy, we have a full head of steam going right now and we're moving forward."
---
Economic Facts of  Pensacola
The Department of Defense is the largest economic engine in the greater Pensacola area, with more than $5.1 billion in salary and wages produced annually by more than 22,000 active duty and military/federal employees. The capital investment is $1 billion, with $77,000 average earnings per military job.
Cost of living is 1.3 percent below the national average. The median home price of $124,000 is lower than Florida and the nation.
Pensacola International Airport is the 98th largest airport in the country, has up to 80 flights daily, hosts 1.5 million passengers per year (or 4,000 daily).
Ranked No. 71 by Forbes for the cost of doing business.
Companies listed among Inc's 5,000 Fastest Growing: Global Business Solutions Inc.; Hixardt Technologies; Overgroup Consulting; IMS ExpertServices; AppRiver; Absolute Consulting; Bit-Wizards.
Top industries: tourism; aerospace and defense; software and information technology; renewable energy; financial services and back office support; medical device and life sciences.
Tourism represents 8 percent of the area workforce (18,698 jobs) and 6 percent of the earnings ($599.2 million) in the Pensacola area. In 2013, tourism officials expect a 12 percent increase in tourist-related revenues over 2012, which in itself was a record-breaking year.
Finance and insurance industry is responsible for employing approximately 10,000 people with $468.6 million in earnings.
Medical and life sciences employs 27,000 people who earn more than $1.3 billion.