Pensacola Sees Growth in Heritage Tourism Market
Pensacola will play host to the inaugural Tall Ships Festival, welcoming a fleet of historic vessels for a three-day celebration of the port city's storied maritime past.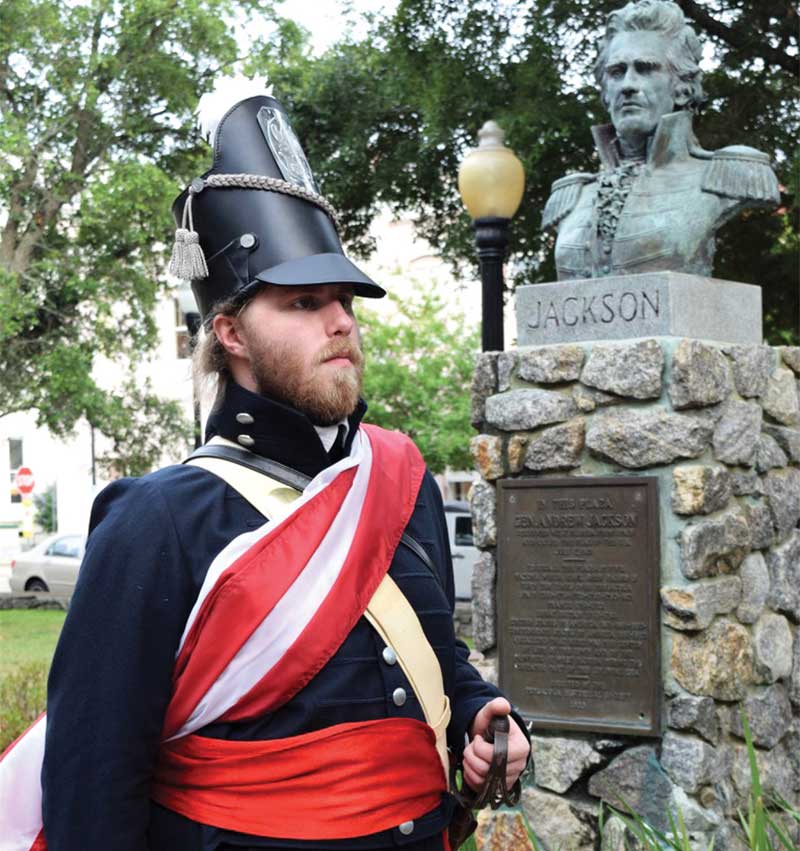 In April, Pensacola will play host to the inaugural Tall Ships Festival, welcoming a fleet of historic vessels for a three-day celebration of the port city's storied maritime past.
The event, organized by Visit Pensacola, is part of a much larger push to market the city's historical resources to tourists. This effort comes at a time when downtown Pensacola is growing rapidly and tensions over historic preservation and cultural representation have, at times, run high.
A Growing Market
More than three of every four American leisure travelers will take part in some sort of cultural or heritage activity while traveling. That's according to an oft-cited national survey conducted by Mandala Research in 2013.
That equates to some 130 million people — and billions of dollars in economic activity. Pensacola, which has long vied with St. Augustine for historical bragging rights, is well-positioned to benefit from these tourists — and their pocketbooks.
"It's a big market," Visit Pensacola President Steve Hayes said in December, shortly after presenting the results of the organization's 2017 market perception study.
Hayes, though optimistic about the potential for growth, was quick to add that the area's historical resources were not a primary motivator for visitors. The No. 1 reason people visit Pensacola is, and likely always will be, the area's beaches.
"As a key driver, historical offerings and attractions, across all the generations, are a low priority," Hayes said.
The results of Hayes' study bear that point out. Of more than 1,000 prospective visitors surveyed, only 41 percent listed historical attractions as a key driver in their travel planning process.
Still, Hayes said it was crucial to market those assets because they set Pensacola apart from other Gulf Coast beach destinations.
"It's what makes us different, what we can hang our hat on that others can't," he said.
In that regard, Pensacola still has a ways to go. According to the study, the city still lags behind other Gulf Coast destinations across a range of metrics, and, in terms of historical resources, most visitors still perceive St. Augustine as the more attractive destination, with only 31 percent ranking Pensacola as "very positive" in this regard.
Making History Visible
This shouldn't come as a surprise, Hayes said. Much of St. Augustine's history is still visible — a luxury Pensacola does not enjoy.
"It's nice they have a fort that was made of seashells and has lasted," Hayes said. "Our forts were made of wood, and they're below the surface."
Overcoming this challenge demands a two-pronged strategy.
"You can't bring the forts above ground," Hayes said, "but you can tell the stories."
In recent years, this is where Visit Pensacola has placed much of its focus.
"We've really changed our messaging," Hayes said. "Before, there was a greater emphasis on just telling the beach story. Now, we're doing a better job of telling the rest."
Aside from marketing, Hayes said the community needed to find more creative ways of making its history visual. He pointed to the work of the University of West Florida as an example.
The University's 8-acre downtown campus, known as Historic Pensacola, includes dozens of colonial-era structures, several museums and year-round living history demonstrations. In 2015, UWF unveiled its new interpretive master plan for the campus, which called for $10-$15 million in enhancements, all aimed at making the city's rich history more accessible to residents and tourists.
"Our goal in the near future is to put Pensacola on the list of great historic cities in America," Jerry Maygarden, chairman of the UWF Historic Trust Board, said at the time. "We want visitors to think of us along with cities such as Savannah, Charleston and Gettysburg."
In the two years since, UWF has extended museum hours, expanded its living history programs and added new outdoor interpretive displays. This year, the Trust also joined with Visit Pensacola to create the Jacksonian Guard, a monthly reenactment of the 1821 transfer of Florida from Spain to the United States, which was overseen by then-Gov. Andrew Jackson.
Pensacola tour operator Wesley Odom was a driving force behind the latter effort. Odom, a history buff who has staked his future on the city's past, founded GoRetro Tours in 2013. He said he's seen his business increase four-fold in the last two years, driven largely by demand from the heritage tourism sector.
Still, challenges remain. Odom said that further growth had been hampered by a shortage of lodging downtown and a lack of connectivity to the tourist mecca of Pensacola Beach.
"The beaches are 10 miles from downtown," he said, "and another 10 miles from the National Naval Aviation Museum, which is the most popular tourist destination."
A spate of new hotel developments planned for downtown, along with the opening of the Pensacola Bay Ferry Service, should help, Odom said. The walk-on service — which will ferry passengers between downtown, Pensacola Beach and Gulf Islands National Seashore — is expected to begin operation this spring.
"Once people visit Pensacola and see how much more there is than just the beach, they will want to explore and return for more," Odom said.
Preserving Heritage
If this promise is to be fulfilled, of course, there has to be something to which people can return.
The last five years have brought a surge of new construction in downtown Pensacola. Health-care consultant Quint Studer, alone, has invested some $100 million into the ongoing revitalization of his adopted hometown. Much of this money has gone into adaptive reuse projects that have strengthened the city's historic fabric.
Other developers, eager to cash in on Pensacola's budding renaissance, haven't been so sensitive.
Tour operator Nic Schuck, like Odom, has bet big on the city's future as a heritage tourism destination. Now, he sees both promise and risk in the rush toward development.
"I think more residents downtown will be huge," Schuck said. "… but I'm afraid, if growth is not accomplished slowly and carefully, we may lose our unique culture in exchange for a bland brand that, while it may make money, isn't anything to be proud of or have any long-standing promise."
Robin Reshard — a film-maker and community activist who has also served on the board of Visit Pensacola — agreed.
"We risk not having a culture, heritage or 'sense of place' to celebrate if we don't figure how to use smart engineering to repurpose our built environment," she said.
Reshard pointed to last year's demolition of the historic John Sunday House as an example of how to do things the wrong way. The 1901 structure, demolished to make room for a now-scuttled townhome development, had once been home to one of the city's most prominent African American leaders.
The loss, which came after months of public demonstrations and procedural wrangling, inspired Reshard to push back.
She and her husband, Lloyd, were the driving force behind the successful relocation this year of the D'Alemberte House, a 19th century cottage that had been threatened by yet-another townhome development.
She called that project a "win-win" and a model for how to balance the interests of development and preservation.
"Because of (the neighborhood residents') voices and the willingness of the developers to listen and empathize with the community, we were able to have the house relocated to our property … and will repurpose it as a community asset that tourists will be able to enjoy in 2018," Reshard said.
Full Circle
The Sunday House and D'Alemberte House episodes highlighted another fault line in the growth of the heritage tourism sector in Pensacola: the issue of representation.
Both homes were located in the Belmont-DeVilliers district, a neighborhood that served as the center of commerce and entertainment for the city's African-American residents through the Jim Crow era.
The district fell on hard times through the latter half of the 20th century, but it has seen a wave of investment in recent years. Now, Reshard and others are working hard to ensure this growth doesn't come at the expense of the community's history.
"Culture is not monolithic," Reshard said. "It belongs to us all. If we only celebrate one arc of a circle, then we are not complete. Pensacola has the opportunity to include more voices."
Despite setbacks, the trend lines are positive, Reshard said, and bright spots aren't hard to find.
The UWF Historic Trust partnered with Gulf Power in 2015 to establish the Voices of Pensacola museum with the goal of highlighting the city's multicultural roots.
Visit Pensacola also has tried to introduce more diversity into its marketing efforts.
Hayes said the organization's brochure about multicultural history was its most requested publication this year. Visit Pensacola also highlighted the city's African-American history in a recent television ad — which featured Reshard.
Still, the filmmaker said more remains to be done.
"We can include more diverse visuals in our public and private advertising," she said. "We can be intentional about acknowledging who and what are missing at the table. We can be inclusive in talking about the people who helped to make Pensacola great."