Pensacola Recovery from Hurricane Sally Proceeds Quickly
Efforts to build back have been compounded by the COVID-19 pandemic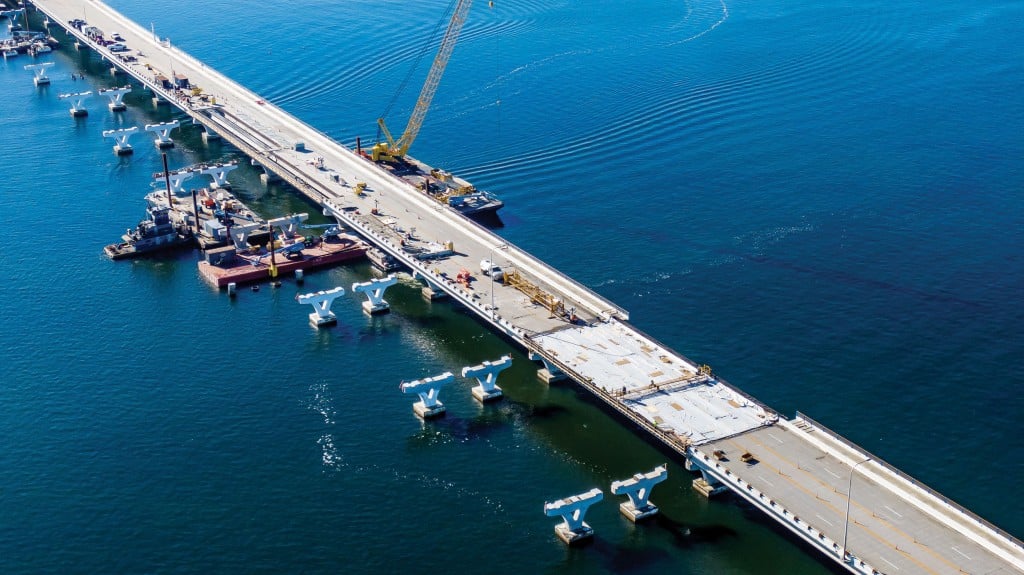 As of Dec. 9, 2020, Escambia County contractors had hauled 76,868 loads of Hurricane Sally-related debris from Pensacola neighborhoods and downtown businesses, transporting a total 3,933,057 cubic yards of downed signs, limbs and building material.
"That's 6ı6 football fields with debris stacked three feet high," said Escambia County Emergency Management Manager Eric Gilmore. "That's enough debris to fill 85 percent of the Mercedes-Benz Superdome in New Orleans."
Gilmore said Escambia County reported 444 items to the Federal Emergency Management Agency (FEMA) for Preliminary Damage Assessment (PDA), with an estimated total of more than $ı36 million. But debris removal, whose total estimate accounted for less than half of that report, was only one of the weighty consequences inflicted by the Sept. ı6 storm.
Fifteen years to the day of Hurricane Ivan's landfall, Sally, a Category 2 hurricane, walloped Escambia County with 92 mile-per-hour winds, two feet of rain and a 5-foot storm surge.
The blow provided echoes of Ivan, one of the area's most catastrophic storms, as floodwaters washed over Downtown Pensacola and Perdido Key. Homes in neighborhoods in Cantonment, including Bristol Park, became waterlogged homes as the storm surge overflowed nearby Eleven Mile Creek.
Of course, the threat of hurricanes in Northwest Florida never recedes for long. Annually, Gilmore said, Escambia County conducts a hurricane preparedness awareness campaign from June through November, furnishing residents with emergency management and planning tips.
"Operationally, the county brought in five high-water vehicles pre-storm, along with a swift-water rescue team," Gilmore said. "Messaging went to the public that this would be a flooding event days before it arrived. During the storm, water rescues took place and public information continued via news releases, press conferences and social media."
Gilmore said Emergency Management's long-term recovery group, comprising nonprofits and volunteer organizations, has been instrumental in Escambia County's recovery. Too, Emergency Management quickly began working with its partners and FEMA to provide residents with federal and state assistance.
Gilmore said damage assessments in Escambia County cities took place as soon as it was safe for teams to begin their documentation work.
"Escambia County Building Services and Development Services performed ı,626 damage assessments that were declared minor, major or destroyed," Gilmore said. "They performed joint damage assessments with FEMA and the Florida Division of Emergency Management (FDEM) over four days and late into the night to confirm damage for individual assistance. Within only a few days following the storm, the engineering department had the entire traffic signal system operational."
Pensacola bridges, said Gilmore, sustained heavy damage. The Bob Sikes Toll Bridge suffered heavy storm erosion following Sally, as water destabilized a layer of sediment backing in its support beams. While deemed safe to cross, a temporary five-mile-per-hour speed limit was enacted to reduce vibrations. Repairs were made in about three weeks.
Far worse was the damage to the Pensacola Bay Bridge, also known as the Three Mile Bridge, connecting Gulf Breeze and downtown Pensacola. Repairs to that bridge were expected to take six months.
Pensacola Bay Bridge construction barges, knocked loose by Sally's 90 mile-per-hour gusts, collided with the structure, taking with them a portion of the bridge.
Skanska, the company leading construction of the Pensacola Bay Bridge, released a statement claiming they had "made all the appropriate preparations for the storm," and that, "it was neither safe nor feasible to attempt the removal of barges and other equipment in the brief period between the storm's sudden intensification and landfall."
Residents took to social media to report locations where marooned barges ended up, including NAS Pensacola, the Pensacola Graffiti Bridge and private properties.
The Florida Department of Transportation (FDOT) announced that four barges became lodged themselves beneath the bridge, thus closing it for repairs. According to a November 2020 FDOT report, "construction crews are working around the clock to repair the storm-damaged Pensacola Bay Bridge and restore traffic for this vital transportation link by March 202ı."
Meanwhile, detour routes were established as State Road 28ı/Garcon Point Bridge (I-ı0, Exit 22) and State Road 87 (I-ı0 Exit 3ı.) The FDOT reports the bridge will reopen without weight restrictions and a 75-year design life.
For Gilmore, it's all about building back stronger. Escambia County, as it pieces its community back together amid a global pandemic is nothing if not hardy.
"It's hard to recover when, before the storm, you had lost your job and were just barely making it day to day," said Gilmore. "But this community is very resilient, and I have seen so many times neighbors helping neighbors. I think we've come a long way in a short time to recover from Sally."