PCB Sports Complex Set To Be A Home Run
The complex adds to Panama City Beach's capacity as tournament host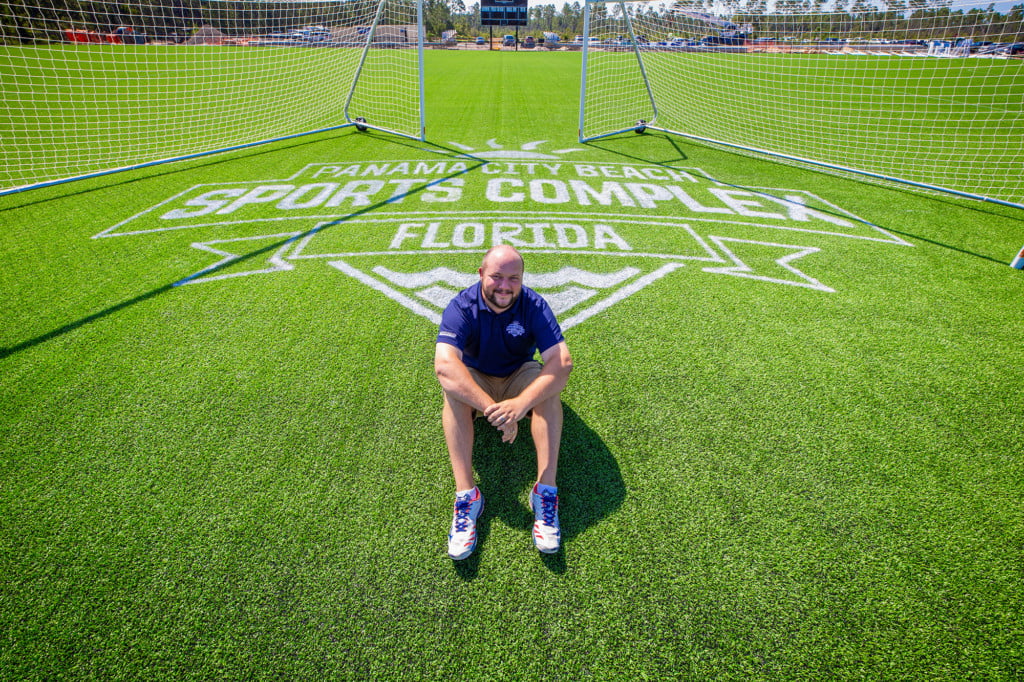 J.D. Wood, married with two small daughters and living in the city of his cherished alma mater, was well-rooted.
"The way I love College Station and being close to family, it was going to take a once-in-a-lifetime opportunity to move me," Wood said.
But last August, Wood left Texas behind.
He had been offered a job as the general manager of the Panama City Beach Sports Complex, a 157-acre, $37 million collection of 13 athletic fields that resulted from a partnership between the St. Joe Company and the Panama City Beach Convention & Visitors Bureau.
Wood is an employee of Clearwater-based Sports Facilities Management, which is under contract to the CVB to maintain and operate the complex, located north of Back Beach Road on Chip Seal Parkway and a couple miles west of the Hathaway Bridge.
The complex's first event, a United States Fastpitch Association softball tournament, was held in early July.
For five years prior to leaving home, Wood, who holds a master's degree in sports management from Texas A&M University, worked for the City of College Station in its tourism department, managing a soccer facility said to be one of the 10 best in the country, and working closely with the university regarding access to its athletic facilities.
In that role, he was accustomed to seeing members of the sports team from Visit Panama City Beach, the promotional arm of the CVB, at conventions of sporting event rights holders.
In June 2018, two members of the team, Richard Sanders and Chris O'Brien, had been talking to organizations including USA Football about scheduling events at the PCB complex then under construction.
Rightsholders were curious to know who would be managing the facility, but at the time, that hire had not been made. USA Football, headquartered in Indianapolis, recommended Wood, who then heard from Sports Facilities Management vice president John McDonald.
"He gave me two days to apply for the job," recalled Wood, who consulted a friend who suggested that he at least check out the opportunity. And, with his wife's blessings, he flew to Panama City Beach for an interview.
"I'm from East Texas where it's all trees, and I had never been anywhere in the Florida Panhandle," Wood said, "but when I flew into Panama City Beach (Northwest Florida Beaches International Airport) and saw the beach and the water, I told myself, 'This could be perfect.'  "
That suspicion on Wood's part was confirmed when he got a look at the complex and gained an appreciation for what it would look like upon completion.
"When I saw the facilities, it looked like they had gone into my head and designed exactly what I would have built if I had unlimited money," Wood said.
He would learn that Sanders, Visit Panama City Beach's vice president of sports marketing and special events, was the sport complex's chief visionary.
"He was the godfather," Woods said. "It's Richard who showed people how great the impact could be if Panama City Beach were made a sports destination."
Sanders knew that 12 is something of a magic number as it relates to any sports complex's capacity to host large tournaments on its fields.
The PCB Sports Complex boasts 13 rectangular fields — nine with a synthetic turf surface and four natural grass fields. Those same fields can be configured as 10 softball fields with 220-foot fences and five collegiate size baseball fields (387 feet to dead center).
The result is that big tournaments that used to schedule play on fields on both sides of the Hathaway Bridge may now be confined to Panama City Beach.
Panama City Beach's capacity for events gets even larger when one considers the fields available at the established Frank Brown Park (located off Back Beach Road just east of its intersection with State 79), a facility managed by the City of Panama City's Parks and Recreation Department.
"I'm working in close coordination with Jim Ponek at the city," Wood said. He noted that play in the USFA tournament was scheduled for both Frank Brown and the PCB Sports Complex.
The new complex includes LED lighting, two operations buildings, three concession stands, an umpire's lounge and a championship field with seating for 1,500.
"The goal was to make this the top facility not only in the Southeast, but also in the United States," said Wood of the complex paid for with bed tax proceeds and developed on land donated by St. Joe.
"The property for starters was 4 to 5 feet above sea level," Wood said. "Now, it's 15 feet. We used the best fill dirt for the grass fields to make them drain properly. We'll confine practice activity to synthetic fields to limit the wear on the grass."
Wood said some scholastic activity will be accommodated by the complex and noted that he had been speaking, in particular, with Arnold High School athletic director Ricci Green.
"But we understand that the main objective is to bring teams to town and put heads in beds," Wood said. "Teams may play one game a day and spend the rest of the day in our community with their families, dining in restaurants, shopping and contributing to our local economy."
Wood, in June, was glad that his family came back to town after seven months spent in Texas. The home Wood was renting in Lynn Haven was hard hit by Hurricane Michael. He evacuated to College Station well before the storm made landfall and returned not long after it passed, living in two rooms. But his wife and daughters remained in Texas while repairs to the residence were made.
"We were fortunate," Wood said. "We didn't lose any personal possessions. I've still got my diplomas from A&M and my football helmet signed by Kevin Sumlin."