Patricia B. McCray
CEO/Founder, Butterfly Life Journeys, Inc.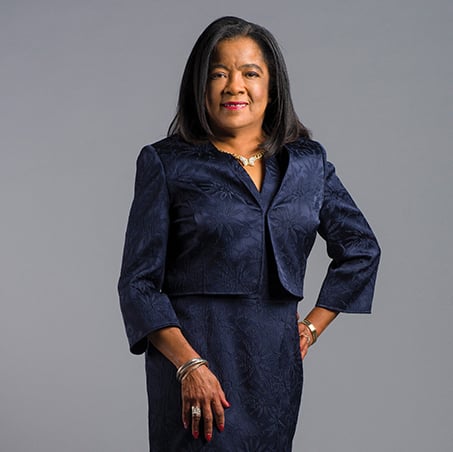 If, in Patricia McCray's case, her middle initial were to stand for "beatitude," or certainly "butterfly," it would be fitting.
McCray is unique among all Pinnacle Award winners in the four-year history of the program in that she spent three years in federal prison.
Alcohol dissolved her marriage to the father of her children and, struggling as a single parent, she lost a battle with temptation and stole from her employer federal funds that she intended to repay. She never got the chance.
But, in the words of songwriter Fred Rose, McCray "got herself together, looked for the sign and waited for the sun to shine" and, when it did, she stepped into the light and made herself whole again.
"In some ways, those three years in prison were the best years of my life," McCray says. "They were transformational. I had the opportunity to focus on myself, and I had a chance to work on my relationship with God."
Upon her release from prison, McCray found work as a typist at a print shop. One day, a customer picking up an order noticed her typing speed and later supplied her with a City of Tallahassee employment application.
McCray was granted an interview, and her typing test score was the best among a pool of applicants. She would work for the city for 19 years until her job was eliminated in July.
Butterfly Life Journeys is McCray's platform for her work as a motivational speaker. She talks to audiences about her own metamorphosis, leading people to discover the "strength that lies within." She is at work on two books, a memoir and a book about achieving success not of a superficial kind.
She is a valued volunteer at the federal women's prison in Tallahassee. With regard to her work there, President Barack Obama once wrote her a note of encouragement: "I can tell you care deeply about making sure people who have made mistakes in their past have opportunities to earn a second chance and turn their lives around," he began. "I care a lot about that, too. Your determination to serve your fellow Floridians is inspiring, and the women you work with in Tallahassee are lucky to have a mentor like you to look up to."
In addition, McCray serves with the Emergency Care Help Organization (ECHO) board, the Big Bend After Reentry Coalition, the Tallahassee Leon County Commission on the Status of Women and Girls and the Tallahassee Federal Correctional Institution Community Relations Board.
Asked to name a woman whom she has found influential in her own life, McCray didn't hesitate.
"I had a desire to meet her because she had taken risks and started her own business, and that was something that I wanted to do," McCray recalls.
A mutual friend arranged a meeting at the Red Eye Coffee Shop in Tallahassee.
Says McCray, "This lady whom I had admired from a distance put her hand on my cheek and told me that, 'With God, all things are possible.'
"It's the best advice I ever received. That lady was Karen Moore."