Part-Time Offices Open the Doors to Cost-Cuts
Part-time offices save money for expense-conscious companies and provide inspiring environments for independent professionals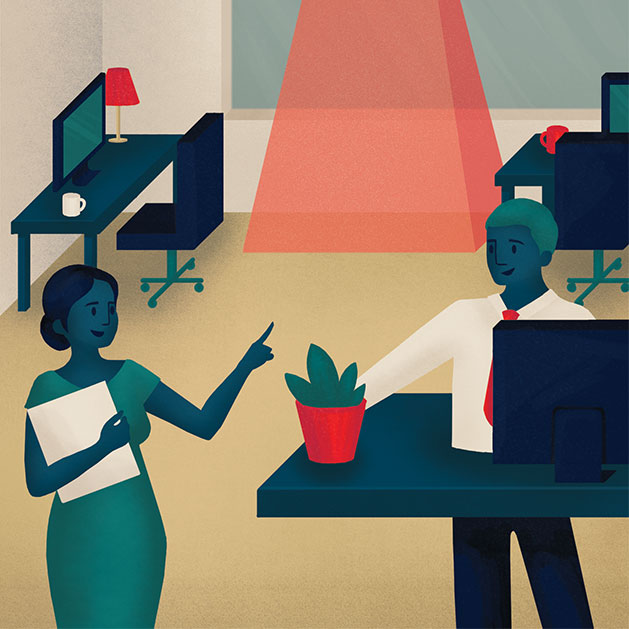 In business, overhead is the one constant headache that managers would love to reduce as much as possible. That's when pencils are sharpened and new ways of cutting costs are keenly examined.
One cost-cutting measure that has become very popular is the idea of part-time office space. The benefits are obvious: Why pay for an office full of cubicles if most of your sales staff and other employees spend most of their time on the road, meeting customers and clients? Well, heck, there's a whole bunch of money that can be saved right there.
It's an idea that's been around for a while but really took off when the recession started gathering steam in 2008, according to Wes Lenci, regional vice president of Regus, an office rental company that leases business centers and office suites to companies on the go. It's kind of a "what you need, when you need it" arrangement that suits his clients well. Regus has office space in 2,000 locations worldwide (24 in the 850 area code), and the idea of paying for office space that you actually use has a broad appeal.
"The clients are most ecstatic when they pay for space that they use, and there is great satisfaction in using three days and paying for three days,"
Lenci said. "That's where they see they make an investment and have a return. Lots of major companies want their teams in their customers' space, so when the finance people look out in the bullpen of the headlease and see 28 empty cubicles, they are paying for that space regardless."
Financial consultant Larry Creekmore of Destin has been a Regus member for several years and said the space he rents and the services Regus provides helps his business in many ways.
"Obviously having the Regus staff being available to do some things such as binding brochures, faxing and making copies has allowed me to concentrate more on the core business," he said. "I live about a mile away from my office and have 24-7 access to the facility. So it allows me to come back on weekends and at night, and the proximity to my home makes it convenient for me."
His Regus membership comes in handy when he's on the road, too. He has access to all of the company's facilities nationwide. He's had the occasion to use business centers in Tallahassee, South Florida and out-of-state cities as well.
"I do travel a lot, and it's great to have that quality office space available if I see clients in other communities," he said.
Illustration by Rebecca Sumerall
Lenci calls it a "fantastic phenomenon" in the "space industry," adding that it shows companies are willing to become more flexible as money tightens. He says he sees a lot of companies migrating sales teams and tech teams into these "coworking" spaces when possible to lower costs.
"The key thing they want is flexibility to upsize or downsize and only pay for space they are using," he said. "They spend their time in their customers' space so they don't need full-time space. But they do need a private, quiet space to touch down in, and that's what we offer. They pay for what they use and not for space that's sitting vacant, and that's the trend we are seeing now."
And how much savings are we talking about? Each company is different, of course, and needs and situations vary. But in his experience, Lenci says the savings is significant — especially for startups.
"We save them lots of money on the front end; 68 percent on the startup costs," he said.
Saving money is great, but there are other positive byproducts to using such spaces. Think of what it would mean for an employee to work closer to home. A shortened commute basically increases productivity, and it increases the retention of employees who want to spend less time on the road and more time with their families.
"Also, it's working in a very creative environment," Lenci said. "There are other people to talk to who are doing different things. The sales people may be talking to developers or tech people and cultivating more relationships."
This idea of coworking might be here to stay, according to Adriana Lopez, a contributing writer for Forbes.
"Gone are the days of working in a traditional office setting, where cubicles separate colleagues and the only social interactions occur around the water cooler," Lopez wrote in 2013. "The rise in coworking spaces around the world have left more people yearning for work environments that are collaborative, inspiring and stimulating."
Lopez wrote that this trend has grown as the number of "contingent workers" has increased. Contingent workers are independent professionals such as freelancers, temps and contractors.
"In fact, the Bureau of Labor Statistics estimates that by 2020, about 65 million Americans will be freelancers, temps, independent contractors and solopreneurs, making up about 40 percent of the workforce."
"Concurrently, workspaces are sprouting around the country in order to accommodate the growing number of nomadic workers," she wrote. And, as Lenci mentioned, these highly creative people wind up working in environments that are more stimulating, inspiring and productive.
There's no special formula for finding the part-time office space that Regus leases, Lenci said. The process is based on customer feedback, which tells them where office space is needed. The home office then takes that information and passes it along to local commercial real estate brokers who help find the required space. Once that happens, Regus goes in and builds the office with amenities, including Internet access, Wi-Fi, printers and courier services.
"Customers always give us feedback and what they require or need to be successful in their business," he said. "(They) don't need a full-time office, just a place to touch down and be quiet and professional, and away we go. For me, our customers are the ones that are the driving force behind the changes we make and the locations we go to." ​