Pandemic Pivots
Businesses filled niches created by health crisis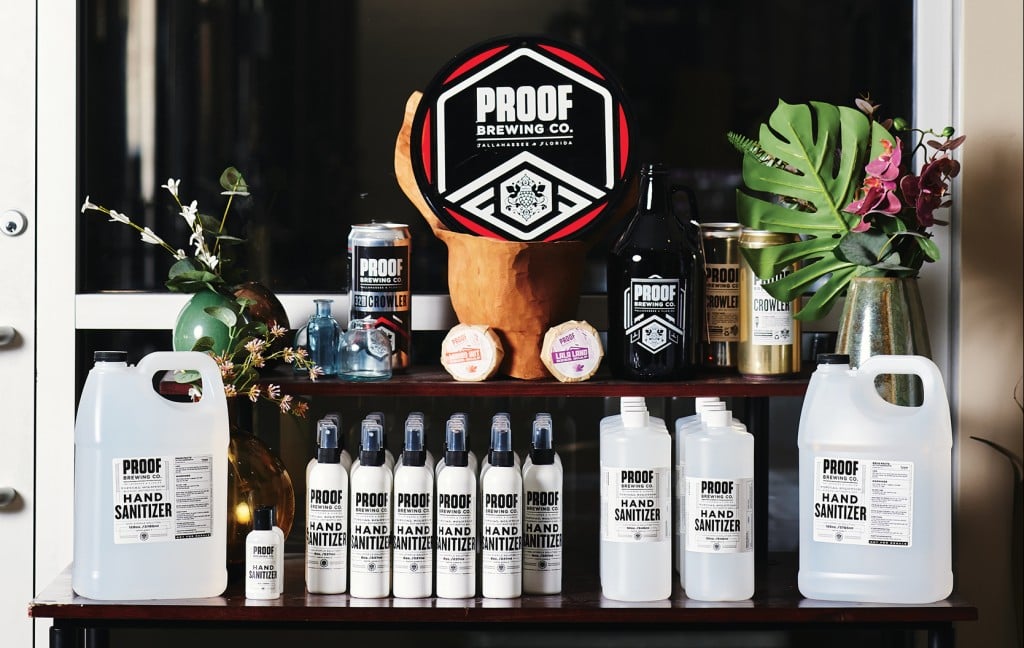 Picture a business going full speed on a wide-open interstate. And then all of a sudden slamming on the brakes and coming to a complete stop.
This was the scenario for many businesses around the country in mid-March. Doors were closed, no customers allowed. When would business resume? Forecasting was impossible.
Proof Brewing Co. was among businesses that faced a long shutdown, one that began on March ı7 and lasted until early June. Then there was a second, shorter closure. Founders Byron and Angela Burroughs knew they needed to pivot, not an easy thing to accomplish when customers were accustomed to coming to the brewery on South Monroe Street. But the couple found a way to keep their employees at work while also filling a significant need in the community.
"One of the true testaments to the team that has ridden out this whole COVID storm with us is their adaptability," Byron Burroughs said. "Being able to pivot quickly. We initially did it to help."
In the spring, the availability of everything from toilet paper to household cleaners to sanitizer was diminished. Go early and you might luck out, but many shoppers seeking necessities had to go from store to store or try again the next day.
"We felt we could give back to the community because there was such a shortage of sanitizer at the time," Burroughs said. "People were gouging or hoarding. Once we realized we could produce it in large capacity, if we got our distilling permit, we could adapt fairly quickly."
John Buck of Fast Signs was able to help with a variety of signs encouraging customers to wear masks at a business. But Fast Signs also saw a new need for clear, acrylic shields at stores and offices. Tallahassee's City Hall and the Tallahassee Chamber were among the first to request the shields as a way to help protect employees in the workplace. Germ shields became a vital part of Fast Signs' business in the summer months, Buck said.
"I didn't even know the term germ shield until six months ago," Buck said. "It has been neat to see how proactive our franchise has been."
Fast Signs also produced custom window signs as well as outdoor A-frame signage to help businesses communicate to customers that they were open again. Also popular were floor graphics to remind customers to stay six feet apart as well as reminders that face masks or coverings were required.
Buck said Fast Signs also filled the need for graduation signage, including car magnets and yard signs. With graduation events going from in-arena to drive-in ceremonies in Leon County, families wanted a way to honor their sons' and daughters' accomplishments. Buck estimates that ı0 percent of Fast Signs' business in May was related to graduations.
"COVID-ı9 has delivered unprecedented challenges for our community and region," said Sue Dick, president and CEO of the Tallahassee Chamber. "Many of our local businesses and industry leaders have shown the ability to adapt, develop new market opportunities and redeploy their workforce in an attempt to weather the storm."  
Proof went from a beer-focused business to one that was producing hand sanitizer, first with isopropyl alcohol. The staff had plenty on hand as a disinfectant. Or so they thought. Once it ran out, "it became very difficult, expensive and hard to get a hold of," Burroughs said. 
Then the Proof staff realized they could process their own ethyl alcohol. It took about a month to get the approvals, which turned out to be the easy part. The hardest aspect was finding anything to put the sanitizer in.
"A lot of people started doing it nationwide," Burroughs said. "There was a shortage of bottles. We could make more sanitizer than we had containers to put it in."
Burroughs estimated they produced about ı0,000 gallons of hand sanitizer. A big chunk was sold to individuals and businesses, but they also opted to donate a portion when schools reopened in August as well as to nonprofits and first responders.
Burroughs said that hand sanitizer is now a relatively small part of Proof's revenue. But for a time, it was a critical part of the business and helped the Tallahassee community in a crisis.
"We laid off about 75 percent of our staff," Burroughs said. "We were able to get some PPP (Paycheck Protection Program) money during that time. The combination of being able to move into sanitizer, being able to monetize that, and having very good local support for our to-go product and from our retail partners all helped."