Panama City Taps Mark McQueen for City Manager
The former general is no stranger to setting strategy.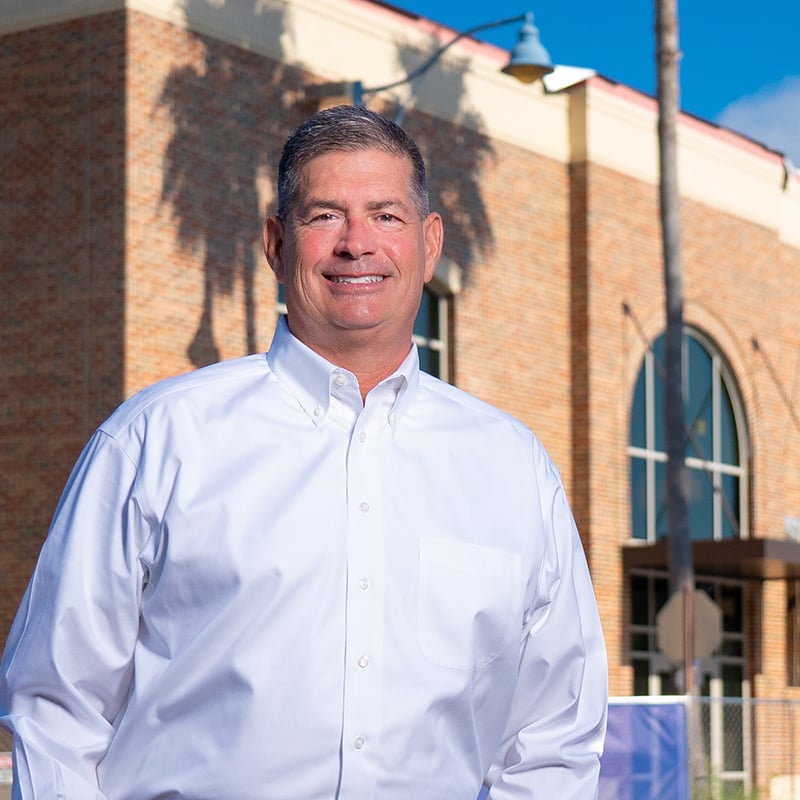 The City Commission's five members vote on city policy, but it's the job of the city manager whom they appoint to carry out municipal business, including supervising some 500 city employees.
"This is one of the most important decisions that we have made as commissioners in the past 10 years," said Billy Rader, who has served on the City Commission since 2007.
"Yes, moving City Hall is big, of course. But having the right personnel on board and the right leadership, I liken it to Bobby Bowden leading the Seminoles. You have to have a good leader."
In February, Panama City began an in-house search following the resignation of Jeff Brown and termination of his contract by the City Commission. The city manager search had drawn over 80 applications from across the country by April, when commissioners made an announcement: they would only be interviewing one candidate.
The candidate was local. And he had a standout resume.
Maj. Gen. Mark McQueen applied for the city manager position with 30 years of experience in the United States Army Reserves. At the time of his application, he was the commanding general of the 108th Training Command headquartered in Charlotte, North Carolina, responsible for more than 8,000 soldiers in 44 states and Puerto Rico.
Asked why he wanted to serve as city manager in interviews, McQueen recalled Bob Buford's book Halftime, in which the author suggests that as in sports, "halftime" in life presents an opportunity to game-plan one's second half.
"The people of Panama City have all supported me in my three-decades-plus of [military] service," McQueen said. "I am who I am in the Army in part because of that commitment and support. It's my time to give back to the city."
By all accounts, commissioners were impressed — the News Herald called them "awed" — with McQueen's answers during his interview. They voted to hire him in late April, and he signed a contract with a flexible start date between July 15 and October 1.
"He was my choice because he's a problem solver, a motivator, and a leader. He can set the tone and the example for the city and for the city employees that we need," Mayor Greg Brudnicki said.
The flexible start date was in put in place in part to allow McQueen to donate a kidney to an acquaintance with the same rare blood type, a process he had already begun preparing for at his time of hire. He successfully made the donation in July.
McQueen anticipates a short overlap of responsibility, as he officially retires from the military on Oct. 26. "I'm going across the finish line sprinting," he said.
Jared Jones, who has served as interim city manager since Brown's resignation —and who McQueen praised for a job well done — will serve as assistant city manager under McQueen.
A Local Guy With Worldwide Experience
In 1988, Mark McQueen made what he thought was a temporary move to Panama City.
McQueen's father was a career officer, an army aviator, and the family moved often. He calls Enterprise, Alabama his hometown because he graduated from Enterprise High School. He was an ROTC Distinguished Military Graduate from Auburn University, and went on to further service in the Army.
In 1988, waiting to go back on active duty, McQueen answered an ad for a temporary, 60-day job at then-Gulf Coast Community College working in job placement for disabled students.
The Army continued to delay, and he took a full-time position at the college. When he got the call, two weeks later, he asked to stay in the Army Reserve.
"I believe that it was God opening a door for me, pulling me in this direction," McQueen said.
In Panama City, he met his wife, Karen, a teacher, and they have raised two children in Bay County. His daughter Taylor serves as an associate unit minister in Opelika, Alabama, and his son Thomas recently became a deputy with the Bay County Sheriff's Office.
McQueen has served in every level of command and staff from company command through general officer. His deployments have included Operation Joint Endeavor in Bosnia, Operation Enduring Freedom in Afghanistan, and Operation Iraqi Freedom in Iraq.
As deputy commanding general, United States Army Europe, he was responsible for the mobilization and deployment of reserves across 51 countries.
McQueen retired as commanding general of the 108th Training Command. For the past nine years, he also served as business administrator of the First Baptist Church in Panama City.
"The journey I've walked has been one of faith," McQueen said. "When I look back at my life — my military, civilian, family and social life — I think all of these things have contributed to getting me ready for the second half."
Setting Priorities
McQueen is not the only agent to play a role in what his second half will look like.
He said that the City of Panama City has "enormous potential, untapped potential" to attract families and businesses, and that he hopes to "help develop a strategic vision and plan for the city and execute that plan to help the city realize its potential not just now but in the future, 2050."
In his first 90 days, he plans to assess the city organization and its capabilities, a process he calls looking "down and in." Next, he hopes to "look up and out" in creating a strategic vision and plan for the city.
"That won't be a plan I do in isolation. It will be an integrated, collaborative process with community involvement, business, military and education leaders, and individuals in the fine arts community. Once we have the plan, we ought to be able to get after it," McQueen said.
Brudnicki brought up, in particular, McQueen's request for a contractually required 40-hour work week, at minimum.
"We need to make sure we're serving our citizens," McQueen said. "That means giving our best effort every day that we come to work." He said he plans to "meet and work alongside" every one of Panama City's municipal employees, dedicating one day a month to working in a different department, such as picking up waste or riding along with police.
"I expect an adherence to high standards," he said. "That's quite frankly why I had that put in my contract."
The City Commission has a great deal of confidence in McQueen.
"He's been training and motivating people his entire career. He's trained generals to be generals," Brudnicki said. "The experience and credentials that he brings to the table will be something that people who work under him will appreciate."
Rader brought up the 500 city employees that McQueen will manage and the city's considerable 100 million dollar budget. "You can't put a dollar amount on great leadership. That's what it comes down to. It's so valuable to us. We sure need him."
McQueen is hopeful about what Panama City and its citizens will be able to accomplish in coming years, though he acknowledged a need to build consensus among them.
"Panama City is a multifaceted entity with nearly 40,000 citizens and everyone has needs and requirements. As a result, everyone has a little bit of a different perspective. Mine is just one. My desire through that 'up and out' [process] is to garner input from many to make sure we know what our common objectives are. Once we get that, I think everyone will do his part," he said.