Panama City Looks To New Urbanism For Downtown Design
Coming back "better, bigger and stronger" after Hurricane Michael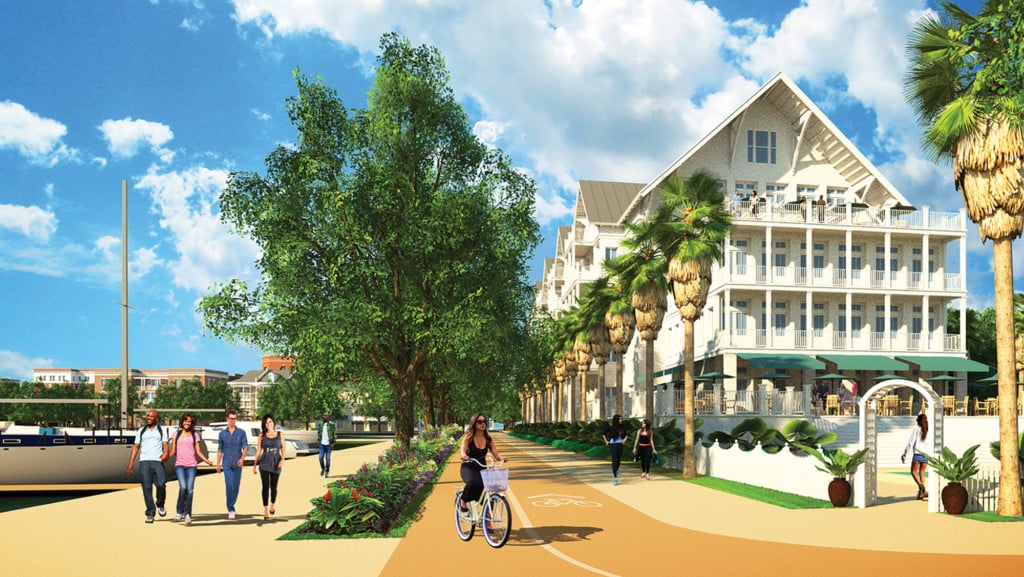 A retired two-star general, Mark McQueen started work as the city manager in Panama City less than three weeks before Hurricane Michael stormed ashore, destroying trees, homes, businesses and public and private infrastructure.
In the storm's aftermath, he convened meetings populated by department directors whose names he hadn't yet learned.
In September, as part of a Seaside Institute symposium, "Transforming Communities Through New Urbanism After a Natural Disaster," McQueen described the scope of the mess created by Michael and Panama City's plans to build back "better,
bigger and stronger" in response to it.
Then, he entertained a few questions.
"What can we do to help people like you?" came a question from the back row, asked by a woman who identified herself as an Air Force veteran.
"Pray," McQueen said, and then he paused, visibly emotional, before resuming.
"People in Panama City are hurting," he said. "They need a new hope."
To invest the city's estimated 26,000 residents — Panama City's pre-storm population was 36,000 — with that hope, McQueen plans to employ "policy, programs, processes and procedures in ways that will enable the city to realize its potential."
If that sounds like military-speak, it is. McQueen brought no municipal background to his job as city manager, but he almost surely has had more experience rebuilding cities than any of the other 80 individuals who applied for the position he
now holds.
For example, as the commanding general of the 108th Training Command headquartered in Charlotte, North Carolina, McQueen directed approximately 7,000 soldiers whose assignments included rebuilding Baghdad.
About post-storm Panama City, McQueen remarked, "It was Baghdad with trees. I've learned a lot about trees lately."
He noted that countless pine trees in and around Panama City were snapped at a height about 20 feet above the ground. That, he has learned, was the level to which sap in the trees had fallen as they began to prepare for winter dormancy. Today, standing trees are dying in big numbers because their systems for distributing water and nutrients were irreparably damaged by the storm.
Panama City's "long-term planning project," McQueen said, comprises four fundamental components and includes concepts embraced by new urbanists:
Clearly defined "lines of effort," including providing for safety and security, shoring up vital infrastructure, restoring and growing the city's economy and enhancing quality of life.

A team approach, driven by citizen input.

A commitment to 10 cornerstone ideas: waterfront access, downtown activity, downtown living, safety and security, sustainable building, resilient infrastructure, connections, placemaking, gathering spaces, updated standards.

Uptown land development and transportation improvements, including the reconfiguring of "Malfunction Junction," the confluence of U.S. 231, U.S. 98 and Harrison Avenue.
Victor Dover, an urban designer and the principal lead with the Miami planning firm of Dover, Kohl & Partners, is leading a team of teams all working on the Panama City project and representing specialties ranging from transportation to debris
removal. He was the symposium's opening speaker.
In response to disruptions such as natural disasters, Dover said, "designers put lines on paper. We try to lend order to the chaos. Someone has an idea, and we draw a picture and ask them if it is what they had in mind."
That is, they lead by design.
Dover said he has learned to respect the reality that people don't like to be told what to do. And, he said, "everything does not have to be figured out in advance," emphasizing that people are "addicted to choice."
"Chevrolet stole a lot of market share from Ford when it introduced cars in colors other than black," he pointed out.
Disasters need not precede transformative work, he said, but they help by bringing people together and making it easier to achieve consensus, or at least consent.
McQueen said that surveys have established that 78-90 percent of Panama City residents approve of the approach to the recovery project.
He spoke with appreciation to the role played by first responders in the immediate wake of the storm and saluted utilities workers for restoring systems as quickly as they did.
McQueen said that 124 of the city's 127 lift stations were knocked out by Michael and untreated sewage flooded streets and flowed into St. Andrew Bay.
He added that the storm exacerbated problems that had been neglected for too long, citing lift stations that were built in the 1950s and the clay pipes that make up much of the city's wastewater system.
Dover said Panama City's downtown had been decaying for decades before the storm, owing to factors including the construction of a shopping mall and the spurning by people of walking in favor of "happy motoring."
He and others involved in the Panama City project, including transportation planner Richard A. Hall, hope to influence the state to rework projects designed to speed traffic to Panama City Beach in ways that may lead people to discover downtown.
Businessman, consultant and visionary Quint Studer quoted Harvard Business School professor John Kotter in telling symposium participants that "70 percent of failure results from a lack of urgency" or what Studer called the absence of a "burning platform."
In Pensacola, where Studer has led downtown revitalization efforts, that platform was the realization that the city was becoming increasingly unable to retain talent.
"Young people," he said, "want three things: affordability, opportunity and a vibrant downtown."
In Panama City, where some 5,000 children are homeless, the wish is more elemental, for now.
But, for McQueen, the Great Disrupter of Oct. 10, 2018, was many things, including an invitation to move forward by doing things differently.
"If you always do what you've always done, you'll always get what you've always got," he said.
See more below:
Renderings courtesy of Dover, Kohl & Partners