Panama City Beach Puts Spring Break in Rear View
Riding a Wave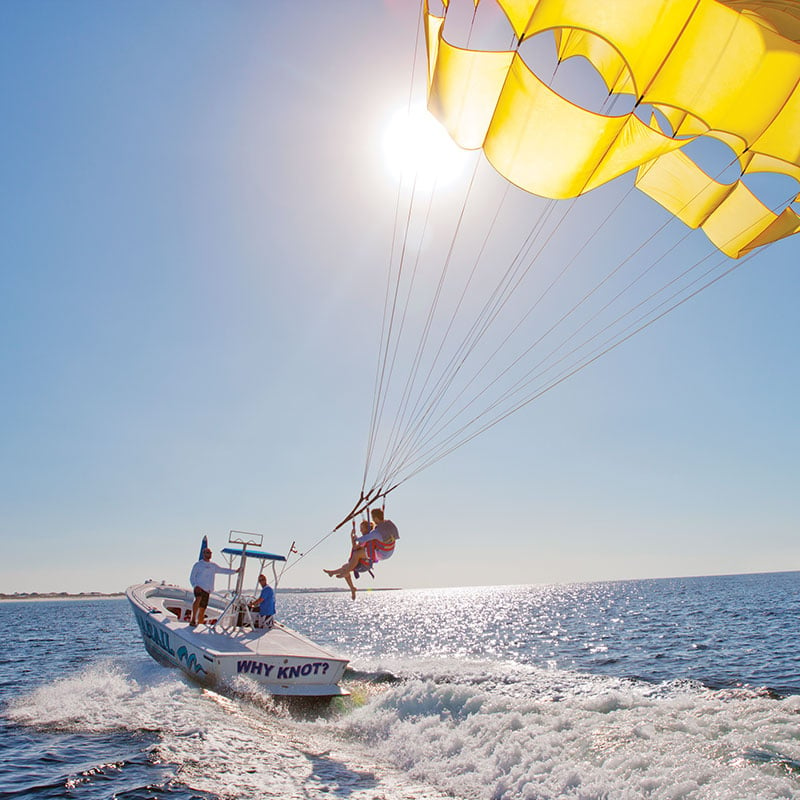 In March of this year, tourist-development tax collections in Panama City Beach were up by 5.21 percent versus March 2014.
News stories with Panama City Beach datelines were up even more dramatically.
Oscar Wilde once said that the only thing worse than being talked about is not being talked about. Of that, you would have had a hard time convincing Bay County tourism officials.
Stories picked up by news wires detailed a gang rape on the sandy beach and the actions of a shooter at a house party who wounded seven. Sean Hannity of Fox News had a field day. (How better to boost ratings than with bikini-clad crime scenes?) A prominent plaintiff's attorney, Wes Pittman, convened an anti-Spring Break rally at a venue usually reserved for weddings and barbecues and kicked off a petition drive aimed at recalling Panama City Beach's mayor and City Council members. Spring breakers, Pittman said, were so clogging emergency rooms that local residents couldn't gain access to acute health care.
Bay County Sheriff Frank McKeithen got involved. He intimated that Panama City Beach was just an incident away from becoming the next Ferguson, Missouri. McKeithen petitioned for emergency ordinances to combat the Spring Break menace and got part of what he wanted. Booze was banned from the sand. Closing time was moved up.
There existed widespread agreement that Spring Break marketing efforts were attracting the wrong element. A divisive dynamic developed. Individuals seen to be in favor of Spring Break were deemed also to be anti-law enforcement and, frankly, anti-God.
Could the Panama City Beach tourist economy hope even to survive?
Well, take a look here. In April of this year, bed tax collections rose by 17.43 percent. In May, they were up 15.11 percent, year to year. And the trend has continued. As of July 1, bed tax collections fiscal year to date were up 11.4 percent.
What's gone right?
"Our public relations are much better, and we react much more quickly than we used to," said Mike Bennett, chairman of the executive committee of the Bay County Tourist Development Council. "Whenever you can take a curveball like we got this spring and turn it around into a single or a double, that's a good thing. We have learned to react to bad news by talking about all the good things we have to offer."
Too, Bennett said, an improved economy, the advent of the airport at West Bay and the arrival of Southwest and United airlines have been developments that have begun to pay off in spades. Business had been building in response to trends and initiatives that were more than the most raucous and violent of Spring Breaks could disrupt.
"The new airport is bringing in twice as many passengers as the old one did," said Andy Phillips of Counts Oakes Resort Properties. "We're seeing people from new markets — Texas, in particular — like we never have before."
Phillips finds that Panama City Beach has more to offer the affluent visitor than it did even six or eight years ago.
"The mom-and-pop motels are going away," he said, "and first-class accommodations and condos are taking their place. Not long ago, we didn't have a Main Street and now we've got Pier Park. But we remain a melting pot. We still have value lodging available. Our white sand appeals to everybody; it'll always be our No. 1 asset. We're not pretentious; we greet people with Southern hospitality, and all kinds of folks successfully come here to have a good time."
In some ways, said Bennett, having a good time — and he doesn't mean the beer bong kind of good time — is easier in Panama City Beach than in Destin.
COURTESY OF PANAMA CITY BEACH CVB/STEVE
BEAUDET
"To their credit, Destin is sold out," Bennett said, "but there is just one road down the middle of it. We flow better, drive easier."
Jayna Leach of Sterling Resorts is the incoming chair at the Panama City Beach Chamber of Commerce. Sterling, she said, has enjoyed a record summer and is looking forward to its best fall season ever.
"We were at capacity and turned a lot of people away in July, and I think that was true throughout much of the destination," Leach said. "The weather was great this summer and that helped, but all of the activity that takes place at Frank Brown Park and our special events are important, too. They lead me to believe that the gains we have enjoyed are sustainable."
Leach points to Fall Break as a growing factor in Panama City Beach's shoulder season success.
"We lost the Labor Day weekend to earlier school starting dates," she said. "Fall Break is our new Labor Day."
Bennett credits the Tourist Development Council and Convention and Visitor's Bureau with sticking to a strategic plan adopted in 2012. That plan called for preserving and enhancing the sandy beach itself; enhancing the visitor experience by, among other things, developing gateways and encouraging the redevelopment of abandoned property; enhancing and developing public venues, including sports facilities and parks; and developing and marketing Panama City Beach as a year-round destination.
For Bennett, the latter initiative is a big deal.
"Fall sports, the Gulf Coast Jam country music festival, they are big parts of the year-round picture," Bennett said. "Who would have thought that Panama City Beach, with our Beach Ball Drop, would become home to one of the Top 10 New Year's Eve events in the country?"
Events, tournaments and festivals lend themselves to niche marketing, and Bennett is satisfied that marketing efforts on behalf of Panama City Beach are not just generally better, but more precise.
"We have better demographics, more surveys, more studies," he said. "We know our customer and our potential customer. And we know who we are. We're not just on the water. We're in the water. Fishing, WaveRunners, parasailing, diving. Our visitors have a relationship with the Gulf of Mexico that involves more than just looking out over the water from the balcony."
Bennett endorses the "Real. Fun. Beach." line adopted by the Convention and Visitor's Bureau. It has made his job as an owner of Seahaven Beach Resorts "Real. Fun. Business."
Said Bennett: "It's nice to be riding a wave."