Panacea's Gulf Specimen Marine Laboratories Celebrates 50th Year
From Shack to Biological Supply House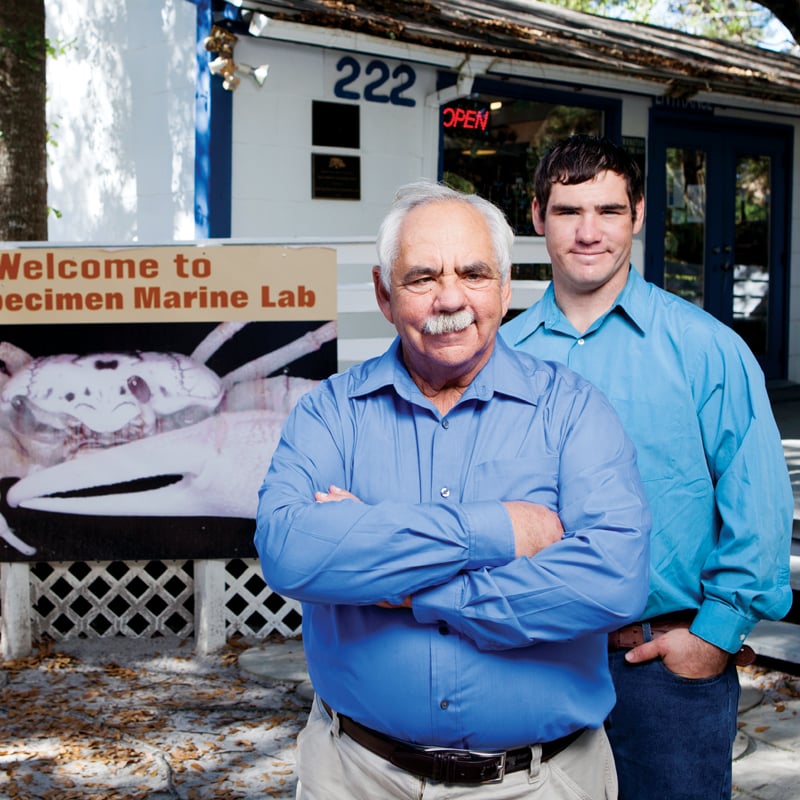 The Gulf Specimen Marine Laboratories (GSML) in Panacea has traveled far from its origins, when it was a struggling startup business in a ramshackle shack and its staff consisted entirely of founder Jack Rudloe, later joined in the enterprise by his wife Anne.
Today, it is an internationally recognized biological supply house and environmental education center/aquarium boasting ample interior and pavilion space for exhibitions and programs, and showcasing hundreds of live Gulf specimens, most notably invertebrates and other small marine creatures. Managed by the Rudloes' younger son, Cypress, and operated by a six-member staff plus volunteers and interns, the facility continues its original function of collecting and selling marine specimens to universities, aquariums and museums across the country and abroad for educational and research purposes.
Since 1990, moreover, part of the GSML's mission has been advancing marine biology knowledge and promoting protection of marine species and the environment. Which explains the facility's evolution into a popular tourist/roadside attraction and self-sustaining private nonprofit. Too, its educational outreach has expanded in recent years with the addition of a sea-mobile, an aquarium-on-wheels that travels to area schools and events to teach about marine life and conservation, while its sea turtle research/rehabilitation program is counted among the oldest in the country.
Last May, the lab not only celebrated 50 years, but the Washington D.C.-based Environmental Law Institute honored the Rudloes with the National Wetlands Award — one of several recognitions accorded them over the years for their contributions either to marine biology research or environmental protection. The award specifically hailed the couple's efforts in helping preserve 35,000-plus acres of Panhandle wetlands, advocacy that didn't come without battle scars or the creation of enmity in some quarters.
Anne, a marine biologist, FSU adjunct professor and author, died in 2012; Jack, however, remains very much a maverick and an activist, committed to wetlands protection and the preservation of estuarine ecosystems. He also remains integral to the GSML, although at 71 he readily admits his role is in transition. He now performs more of a fundraising/planning function, while Cypress manages the day-to-day activities.
"Cypress is better at smoothing relations," Jack says, allowing that his many fights to keep the center alive over the years have hardened and made him a bit cantankerous. "But honestly, with the state bureaucrats and their regulations and rules, unless I busted heads and stomped them on the battlefields, this place wouldn't be here."
On any given day, the staff and volunteers are apt to be engaged in upkeep of the facility and its specimens, along with providing educational field tours to school children, attending to walk-in visitors and monitoring the gift shop and tank exhibits. All the while, the collection of specimens remains paramount, both to maintain the living inventory and fill specific orders.
"Just last night, the crew was out until 3 a.m. collecting specimens," Jack relates. "Thirty percent of our income is sea urchins and fertile sea urchin eggs for embryology classes and embryological research. So we're constantly diving, dragging or picking up sea urchins and shipping them."
Browse the GSML's webpage, and the catalogue of live marine specimens available for purchase range from plants and sponges, to jellyfish and sea worms, to hermit and horseshoe crabs, to sharks and rays. The facility does about $200,000 in specimen sales annually.
Did he think 50 years ago the marine lab would be around today?
Jack Rudloe laughs. Starting out he had no plan other than for it to survive five years, if that, he says, explaining that the enterprise was an outgrowth of his scientific bent and high school work with plants, and later with sea urchin eggs as a lab technician at FSU. The university, in fact, played a role in the lab's founding, however indirect or unintentional. Indeed, Jack's difficulties with FSU, and academia and bureaucracy in general, are longstanding, well-documented, and by his telling, reverberate to the present. Kicked out of FSU in his freshman year, he joined an international Indian Ocean expedition, where he not only earned enough to buy the Panacea property, but also made significant connections with folks in the scientific community — most notably taxonomists from Yale, Harvard, Boston University and other prestigious institutions. He also received encouragement from Nobel Prize-winning author John Steinbeck, whom Jack befriended in 1962 and who himself was an amateur marine biologist with his own ambivalence about academia.
The GSML's early years and struggles for survival are documented in Jack's first book, "The Sea Brings Forth," one of 12 books he and Anne authored individually or collaboratively through the years, along with countless magazine articles. He's currently at work on his latest book, tentatively titled "Panacea Prophecy."
"Writing has always been a major part of my existence," he avers.
"My mom told me years ago I was in a conflict between writing and doing specimens. She said shut this thing down and stay writing. But I've persevered in a bifurcated existence."
He foresees expansion for the GSML.
"I see it becoming more a regional environmental center," Jack says. "Right now a lot of visitors are not part of the tours and there are no specific events for them. We want to set up regular activities, such as shark feedings and crab races. We want to make this more of an entertainment center, as well as an education center. Someplace people can come and spend the day because they get more information and there's a ton of stuff to see."
He envisions an Octopus Garden in the woods opposite the GSML. The garden, he says, would display sea creature models amidst the flora, underscoring the ecology of coastal forests and marine species.
As for personal goals, he wants to revisit some of the international worksites of his early years, such as Africa, the Orient and South America. Only he wants to do it as a tourist.
"It might be fun taking it easy," he says.
His activism and environmental advocacy, however, he vows to continue "until the day I die."