Overcoming Presumptions
Expo founder leads Black business owners to resources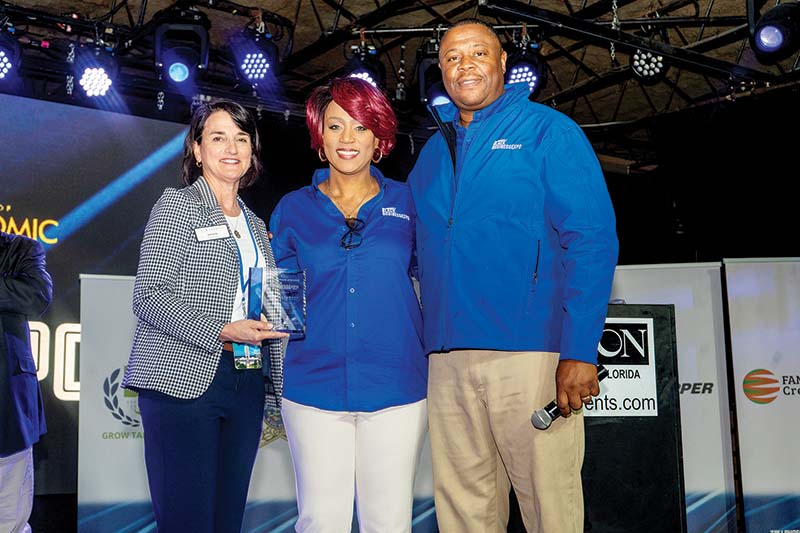 Especially for Black entrepreneurs in the U.S., the early days of the COVID-19 pandemic were catastrophic.
According to a report from the Federal Reserve Bank of New York, the number of active Black business owners plummeted by 41% between February and April of 2020, versus a 22% decline in business ownership overall.
Vaughn Wilson considers himself fortunate.
He reopened his business, Mega Ace Media, in October 2019 after leaving his job as the sports information director at Florida A&M University to spend more time with family. In a matter of months, his business started crashing, and Wilson was left sitting on his hands.
Eventually, he regained momentum by providing streaming services to churches throughout Leon and Gadsden counties, but to survive the pandemic's initial shock waves, Wilson broke one of his grandfather's rules. He applied for grant funding from the Tallahassee-Leon County Office of Economic Vitality and the Big Bend Minority Chamber of Commerce, and to his surprise, checks arrived.
"My grandfather was a 'don't take anything from anybody type,'" Wilson said. "That's good, but when there were resources there, I pivoted."
Now, business is better than ever.
Wilson's story of survival inspired him to launch the first annual Black Business Expo Tallahassee in 2022. The BBET is a forum for Black entrepreneurs to network, connect with key community players and learn what resources are available to them. It is also about combatting presumptions that Wilson says hold Black business owners back.
"We sent surveys after the first year asking why (Black business owners) don't sign up for OEV grants and things," Wilson said. "They simply think that Black businesses are not considered and that they would never get it. I used to think that way, to be honest.
"We've kind of had that drilled into us by our ancestors," he added. "But it's not a handout, it's just a hand up. That's what I say. These are the resources dedicated to helping us, but so many of these resources nationally that are set aside for minorities and minority businesses go right back into the pot because they are never applied for. That is the cycle we are trying to break."
Wilson is a member of the Capital City Chamber of Commerce, the Big Bend Minority Chamber and the Greater Tallahassee Chamber of Commerce and has a close relationship with Sue Dick, the president of the Tallahassee Chamber.
During the first BBET, Dick said she had been moved by the participation and enthusiasm generated by the expo and announced that she would waive membership fees for a year for any expo attendee who joined the chamber that day. The other two chambers promptly followed suit.
In 2023, Wilson sought to build on this momentum, forming a panel of Tallahassee's leaders including Dick; Katrina Tuggerson, the president of the Capital City Chamber of Commerce; Nick Maddox, the chairman of the Leon County Commission; Mayor John Dailey; Florida Sen. Corey Simon; Sean Pittman, founder of the Big Bend Minority Chamber of Commerce; Darryl Jones, the deputy director of OEV; and Florida Rep. Gallop Franklin II.
"That was an all-star cast up there," Wilson said. "Nobody has all of those people in the same room to listen to them. I was so proud that there was absolutely no hesitation from any of them. As soon as it was over, they said, 'What do you need us to do next year?' There are resources and a concerted effort for small businesses. All of those people understand the importance of small business for the economy. That's why they came, and that's why it was successful."
In 2022, 65 registrants attended the BBET; a year later, that number grew to 180. Companies large and small are joining with Wilson to provide additional opportunities for business partnerships, loan financing and grants.
As the BBET grows, so does Wilson's vision for what is possible.
He believes that Tallahassee offers huge opportunities to Black business people because he has seen it firsthand. After leaving his family newspaper, the Capital Outlook, to work with FAMU years ago, Wilson created Rattler Productions, the athletic department's first production studio. Resources were limited, and despite his well-rounded multimedia background, Wilson needed guidance.
He made a call to Florida State University and quickly had the support of the Seminole Productions staff. Wilson trained for months with Seminole Productions, which even donated some equipment to Rattler Productions.
"It was an open door," Wilson said. "Everyone knew me when I would come over, half the time unannounced. To me, that explains Tallahassee. It is open. In a general sense, it is open, it is conducive, it is collaborative in so many ways."