Open For Business
The St. Joe Company, retooled, takes long view on developing Northwest Florida's economy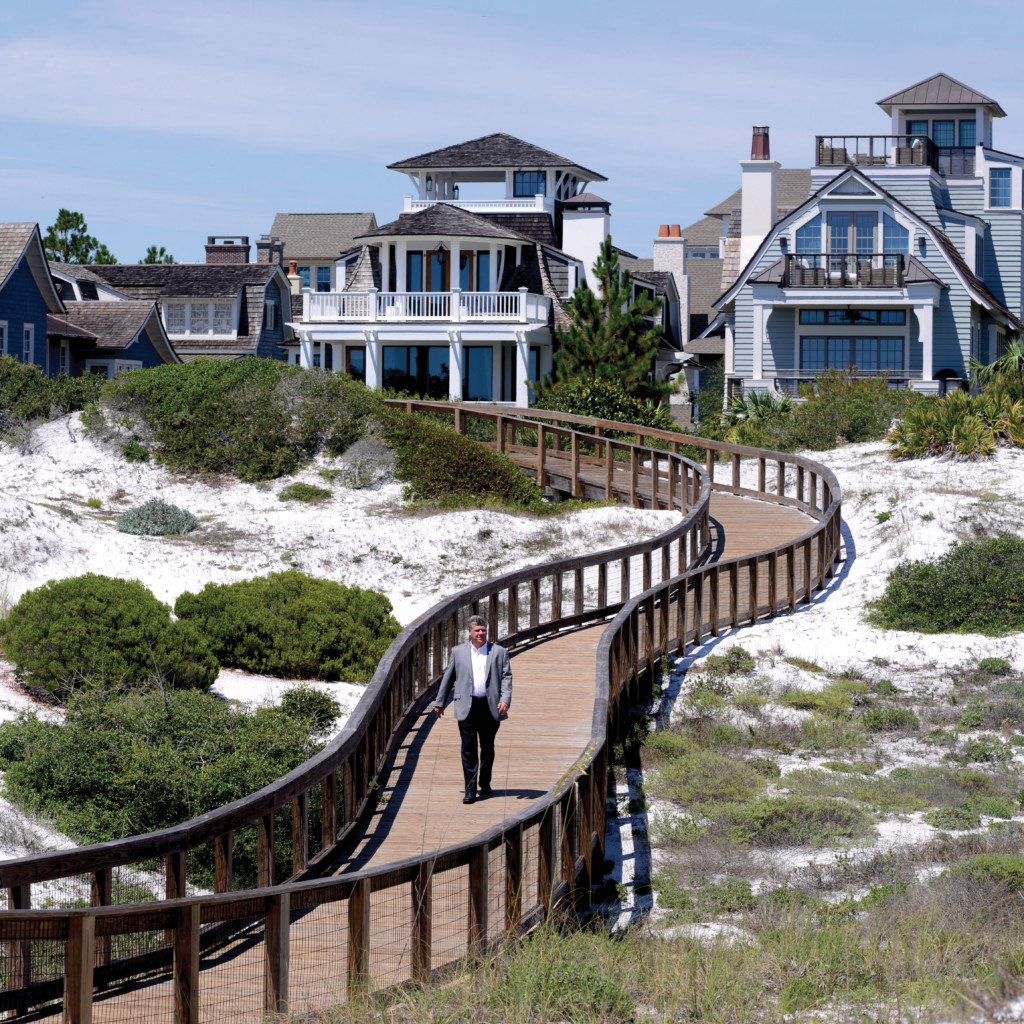 JORGE GONZALEZ sits comfortably in a large conference room surrounded by maps that tell the future of The St. Joe Company.
It was dubbed by former company leaders as "the war room," but Gonzalez looks around at the walls, smiles and says he prefers to shy away from the melodramatic. "We call it the map room. That's as exciting a term as we'll use."
No matter what it's called, the maps show that while the historic timber and paper company turned manager and developer is far smaller than it once was, it is still poised to make major changes to Northwest Florida over the next several decades. They show the extent of the company's Panhandle landholdings as well as Northwest Florida Beaches International Airport and the company's adjacent VentureCrossings industrial park, the Port of Port St. Joe and the Bay-Walton Sector Plan, a 50-year project destined to reshape and boost the regional economy along with corporate finances.
Despite its long-term base being in Jacksonville, in a high-rise overlooking downtown and the St. Johns River, St. Joe always had a big footprint in Northwest Florida, owning tens of thousands of acres of land and helping to drive economic pursuits designed to set a foundation for the region's growth. But then came the Great Recession. Profits dropped, company leadership changed, St. Joe's headquarters moved to a small complex located off U.S. 98 in Watersound and the once-high profile was muted.
"The recession hit and many entities did not even make it. We did. We had some management transitions, changes in our board that contributed to more of a focus on internal rather than external," explains Gonzalez, who has held the CEO post since November 2015. "2016 was a transitional year for us. We spent a lot of time making sure that our forward strategy was the right one."
"We're very bullish about making investments in our real estate to create income streams … With our scale of holdings, we can do a lot of things."
In a sense, St. Joe has undergone somewhat of a rebirth, with an increased focus on solidifying its own financial base by creating recurring income streams for the company. Much of its energy is focused on a 50-year plan for a 100,000-acre project spread across Bay and Walton counties, and promoting economic development in the region, particularly through its industrial park at the Northwest Florida Beaches International Airport in Bay County. In the lead is Gonzalez, a man who knows well the people, the communities and the culture of Northwest Florida — a familiar face who has spent years working hand-in-hand with state and local partners to boost the region's economy.
"I like to deal with people on a very personal level," says Gonzalez, a native of Miami who attended Florida State University and has spent 30 years in Northwest Florida, 15 of them working for St. Joe. "In the past maybe we used a lot of consultants. There's nothing wrong with that, but I just have a different style. I've learned that in Northwest Florida, people want to talk with the principals and get to know them on a very personal level. They don't necessarily want agents talking on your behalf."
Gonzalez also emphasizes that St. Joe wants to focus on collaboration and not be seen as the muscle man trying to remake Northwest Florida in the image the company wants.
"We want to be very collaborative and work with the corporate entities that have a stake in Northwest Florida," he says. "I don't like going into a back room, figuring what we think should happen and then go force that. It's not my style. The institutions in our communities, whether business or governmental, feel like they are more of a team with us, as opposed to St. Joe deciding what should be best. I'm more about being collaborative."
The Beginnings
The roots of The St. Joe Company go back to Alfred Irénée du Pont, an American industrialist who moved to Jacksonville in 1926. Along with his brother-in-law, Ed Ball, he delved into banking and real estate, buying up Florida land for dollars an acre during the land bust of the late 1920s. When du Pont died in 1935, Ball became trustee of his estate and kept buying land to grow the timber that fed the Port St. Joe paper mill. The income from the mill allowed Ball to acquire railroads, a telephone company, banks and sugarcane plantations.
The company's landholdings surpassed the million-acre mark, but Ball wouldn't sell any of it. In the 1950s, Walt Disney attempted to buy 3,000 acres. But after making Disney wait all day for an audience, Ball merely sent out a note that reportedly said, "I'm not selling land to you. I don't deal with carnival folk." So, Disney turned its sights on Central Florida.
Ball tangled with environmentalists, union bosses and even the U.S. Department of the Interior over the type of pine trees St. Joe was planting. The company continued buying land into the 1970s, accumulating more than 1.5 million acres. Ball died in 1981. In 1996, the paper business was sold to Smurfit Stone, which closed the mill in 1999.
Today, the company's land holdings are vastly diminished from the time St. Joe was known as Florida's largest land owner. In 2010, it owned more than 580,000 acres. Today the land inventory is approximately 178,000 acres, predominantly located in Bay, Walton, Gulf and Leon counties. There are 47 full-time employees compared to a workforce of 1,800 in 2006.
In 2014, the company sold 380,000 acres of rural land in Northwest Florida to subsidiaries of Utah-based AgReserves Inc. for $562 million. AgReserves, an affiliate of The Church of Jesus Christ of Latter-day Saints, reportedly intends to continue agriculture and timber uses of the land.
The sale included the majority of St. Joe's timberlands in Bay, Calhoun, Franklin, Gadsden, Gulf, Jefferson, Leon, Liberty and Wakulla counties. The company does, however, still have some rural land and forestry programs in place with sustainable forest management, timber management, land management and conservation programs in place.
A Plan Takes Off
For the Bay County region to prosper, it was commonly accepted that a bigger airport was needed. The dream for the new $318 million Northwest Florida Beaches International Airport was more than 12 years in the making but was finally realized in 2010. One of the major elements to that success was St. Joe's agreement to provide 4,000 acres of land in West Bay for the project. The commercial space in the St. Joe-owned industrial park adjacent to the airport provides direct access to a 10,000-foot runway — a major plus for future economic development. St. Joe was also instrumental in bringing Southwest Airlines to the airport, boosting tourism.
"The airport relocation was a multi-year project that was a pretty big idea," says Gonzalez. But the recession and then the 2010 Deepwater Horizon oil spill stalled the local economy, and the rush to grab commercial space around the airport that St. Joe was banking on didn't take off as quickly as hoped. At least, not right away.
In 2012, ITT Exelis opened a mine defense production facility at the VentureCrossings Enterprise Centre. And it was recently announced that GKN Aerospace manufacturing would be moving into the industrial park. The GKN facility is now under construction and is expected to be open for business in 2018. The company's location in Bay County represents a $55 million capital investment that will create an estimated 170 new highly skilled jobs for the region with an average salary of $65,000. The aerospace division is an aircraft supplier for both military and commercial customers, building aerostructure, engine systems and special products, including canopies for F-22 and F-35 jets.
"That particular project addresses diversification of the economy," explains Gonzalez, who also points out St. Joe was one of the founders in recent years of the Northwest Florida Manufacturing Council. "That's a pretty significant wage for Bay County. And manufacturing has a high multiplier effect (with the creation of other services needed by that manufacturer and its employees)."
At a May welcoming ceremony for the new plant, Mike Grunza, CEO of GKN Aerospace's Aerostructures' North America business, said that while many manufacturers are leaving the United States for foreign countries, the company was impressed at how the region is ready for industry growth, including a job-ready pipeline, infrastructure and its location near transportation sources such as the Northwest Florida Beaches International Airport.
"We looked around at locations both inside and outside the U.S., and there was no better partnership than here in Florida," said Grunza. "This investment emphasizes our commitment to manufacturing in North America, as this new, world-class facility will create jobs and strengthen our competitive position in the U.S. aerospace market for the future."
The landing of GKN was a massive collaborative effort of the Bay Economic Development Alliance (Gonzalez is vice chair) with Enterprise Florida, Gulf Power, University of West Florida, Florida Department of Economic Opportunity, the St. Joe Company, Bay County Board of County Commissioners, CareerSource Florida, CareerSource Gulf Coast and Gulf Coast State College. (The site is one of nine industrial locations that have been certified through Gulf Power's Florida First Sites program and is the second out of nine sites to attract a manufacturing business.)
Forward Strategy
"We're very bullish about making investments in our real estate to create income streams," Gonzalez says about the future. "For example, expanding our portfolios of buildings that we own that we lease. We'll be very methodical and thoughtful about when we sell commercial land, because once we sell, our economic interest ceases to exist and we lose income."
GKN fits right in to that strategy as St. Joe moves forward. It will be leasing its facility from a subsidiary of St. Joe.
When the company sold much of its rural timber land a few years ago, Gonzalez said it was because "we didn't see a higher and better use of those facilities for the next couple of generations. We kept the property we expected to have a higher and better use."
A huge chunk of the land that was kept — a little over 100,000 acres, or five times the size of Manhattan — is the Bay Walton Sector Plan. ("We reminded our friends in Walton that Bay came first because it comes first in the alphabet," Gonzalez says with a smile.)
The 50-year plan calls for 170,000 residential units and 25 million square feet of non-residential property. Yet how that will actually be distributed or built is far from being decided. The company held 30 community meetings in the region to get input from local residents, businesses and community leaders.
"The idea is that instead of having that type of land asset just be developed based on what comes up next week, we wanted to have a blueprint or framework with a long shelf life," he says. "We're not going to artificially confine ourselves to project types because that's what we did in the past. We'll look at retail, office parks and residential."
Originally there was discussion about developing communities that would attract retiring baby boomers and perhaps have some similarities to The Villages, a renowned retirement cluster located south of Ocala that is one of the fastest growing cities in the country, with more than 100,000 residents.
"The retirement demographic is something everyone in the country is looking at. We have been studying it and the trends, and we have looked at The Villages, like everyone else," Gonzalez says. "They're the overnight success that has been 30 years in the making. But our intent is not to replicate that here. The attitudes about retirement have been evolving and aren't the same as they were 10 or 20 years ago. We have to be sensitive about what the trends are. Active retirement is something we're considering. With our scale of holdings, we can do a lot of things."
Those things include workforce housing, traditional family housing, second homes, vacation homes and retirement homes. Adds Gonzalez, "We'll look at the data, the market. Wherever we think there is an opportunity to respond to the market, we're going to do that."
Some of the company's existing developments include Watersound Origins, within three miles of South Walton's beaches, which has no restrictions and where homes range from $400,000 to $900,000. Breakfast Point is another residential development, located on Panama City Beach in Bay County, where homes average in the low to middle $300,000s.
On the planning board is continued work on the future of the Port of Port St. Joe. The port hasn't been operational for years, but the company continues to own the property where the paper mill once operated.
"Many years ago, the company planned a mixed use commercial/residential use on that property, but the thing we heard loud and clear from the community is that they were more interested in jobs — in commerce and industry. So, we redirected the plan and rezoned to industrial," Gonzalez says. "It's not easy to start a port from scratch (the channel hasn't been dredged since the 1980s). It takes a lot of time and effort, but we're working with the port authority and transportation department to apply for and obtain dredging permits. We're hopeful that at some point in the future, something will happen."
Financial Outlook
According to its most recent annual report, St. Joe this year expects to have a capital expenditures budget of $62.8 million, including $29.1 million for the development and acquisition of land for residential and commercial real estate projects, $25.7 million for leasing, $6.4 million for resorts and leisure, and $1.6 million for forestry and other segments. The company owns 604,000 square feet of rentable commercial space.
"The fundamental nature of our company hasn't changed," says Gonzalez. "We are very open for business."