On the Rebound
Demographics change as Mexico Beach rebuilds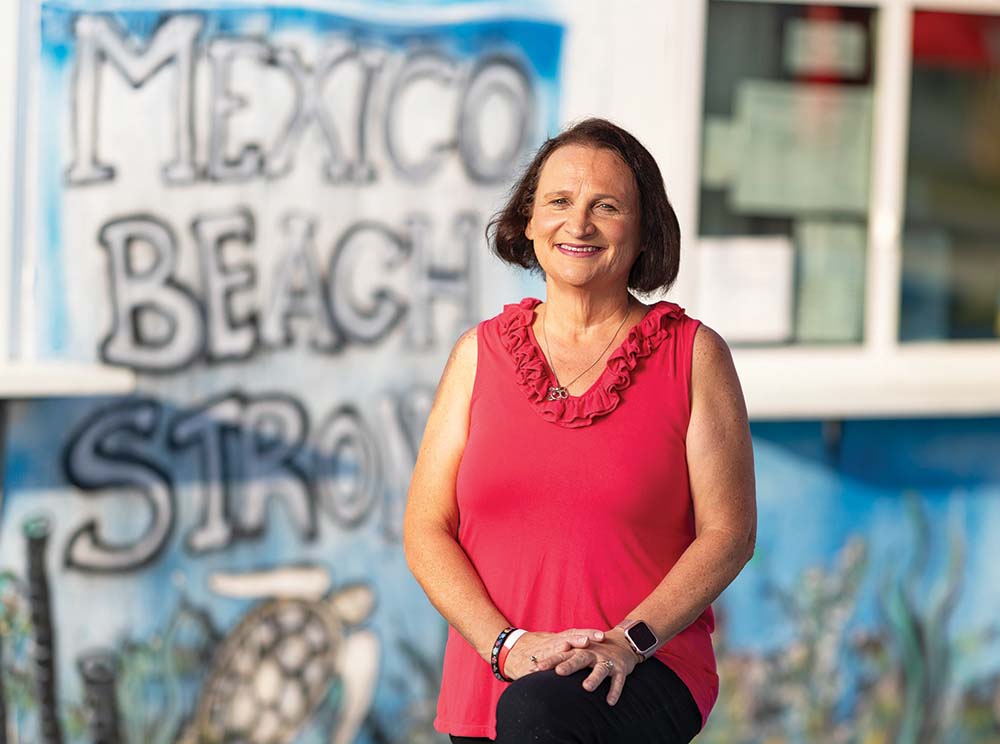 The small Bay County community of Mexico Beach sustained a direct hit in October 2018 from Hurricane Michael, a Category 5 behemoth with sustained winds that reached 160 miles per hour. The devastating storm crippled the city's infrastructure and decimated the vast majority of its homes and businesses, forcing the once serene beach town down a long road to recovery, one it is still navigating four years later.
The day after Michael's wrath, Al Cathey, who grew up in Mexico Beach, and was then serving as its mayor, surveyed the ruins of the hardware store his family had owned since 1974.
"Our store was lost," he said. "But we lost very little downtime; the community needed a hardware store, and we had to make a living. So we made the best of it."
Cathey's youngest son, who lost his home in the storm, figured out a way to make a makeshift store out of a 2,500-square-foot warehouse in back of what had been the store.
"So, we stayed open," Cathey said. "During that time, we started the rebuild process; we opened the new store in the same location in February 2021. That's how long it took us to get going."
While Cathey was rebuilding his business, as mayor, he was also charged with rebuilding the city.
Eighty-five percent of Mexico Beach's homes were damaged by the storm, with the vast majority of them destroyed. In addition to the hardware store, the town lost its grocery store, two gas stations, the civic center, the police and fire stations, and the public pier.
Cathey knew that Mexico Beach would never be the same, but he hoped that in its new incarnation it would still retain its laid-back, small-town character even as its physical appearance and demographics would necessarily undergo radical and long-lasting transformations.
"Mexico Beach was Old Florida," Cathey said. "We're not a cookie-cutter type coastal town. It's not over-commercialized; it's not a nightlife place with bumper car rides and Ferris wheels. It was founded, basically, as a fishing community. And we've maintained that identity, as we had so many houses that were passed down through families."
Unfortunately, the houses that Cathey referred to were small block cottages, built mostly in the 1950s, '60s, and '70s, slab on grade, making them no match for Michael. Also, because they often served as rentals or second homes, many weren't insured.
"Now the storm comes, and all of those are gone," Cathey said. "And with the level of devastation of the storm, many of those family owners sold their properties because they weren't in a position to rebuild."
Cathey was saddened by the number of people who moved away.
"In a retail business, you get to know the people," he said. "The old people that left — and so many did — they want to start over but not in a place that's not near family. They want to move to where their daughter or son lives. So, our demographics have definitely changed, and COVID escalated that change. So many people now can work from home, and they found Mexico Beach."
Atlanta traffic has a hard time competing with a Gulf sunset and white sand beaches.
"So, we've moved toward working families but with higher incomes," Cathey noted. "And they like who we are, and they love the laid-back style. They're not looking for hustle and bustle. I hate losing what we did, but I enjoy the new ones and they're so happy to have a place in Mexico Beach."
New construction codes also have changed the city's housing picture. In order to qualify for the $100 million in FEMA grants it applied for, the city had to require that new structures be able to withstand 140 mph winds. The city also slightly raised its elevation limits, allowing houses to be built on stilts, while still restricting the construction of high-rise buildings that might erode Mexico Beach's small-town character.
Mexico Beach has entered into a relationship with the Panama City Beach-based St. Joe Company, which has plans to develop a 554-acre master planned community on the town's west end, just 12 miles from Tyndall Air Force Base. It's the first large-scale residential development in the city's history. Site work on the first townhomes began in 2021, and plans include the construction of more townhomes, single-family homes, rental apartments and a walkable commercial village.
Cathey said many long-established Mexico Beach businesses, including the El Governor Hotel and Toucan's restaurant, are rebuilding.
"Right now, we don't have but one sit-down restaurant; everything else is food trucks," Cathey said. "And we still don't have a grocery store. And we cannot fully recover without those basic needs — grocery store, motel and restaurants. However, these are businesses that are in the pipeline. The process is slow, but it's what we need. Once we get them, our town will feel more whole."
Michele Miller is Mexico Beach's current mayor, having narrowly defeated Cathey in a close contest in April.
"We moved here in 2015," she said. "We were just finishing up our renovations and getting ready to move in full time. We left when the storm came, and when we came back, our house was gone."
Miller gives credit to Cathey for producing a well-thought-out resilience plan over the last several years.
"The previous administration has done a great job in preparing Mexico Beach for coming back," she said. "Our recovery is over 60%, and we still have a lot to do. We're moving forward to make sure that if anything like Michael ever happens again, we will be prepared."
Miller noted that the city is working to rebuild its stormwater infrastructure with a $1.4 million grant from FEMA. Still unfunded projects include a police/fire facility, the community center, and the town's pier and jetty. But Miller is optimistic about Mexico Beach's future.
"We're coming back strong, and our tourists are coming back strong, too," she said. "Up until last season, there weren't a lot of places to stay. Now, the Driftwood is open, our Gulf View Motel is open and El Governor was partly open in June. We have a couple of new restaurants coming on board within the next couple of months. And with all the building we have had, there are more rental units here than there were two years ago."
Cathey is optimistic, too.
"One thing you do every morning is choose your attitude. You've got to have some heart; you've got to have some stamina to outlive what happened," he said. "I was mayor for 16 years. I have invested a tremendous amount of my energy and my time in helping our city get back. I wanted to ensure that the city got what it deserved."
Cathey said he wishes the best for Miller and does not lack for things to do.
"I'm moving on," he said. " I'm a busy guy. I've got four grandchildren who all live close by. I'm helping my son with the store. I'm still active. I've got things to do." ▪