Old Bay County Airport Transforms into New Development
Panama City's first master-planned community is rolling along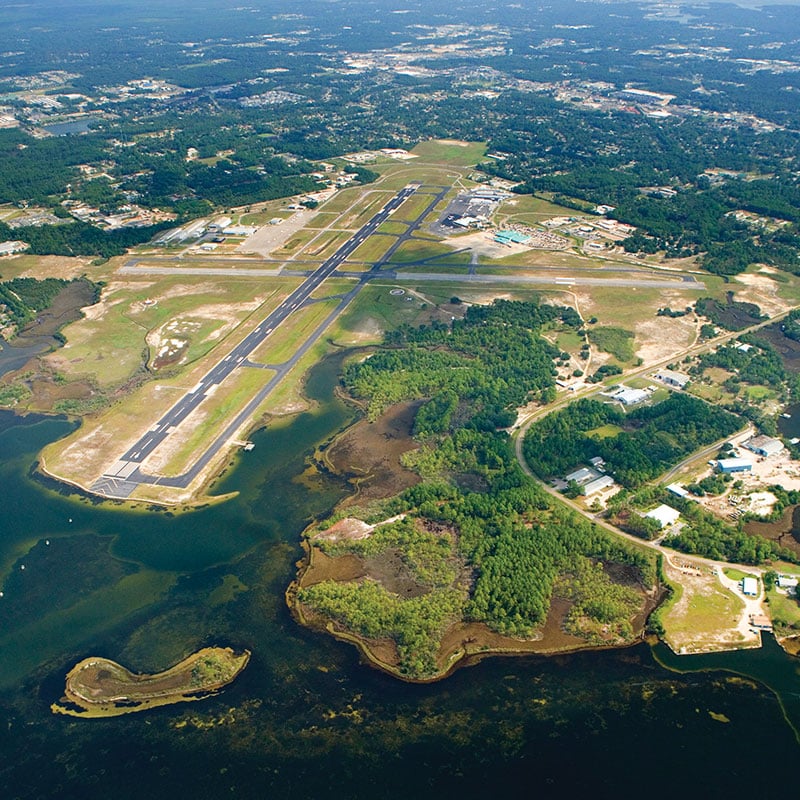 Years before the Panama City-Bay County International Airport closed in 2010, the St. Andrew Bay Land Company in Panama City had its eye on the land, planning SweetBay, Panama City's first master-planned waterfront village — a pedestrian-friendly new home community with restaurants, retail and recreation.
"It is rare to find 700 acres of developable land in our area these days, and the beauty of the bay and natural landscape make it a great place for this type of community," says Holly Pituch, marketing coordinator for St. Andrew Bay Land Company. "We felt like it would be a great thing for Panama City to have access to the beauty of this area and the waterfront. The goal is to create an environment where people have a sense of community. As the community grows, residents will be able to walk to school and to the store or just walk and bike around the neighborhood."
The property was previously owned as a private field by the J.B. Atkinson Jr. family, who donated the land in 1932 to the Panama City Chamber of Commerce to be used as an airfield, and was named Atkinson Field. In the late 1930s, Panama City and Bay County commissioners worked together to expand the airport by adding a small passenger terminal and two intersecting runways, renaming it Fannin Field after the mayor at the time. The airport was renamed again in the late 1940s as the Panama City Bay County Airport and later earned the designation as an international airport. After undergoing a major redevelopment in 1995, the airport was relocated in 2011 and the land was sold to the St. Andrew Bay Land Company for $52 million in the same year.
St. Andrew Bay Land Company
"It's something," says Panama City Mayor Greg Brudnicki. "It's really exciting for Panama City as the largest single development going on in Florida right now. The city has done everything we needed to do to get things going, and we look forward to seeing it progress." The project is likely the largest urban infill project under development, according to St. Andrew Bay Land.
Principals from California-based HomeFed Corp., the parent company of St. Andrew Bay Land, also planned the beach community of Rosemary Beach in Walton County, a luxury resort town with many seasonal homeowners. SweetBay is planned primarily for permanent residents, with home prices anticipated from the mid-$200,000s to the $400,000s.
The waterfront community of SweetBay is set on the 700-acre former airport site, allowing for plenty of room for growth as the neighborhoods take shape during a 15- to 20-year projected build-out. Construction for phase one began in early 2014, and the first homes will be available for purchase this spring. Homes will reflect Coastal Traditional and Craftsman styles of architecture. The first phase also includes five community parks; several will include playground equipment and space for picnicking and outdoor events while others will be designated open green space. A community pool is also planned in the first neighborhood.
A walkable, mixed-use community, SweetBay will be the first of its kind in Panama City. A vibrant town center is planned for a later phase, including a grocery store, retail shops, eateries and office space. Future plans also include hiking trails and paths along the waterfront, community pools and other neighborhood amenities.
Set on land made available by the St. Andrew Bay Land Company, University Academy is a free public K-5 charter school that opened in the renovated airport terminal building in 2014. The award-winning school plans to add middle school classrooms for the upcoming school year. Residents of SweetBay can be placed on a priority list for charter school attendance.
Preservation of the natural beauty of the land and surrounding water is a primary focus in the community's design, say the planners. Seventy-three acres have already been preserved through a conservation easement encompassing much of approximately 5 miles of bay frontage.
"A great deal of consideration and thought has gone into this planning process," marketing coordinator Pituch says. "It's about delivering a healthy community and the quality of life that comes with that. The development team is made up of people who care about homeowners getting the best experience possible."
When the seven phases of development are completed, SweetBay is envisioned to have approximately 3,000 single-family and multifamily homes and 700,000 square feet of retail and commercial space in the town center.
"While it's difficult to project the number of jobs created over the life of such a large project, we anticipate over 400 jobs to be created over the first phase of residential development alone," says Jacob Fish, director of development. "We believe SweetBay has tremendous potential to not only create jobs for local residents but also for those who want to relocate to this wonderful part of Florida."