Okaloosa: A booming center of economic development in Northwest Florida
Home of the largest Air Force base in the world, Okaloosa is the nucleus of a high tech, defense and aerospace industry cluster.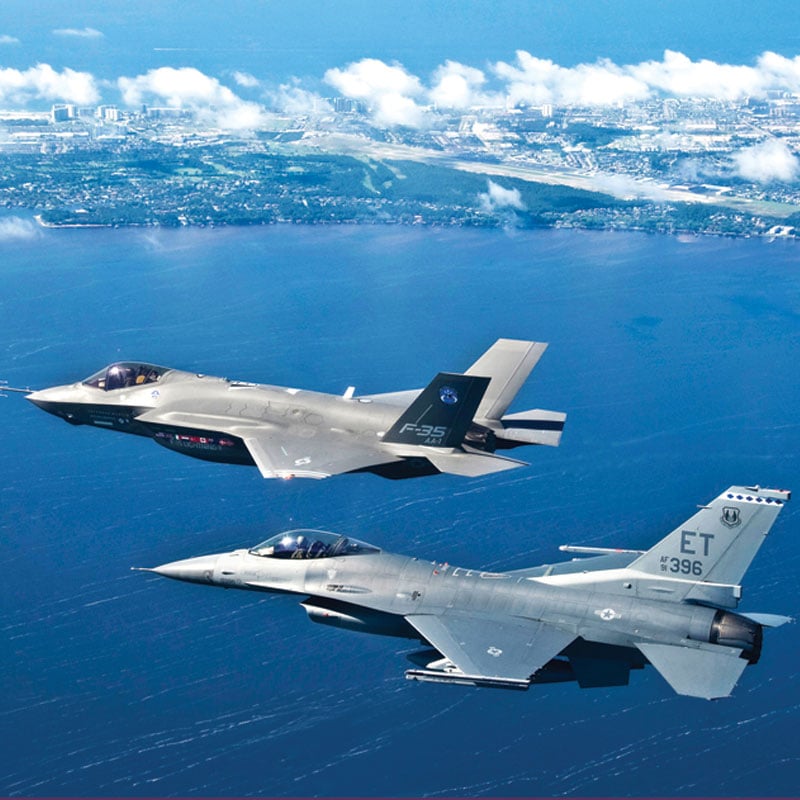 Investing In The Future
Okaloosa County is focusing on educating its workforce and diversifying its economy
It's got the best beaches and family vacation destinations in the country, but Okaloosa is also a booming center of economic development in Northwest Florida that boasts some of the state's best schools, a low unemployment rate and a second-to-none workforce needed for businesses looking to relocate or expand.
With its tourism economy recovered from the 2010 oil spill, the county has pushed ahead with efforts to bring more business to the region while also keeping a watchful eye on how on federal budget cuts could affect the area's multitude of defense-related companies.
Home of the largest Air Force base in the world, Okaloosa is the nucleus of a high tech, defense and aerospace industry cluster. With an estimated 350 businesses, it has been a boon for the local economy — accounting for about $5.2 billion a year. (Eglin, along with neighboring Hurlburt and Duke Fields, form the Eglin Military Reservation, which covers 41 percent of the county.)
Seven of the 10 largest defense contractors in Florida have a presence in the county — and most of the top ten private sector employers are defense or aerospace-related.
The military presence has also led to the evolution of a large workforce of retired military who are prime workers for any high-tech industry ready to move in.
Jim Heald, the 2013 chairman of the Economic Development Council of Okaloosa, has stressed the need to focus on "preserve" and "diversify" this year. His message: Okaloosa needs to have more than tourism and the military to keep its economy strong.
"Our EDC goal is to monitor and then engage economic initiatives to maintain and increase business opportunities, help create new and better job opportunities, retain and enhance our skilled workforce and to support our existing industry and military sectors while creating a more diversified and sustainable economy," Heald said as he took over the EDC's reins. "We will accomplish this by focusing on the community factors that support business location decisions. Collaborating with existing local and state community organizations and programs will help leverage that success."
Educating the Future Workforce
Local schools are among the best in Florida, and Okaloosa in August 2012 became home to the first STEMM middle school in the state, devoted to teaching students science, technology, engineering, mathematics and medicine. The intensive studies will eventually help students find jobs, since most of the state's more lucrative job openings are in those high tech areas.
A study by the Hass Center identified aerospace engineering, industrial and systems engineering, electrical engineering and computer engineering as the industries with the highest need for new and replacement jobs.
"A significant sector of the Florida economy, the sector where there are more jobs available and fewer qualified applicants is in computer technology," said state Senate President Don Gaetz of Niceville as he helped with the grand opening of the Okaloosa STEMM Center and STEMM Academy. "We have thousands of jobs available in this state right now for qualified applicants in that area. In the last seven years, the percentage of students graduating from Florida universities with those skills and those degrees has dropped by 50 percent."
Mary Beth Jackson, superintendent of Okaloosa's public schools, said an educational partnership agreement the district has with Eglin Air Force Base has allowed students at the STEMM Center to meet and interact with a different civilian or military scientist or engineer practically every week.
"Eglin is also assisting us in preparing an F100 jet engine for our STEMM Center and arranging several field trips for our students. The students love it and are engaged by the activities and attention," she said.
The county's public schools consistently earn high grades from the state, and the school district, which has an "A" rating from the state, is ranked as the sixth best of the state's 67 counties. In the most recent Department of Education report, 21 schools earned an "A" from the state, with seven getting a "B."
"Okaloosa County deserves congratulations for this accomplishment," said Florida Education Commissioner Gerard Robinson. "Ranking in the top 10 takes commitment, hard work and collaboration, not only from those within the educational setting. It takes the support of the entire community."
Jackson said the school district focuses on preparing students for a career early on in their education.
"We have a strong presence of career and technical education to enable our students to have the option of entering the workforce or continuing to college after graduation. We start their technology skills in elementary school, which enables them to be in a career academy and start earning industry certifications in middle school," she said.
"This jumpstart enables them to get more career courses to increase their employability skills in a variety of areas when they graduate. In high school, they have the opportunity to achieve a high level of mastery of their career skill to prepare them with industry certifications to make them marketable for an entry-level position after graduation."
Real Estate Is Hot
Home prices are coming back in the county, and houses are not lingering on the market as long. But there are still plenty of bargains to be had for those looking to relocate here. "Across the board, single-family homes, townhomes and condos are selling in Okaloosa County. Inventories are shrinking, and the median price is going up," said Jan Hooks, president of the Emerald Coast Association of Realtors.
The influx of military, including the U.S. Army's 7th Special Forces and extra personnel associated with the F-35 training at Eglin, has certainly helped the local market in Okaloosa County.
"Cash buyers have been a large factor as investors enter the market. With the rental market heating up, investors are pouring into the market to take advantage of lower selling prices and higher rent," Hooks said.
There are a diverse range of real estate options on and off the water. Coupled with affordable lending rates, it makes this a true buyer's market.
Okaloosa Hopes Synergy Will Equal Jobs
County joins chambers of commerce to develop a strategic economic development plan
Sometimes two heads are better than one. In this case, Okaloosa County business leaders are hoping that five will be even better.
In an unprecedented effort to spur economic development — and diversify a county economy too dependent on tourism and military spending — the Okaloosa Economic Development Council and the chambers of commerce in Crestview, Destin, Fort Walton Beach and Niceville/Valparaiso have joined forces to work on the county's first comprehensive strategic plan to create more jobs.
"We're working as a united front for the betterment of Okaloosa County, so we'll be focused on the same issues," said EDC Interim Director Kay Rasmussen. "We're all after a vibrant, sustainable community."
The county and chambers will collaborate on a "Six Pillars" strategic plan as their roadmap for the future, making them the first county in Northwest Florida to do so. The process, modeled on the Florida Chamber Foundation's Six Pillars Caucus System, concentrates on creating a plan specific to six identified topics, or pillars. The six are: talent supply and education; innovation and economic development; infrastructure and growth leadership; business climate and competitiveness; civic and governance systems; and quality of life and quality of place.
By aligning itself with the Florida Chamber Foundation's program "we will be embarking on an endeavor to ensure that our goals and objectives over the next 20 years will be much more focused and aligned with the rest of the state," said Kevin Bowyer, chair of the county's initiative.
The final plan will allow for the EDC and chambers to identify and partner on issues and topics that are considered a common or shared goal. But each group will also be free to work on projects to meet individual area needs.
The planning process kicked off in March, with a meeting of community and business leaders to discuss their goals. A consultant — Collaborative Labs at St. Petersburg College — took the information gathered during the meeting and will compile it into a draft proposal, likely within three months. The $24,000 to fund the study was raised from donations.
"Creating an economic development plan and group is not an overnight success, and I'm sure there are going to be some bumps in the road," Shane Moody, president and CEO of the Destin Chamber of Commerce, told the Destin Log soon after the initiative was announced. But Moody, who is a longtime proponent of the cooperative effort, added, "It's an investment in the community and our future."
Tourism Soaring
The numbers are great — and so are the expectations — in Okaloosa County
The tourism industry of Okaloosa County — the second largest segment of the local economy behind the military — continues to boom along. This year, tourist development officials are focusing their 2013 strategy on the shoulder seasons, spring and fall, in order to bring even more business to the county.
"Okaloosa County's Emerald Coast is excited to see the continued growth in tourism to our area," says Dan O'Byrne, director of the Tourist Development Council. "We saw our average daily rate reach a new high in 2012. Our sugar-white beaches and emerald green waters continue to be a cherished asset for visitors, but what makes this community truly special are the restaurants, attractions and friendly faces that greet our visitors every day."
The occupancy rate for 2011 stood at 80 percent in July. In 2012, that number had moved up to 85 percent. These are welcome numbers compared to those seen in the summer of 2010 (the year of the BP oil spill), during which only 64 percent of available rooms were occupied.
O'Byrne said his associates are excited to see where the current momentum takes them as the 2013 peak season approaches.
"We have incredible community partners and experiences to share with visitors, on top of the natural assets Okaloosa County's Emerald Coast is known for," he said. "Additionally, events like the Emerald Coast Volleyball Week, Florida's state H.O.G. Rally and Oakley's Redfish Tour add allure to attract visitors in our off-peak months."
Almost 19,000 jobs are directly or indirectly supported by tourist spending in the local economy. As much as $324.7 million in annual workforce income comes from local lodging, restaurant, retail and attraction employment. Okaloosa County produced record-setting months in May, June, July, September and October of 2011 for bed tax revenue, overnight lodging occupancy and visitor attendance since records began to be recorded more than 22 years ago. The total bed tax collected that year stood at $11.7 million; but 2012 topped even that with a total of $13.2 million.
The county's restaurant industry may also be seeing an uptick in 2013. Elaine Tucker, spokesperson for Clemenza's at Uptown Station in Fort Walton Beach, said that she sees a rising sense of optimism.
"The business attitude has improved," she said. "I think people are still cautious, but I think it's better. There's a brighter light at the end of the tunnel. And the people I've talked to outside our industry seem very pleased with the winter they've had. It's been a very positive winter, and if that's an indication of what's ahead in 2013 then that's good."
Tom Rice, co-owner of Fort Walton Beach's Magnolia Grill, a mom-and-pop eatery with about 22 employees, agreed that while their winter seasons are great there's still a sense of uncertainty in the air.
"A big part of our winter season is the tremendous amount of winter visitors that we have. Sometimes they call them snowbirds but we call them 'semi-locals' because they are such a big part of our business and community," he said. "But years ago, when I worked as a kid in an Italian restaurant, the owner would be nervous during election time, because people were constantly reminded about higher taxes. This was back in the 1960s, but I think what we experienced then is somewhat true today. The economy during an election (is uncertain) because many may hold on to their wallet a little tighter. It seems now that the election is over, no matter what side you wanted, people have put that behind them a little bit and are out enjoying themselves … but I still cringe a little bit when election time rolls around."
Looking ahead to 2013, Rice said the possible reductions in active duty military could affect many of his neighbors and customers.
"I hope we don't have a lot of folks laid off, but there are a lot of folks at the bases that are nervous, and that makes me nervous," he said.
The Okaloosa Tourist Development Council usually spends about $2.1 million per year on sales, marketing and advertising initiatives. In the wake of the 2010 oil spill, BP awarded the Council three different tourism grants to increase national marketing promotions and awareness.
Expanding Transportation
Okaloosa's commerce is supported by air, land and sea
The Northwest Florida Regional Airport, Bob Sikes Airport in Crestview and Destin Airport stay on the cutting edge of air service and are critical components of Okaloosa County's economic success.
Located on Eglin Air Force Base, Northwest Florida Regional Airport completed another successful year with almost 800,000 passengers flying on the airport's scheduled carriers: American, Delta, US Airways and United. Meanwhile, another 10,000 square feet of terminal space ­— including two new jet bridges — were added to the facility, which shares runways with Eglin. A new terminal restaurant, Helen Back, is a local area favorite and has been a big success since opening in April 2012. But that's not all of the recent goings-on.
"We recently completed construction of an entirely new 753-stall credit card parking lot and repaved the main parking lot that has 914 stalls," said Airports Deputy Director Mike Stenson. "Most recently, daily non-stop service to Washington, D.C.'s, Reagan National Airport was announced beginning March 25 on U.S. Airways."
The civilian airport and the Air Force base enjoy a unique relationship, according to Kay Rasmussen of the Economic Development Council of Okaloosa County.
"That's just another thing that lets us shine out from other communities, is the partnership that we do have here," she said. "We have two entities using one runway instead of taking up more space and having two separate runways. That's a partnership. The commercial airport partners with Eglin and vice-versa on other things, and they share expense and they share resources. So it's not a one-of-a-kind situation, but it is indeed unique."
Meanwhile, improvements at the county's industrial facility, Bob Sikes Airport in Crestview, continue to pay off with new businesses relocating to the area. Stenson said an $18 million widening and reconstruction of the airport's taxiways and storm water master plan was completed in late 2012, allowing for the largest of aircraft to operate without restriction.
"Bob Sikes is poised for spectacular growth within the aerospace sector," said Deputy Director Tracy Stage. "The entire airport and adjacent industrial park has been pre-permitted for large hangars and warehouses with storm-water retention infrastructure in place."
In addition, the airport now owns land that connects to U.S. Highway 90. The airport staff is working with state Department of Transportation officials to design and eventually build an industrial road for intermodal connectivity. Stenson said large aerospace companies like L-3 Communications and BAE Systems benefit from the airport's atmosphere, and more defense contractors are expected to call the Bob Sikes Airport home in the coming years.
Destin Airport, meanwhile, is thriving as a coastal access point for corporate aircraft and privately owned planes. The airport handles about 65,000 operations a year through two fixed-base operators that function as terminals. Reconstruction of the runway was completed in February 2013. An effort to establish a new air traffic control tower is moving forward as a written agreement with the Federal Aviation Administration was approved in February.
Overall, the economic impact of the local aviation business is enormous.
"More than 4,500 people work every day at our airports, and the annual economic impact to the region is over $509 million," Stenson said. "This is all accomplished without general taxes. Our success as a transportation gateway is entirely based upon revenue from our customers and the many businesses that operate at our facilities. Our airport is financially self-sustaining with all revenue reinvested back into the airport's infrastructure."
Not only are the region's airports bustling centers of commerce, but the local seaports are huge economic players as well.
Port Panama City in Bay County is the closest, in terms of distance, to the Panama Canal. When the canal expansion is finished in 2014, the super freighters will begin sailing through and head to the larger U.S. ports, where they'll displace smaller vessels. Those smaller ships will be looking for new berths, like Port Panama City and the Port of Pensacola, which provide direct air, rail and road access to the southeastern U.S. as well as the Midwest.
Port Panama City has 100 acres of land, about half of it for cargo, and 36 feet of water, enough to handle most ships in the world. It is one of the primary U.S. ports for copper imports, and it is the port used to transport a half-million tons of energy-providing wood pellets (made from the region's pine trees) to Europe each year.
Rail and high-speed highways also play a vital role in moving Northwest Florida's economy. With the only direct freight line that crosses the Florida Panhandle, CSX expects its cargo business to improve as the region grows. Also expected to benefit are the three short lines that serve the Panhandle: Apalachicola Northern Railroad, which runs from Port St. Joe to Chattahoochee; Bay Line, which runs from Panama City to Dothan; and the Alabama & Gulf Coast Railway, which runs from Pensacola to Kimbrough, Ala.