OEV ignites economic vitality with layered, holistic effort
City-county agency aims to commercialize research, expand business capacity and bag a trophy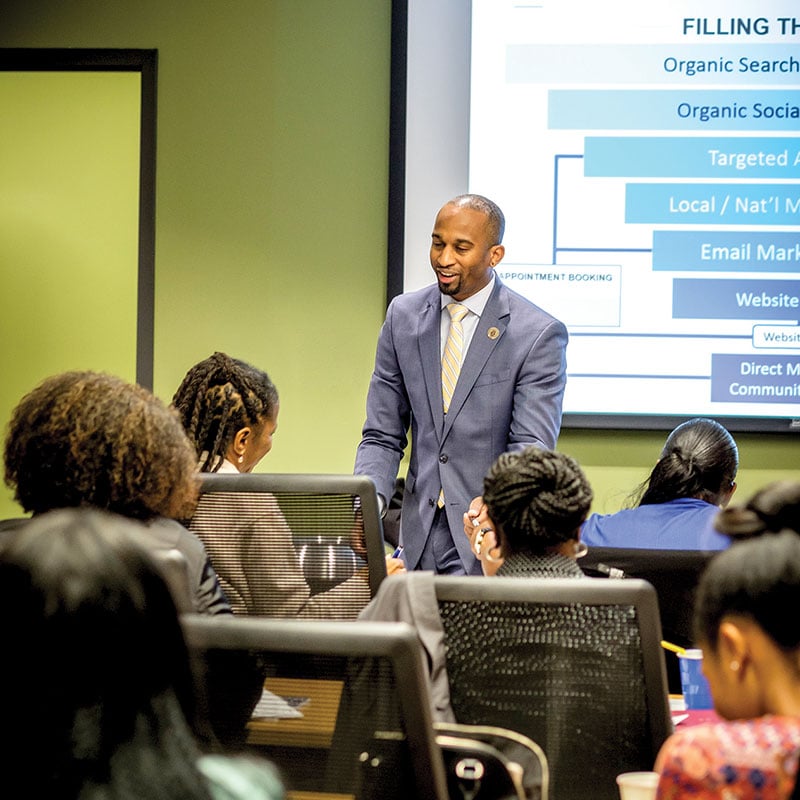 In Tallahassee-Leon County, economic development by any other name … is a whole 'nother ballgame.
Previously housed in the Greater Tallahassee Chamber of Commerce and funded by city and county government as well as private dollars, past economic development efforts were described as "disjointed … with little indication of success" in a strategic plan from VisionFirst Advisors.
In February 2016, the Office of Economic Vitality (OEV) was formed as part of a newly created city/county department for Planning, Land Management and Community Enhancement — acronym PLACE. Guided by the strategic plan, a newly assembled staff has spent the almost two years since following the strategic goals outlined in it.
The plan advised a "crawl, walk, run" approach to ramping up its operations. "The challenge," the plan says, "will be moving quickly to implement immediate strategies and tactics while at the same time developing a system and process that supports a holistic approach to economic development — something that has never been done in the community."
Community representatives have been recruited for three committees — a Leadership Council, a Competitiveness Council and a Citizen's Advisory Council relating to Minority, Women & Small Business Enterprise (MWSBE) — and much of the staff's early days have been filled with meetings, meetings, meetings and strategizing, strategizing, strategizing to implement six elements of the new OEV vision.
Those cornerstones include the traditional attraction of businesses from outside the area but with an expansion to include business formation; business retention and expansion; technology transfer and commercialization (in other words, getting the research being done at Florida State University and Florida A&M University into the commercial marketplace); tapping into the creative economy; and developing a talent pipeline.
It's not just a wish list. Each of these areas includes specific, measurable goals and timelines for implementation.
There are hard-number successes — 193 new jobs since April 2016, 18 active projects, two companies recruited, two company expansions and three leads generated through an existing business outreach program called CapitalLOOP.
"This first year is kind of a network-building year for this program," explained Cristina Paredes, deputy director of the OEV. "Our goal is to sit down with you, the business owner, tell you who we are and — more importantly — learn from you what your experience is doing business in Florida's capital community." In the first six months of these efforts, the staff has already reached the plan goal of 50 such meetings.
The office's MWSBE program has also posted gains, with companies becoming certified to bid on city and county projects up by 25 percent. Tallahassee and Leon County have always sought to encourage minorities and women to make bids and, like most other governmental entities, it was historically affiliated with their purchasing departments.
"Now, in addition to becoming eligible to bid on governmental projects, the OEV is putting programs into place to help these businesses grow and compete in the private sector, too," said Darryl Jones, deputy director of the Minority Women & Small Business Enterprise Program.
"We see part of our responsibility is to help them build capacity," Jones said. "Through industry academies, additional source information, education, and networking opportunities, we're putting them into the CapitalLOOP … making our minority- and women-owned businesses aware of the fantastic resources available to them."
Now operating with funds provided by the city and the county, starting in 2020 the OEV will have a steady source of support, thanks to a continuation of a local penny-per-dollar sales tax approved by voters in 2014. Estimated to generate about $756 million over its 20-year lifespan, 12 percent of that revenue is earmarked for economic development. Shaving off allocations for Tallahassee International Airport and Donald L. Tucker Convention Center, the OEV's share is expected to total $54 million.
While the economic development process' focus and budget is expanding, economic developers are still hoping to lure one of those rara avis projects — a huge distribution center, company headquarters, tech company expansion or manufacturing plant — to this community in the future. OEV Director Al Latimer estimates perhaps 20 such opportunities arise every year nationwide. With forethought, planning and discerning the best fit for Tallahassee-Leon County, he's confident the area will get the nod.
"You can count on us to put our name in the hat when we feel we strongly have the foundation to support an opportunity," Latimer said.
"That project is out there, and I think the way … we are approaching economic vitality now, it's going to identify more of those opportunities," he continued. "Part of our strategic plan calls for the creation of a marketing and communications plan … and it will allow us for the first time in Tallahassee-Leon County's history to aggressively promote the region. We look forward to 2018 and beyond to tell our story."
Want to know more?
The Tallahassee-Leon County Office of Economic Vitality has a robust website chock full of information at oevforbusiness.org. You can also find information on Facebook and Twitter: @OEVforBusiness and #FLCapital4Biz.
In addition to general information about the OEV and its services, you'll find a copy of the 126-page strategic plan and a wealth of data about Tallahassee-Leon County and its workforce.