Nothing Formulaic About Him
Glen McDonald Applies All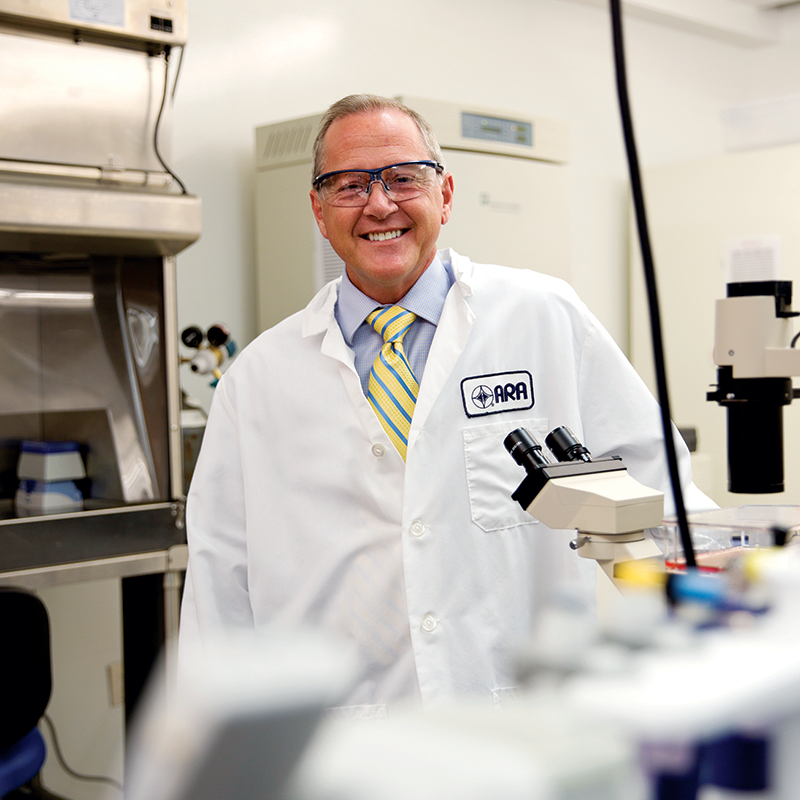 Glen McDonald, Panama City
Chemist, Businessman
Glen McDonald is the senior vice president for Applied Research Associates in Panama City, a highly technical research and development company. In addition, he devotes countless volunteer hours to nonprofit organizations related to public education, business development and the preservation of the military presence in Bay County. Unfailingly affable and a defier of any mental picture of a scientist that you are likely to have, he holds degrees in biochemistry and business administration from Florida State University. Recently, he fabricated answers to a few questions from Rowland Publishing's director of editorial services, Steve Bornhoft.
In layman's terms, what do you do for a living? Great customers pay us to conduct many types of research projects related to energy, explosives, pavements, bio-aerosols, weapons and robotics. One large recent project involved the delivery of 160,000 gallons of jet and diesel biofuel that is a complete chemical replacement for current petroleum fuels, with no ethanol, and will be price-competitive with its petroleum counterparts. We are the first company in the world ever to accomplish this, and the technology was developed here at our office in Panama City.
Who or what were the influences that led you to a career in the hard sciences? My father is a mechanical engineer. As a child, I was always amazed at how he knew how everything worked; he could fix anything. We would build things together from the ground up. I loved math and science. We spent a lot of time outdoors growing up, and I became fascinated with how living organisms worked and thrived in many different environments, and all of this moved me toward biochemistry.
What for you was the most difficult college course you ever completed? Physical chemistry or PChem, as it's called. Physical chemistry is the study of macroscopic, atomic, subatomic and particulate phenomena in chemical systems in terms of laws and concepts of physics. To get into this class, you had to have completed courses in advanced mathematics, advanced chemistry and advanced physics. I studied more those two semesters (PChem
I and II) than I did in my other three years combined.
The last time I picked up the local paper and smiled broadly was when … I read about how well our new airport is doing. Our community went through some deep soul-searching concerning building the new airport, and it has been nice to see a vision coming into focus. I fly frequently and smile all the way from the parking lot to the gate each time.
I totally surprised myself the time … I was escorted by my wife, Katrina, to the Metropolitan Museum of Art in New York City in 1995 and I thoroughly enjoyed it. I had never developed an appreciation or concept regarding art. That visit radically changed my perception of the art world.
Tell us about an especially gratifying moment arising from your many community involvements. In fiscal year 2010, the Air Force reduced the number of F-15s located at Tyndall Air Force Base from 48 airplanes to zero, costing Bay County 850 jobs. Our local Bay Defense Alliance hired a former Air Force four-star general as a consultant and developed a plan to bring a new operational wing of F-22s to Tyndall to complement our training wing. The secretary of the Air Force and the chief of staff of the Air Force then visited Tyndall. Every Bay County municipality and dozens of community organizations presented them with a signed letter of support. Our strategy was so sound and we made such a compelling case that the Air Force decided to move 24 F-22s from Holloman Air Force Base in New Mexico to Tyndall. Tyndall also received 18 T-38s to help with training, and we gained 1,000 jobs to replace the 850 we lost.
Express a formula for Bay County's future success as a scientific equation. Bay County's Future Success: (F) = ie2. This is based on the most revolutionary physics equation of all time, Einstein's E=mc2, where energy equals mass times the speed of light squared. In the Bay County equation, future success equals infrastructure times educational progress squared. Educational progress is the most important variable in this equation and it is squared, or multiplied by itself. Both infrastructure and education will help everyone in our community.
You have a chance to go to the concert of your choice and sit in the front row. Who would you see? The Eagles. And if this is a total fantasy, I'd like to see them playing at the Kennedy Center when they were in their prime.
Bay, surf or offshore? Bay. I developed my hunting and fishing skills in the Louisiana swamps. I like to see all the facets of the bay system: water, trees, geography, sky, fish, birds, animals, currents, winds, etc. Almost every time I go out in the bay, I see something new or notice something different.
Parasail, bungee jump or go-carts? Of these three, definitely bungee jump. One could get hurt doing the other two.