Notable Companies and Firms Have Discovered Tallahassee
Big Names in Town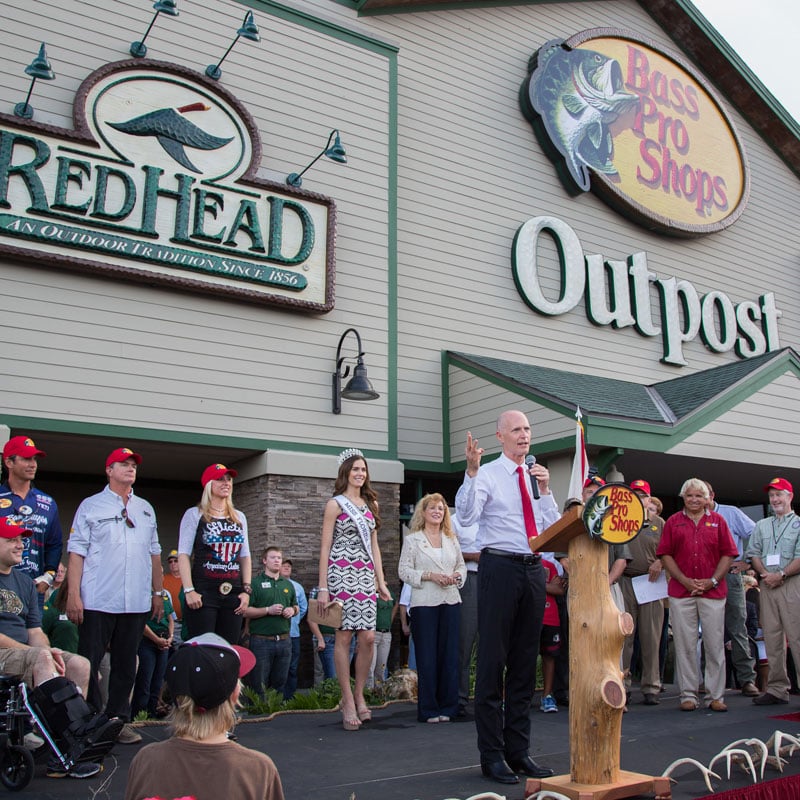 There's been a lot of change in the landscape of Tallahassee business this past year, as many big names have decided to tap into the Capital City marketplace. Here are just a few of the new, big-name companies that have decided to make a new home in Tallahassee.
Perhaps the biggest grand opening Tallahassee has seen in a while happened back in late August, when a Bass Pro Shops Outpost officially arrived in town. The event was attended by Gov. Rick Scott, Florida Commissioner of Agriculture Adam Putnam, Bass Pro Shop founder Johnny Morris and NASCAR driver Tony Stewart. The all-star event drew in hundreds of North Florida hunters, fishermen and other outdoor enthusiasts.
"We have enjoyed a long relationship with Florida sportsmen," Morris said. "We opened our first Florida store in Ft. Lauderdale 15 years ago and our new Outpost store, our seventh location in this great outdoor state, will be dedicated to better serving the sportsmen of Northern Florida and South Georgia."
The 70,000-square-foot store is located next to Costco on Mahan Drive.
"We already have a great working relationship with Bass Pro Shops, from support for our youth conservation programs to our exciting new TrophyCatch program promoting catch and release of trophy bass in Florida," said Nick Wiley, executive director of the Florida Fish and Wildlife Conservation Commission. "They have always been a pleasure to work with and continue to show outstanding leadership and support for fishing, hunting and outdoor recreation in Florida."
The addition of the Bass Pro Shops Outpost now means that Tallahassee is host to four notable sporting goods stores: Sports Authority, Academy and DICK'S Sporting Goods.
Whole Foods Market, the world's leading natural and organic foods supermarket and America's first national certified organic grocer, opened its new Tallahassee store in October. Whole Foods Market Tallahassee, located at 1817 Thomasville Road, is the company's 20th store in Florida.
The Tallahassee store will, like others in the chain, be committed to helping the community. Whole Foods Market Tallahassee anticipated donating 5 percent of net sales from the opening day to a local nonprofit organization. Four times a year, each Whole Foods Market store holds a "5% Day," where they choose a local nonprofit or educational organization to receive 5 percent of a specific day's net sales.
"This is just one of the many ways we plan on being involved in the Tallahassee community," says Michael Muskat, Tallahassee store team leader. "Like many others, we've been looking forward to being a part of this community for a long time."
Designed with Southern hospitality in mind, Whole Foods Market Tallahassee captures the essence of the neighborhood it serves. From community partnerships to unique and products and features, the Tallahassee store will be one the neighborhood can call its own.
Trader Joe's Specialty grocer Trader Joe's opened in October at the Carriage Gate shopping center on Thomasville Road at I-10.
The California-based retailer's space there totals 13,000 square feet and will be open daily from 8 a.m. to 9 p.m. Trader Joe's carries an extensive array of domestic and imported foods and beverages, including fresh-baked artisan breads, Arabica bean coffees, international frozen entrées, fresh crop nuts and deli items, as well as such basics as milk and eggs.
Batteries Plus Bulbs, the nation's largest and fastest-growing battery and light bulb franchise, recently announced an important milestone: the one-year anniversary of its Tallahassee shop. To celebrate, franchise owner and Tallahassee resident Jim Clarke held a ribbon cutting ceremony with the Chamber of Commerce and other members of the community.
Clarke came to Tallahassee because he saw a need in the community for a specialty light bulb and battery retailer here. His store is the first Batteries Plus Bulbs in this region. He is now an active member of the city's Chamber of Commerce and felt like celebrating his first year in operation. The store provides locals with access to an unrivaled selection of batteries and light bulb products and services, ranging from battery rebuilds and installation, in-store recycling and business assistance programs. In addition, Tallahassee residents can meet with trained experts to learn more about new developments in home lighting trends, light bulb legislation and even the best ways to save money with new energy-efficient options.
Kaye Scholer, a national law firm founded in 1917, has offices in Washington, D.C., New York and Los Angeles. But in 2013 they decided to move a 100-employee operations center to Tallahassee. This new office centralizes many of the firm's support functions in one location.
"It's a great day for the Economic Development Council when we can create new jobs in the community and add a centralized operations center to our tax base," said Karen Moore, who was chairperson of the Economic Development Council of Tallahassee/Leon County at the time of the annoucement. "I'm proud of the coordination among all of our economic development, workforce and educational partners who came together in support of this important project."
The firm looked at many states and evaluated several options but picked Tallahassee for many of the same reasons other businesses have over the years. Namely, an accessible highly skilled workforce, proximity to state government and the major education centers that are here. A wide variety of office space offered at reasonable prices and great quality of life also helped attract the firm's attention.
"Clients expect and deserve quality legal services delivered as effectively and cost-efficiently as possible," said Kaye Scholer's Managing Partner Michael Solow. "Establishing an Operations Center in Tallahassee will help us meet that need by allowing us to centralize services previously scattered across our New York, Washington D.C. and Los Angeles offices."
The company's new hires are filling a variety of jobs, including accounting, document services, graphics, technology, library services, human resources and marketing.