Northwest Florida: We Are In the Right Place at the Right Time
This kind of investment in a region does not happen on speculation.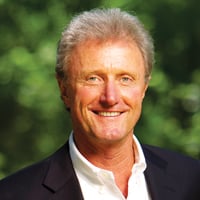 Let me begin with a huge thank you for the many positive calls, e-mails and letters I have received from people and organizations across the region about the inaugural issue of 850. 850 has been a vision, but without a talented team of publication professionals, it could never have been realized.
During the first nine months of 2008 I spent many days on the road, meeting with business leaders and listening to what they thought of the concept. Nearly all were supportive of bringing a new business magazine to the market, but many thought it was a risky challenge to attempt during such an economically depressed year. Some even ventured to ask me, "Are you crazy?"
No, but I was totally committed to the concept and felt the time was right.
In a recent New York Times article, billionaire financier Warren Buffett drew an analogy between business success and world-famous hockey player Wayne Gretzky's strategy for success in the rink: "To be a winner on ice is to skate to where the puck will be, not to where it is."
So 850 today is skating to 2010, when this region will enter the global economy in a big way and we will begin a journey to a higher level of economic prosperity.
Look at what is already in place or is soon coming on line. The new international airport near Panama City is three months ahead of schedule, and three other airports in the region are in the process of making capital improvements. Grand Boulevard and Destin Commons are planning their next phases of multimillion-dollar expansions. Pier Park has opened more than 100 new stores since last March and continues to grow. Interstate 10 is being expanded to six lanes through Tallahassee. Tyndall Air Force base has been designated the testing facility for the next generation of fighter jets – the F-35, which will draw scores of military families and defense contractors to the area.
This kind of investment in a region does not happen on speculation. It happens because of research and people who are willing to take the risk of making an investment today so that they are prepared when the economy begins to bounce back.
During a three-day economic and transportation conference held in Sandestin this past October, St. Joe's Jerry Ray turned over the key economic card – and it was a very simple lesson in geography. Panama City is the closest Gulf Coast port to the Panama Canal, which will double its capacity and be able to accommodate supersized cargo ships by 2014. The new Panama City-Bay County International Airport site, which is located in West Bay and is larger than Manhattan or Washington, D.C., will have 37 million square feet of tarmac-accessible warehouse space for international firms seeking points of entry from Latin America. Rail lines and roads are in place to move products from the port and airport directly into America's heartland or to Atlanta.
To top it off, the 10,000-foot runway at the new international airport, with its 24-hour, year-round customs and immigration services, will accommodate jumbo jets carrying thousands of new tourists to the region, many of them expected to arrive on charter flights from Europe. And these leisure travelers spend an average of $1,000 per day.
Meanwhile, West Bay will still have plenty of "outside the fence" commercial and residential growth pads needed to simultaneously support our area and a global economic trade zone.
So link all of this to the "sweet tea personality" our region is so well known for and you have the recipe for success in place.
Our cover feature this issue is about the talented, extremely dynamic and successful leader of Pensacola-based Gulf Power Corp. Learn about Susan Story, her leadership style and the things Gulf Power is doing to address the critical energy issues that accompany regional growth.
This spring, 850 will expand its corridor coverage to include an area that will very soon become a major player in the success and quality development of the region – the I-10 Business Corridor, which is poised to lure many new industries and help balance the business portfolio of the entire region.
Enjoy this issue, and find that one gold nugget of information that will help your business capture its share of this expanding marketplace. The runway to your success has been paved.