Northwest Florida is Flying High
Successful courtship advances economic development objectives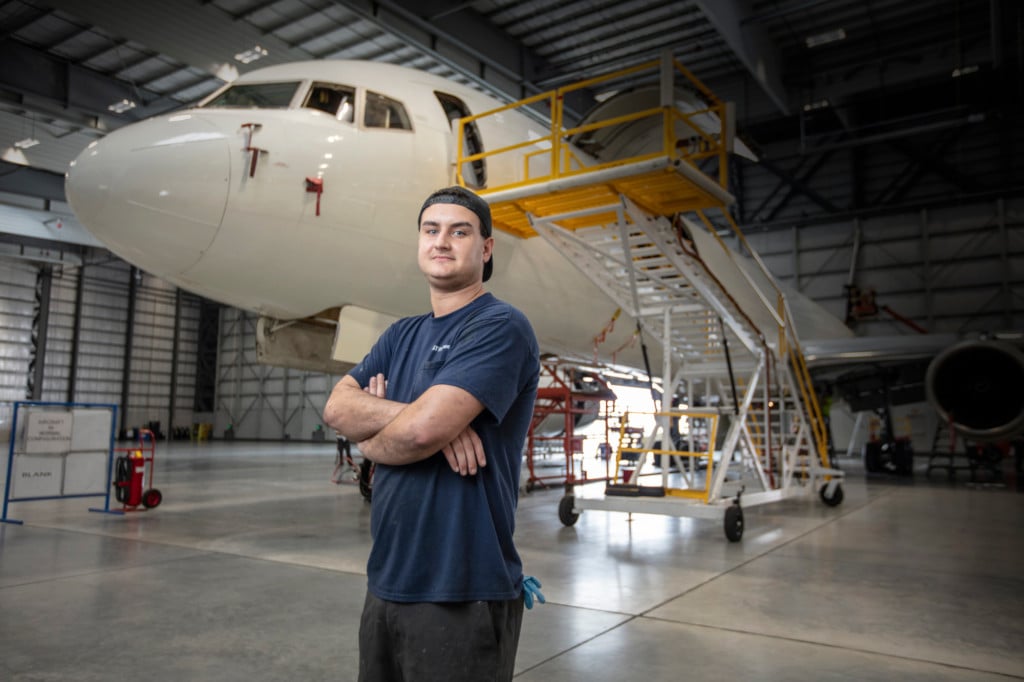 In June 2018, ST Engineering Aerospace commenced operations in its newly constructed 173,000-square-foot, $46 million Hangar 1 at the Pensacola International Airport.
That development represented the culmination of a courtship that began seven years earlier when Singapore-based ST Engineering committed to exploring options for a satellite location near the established operations of its aerospace arm in Mobile, Alabama.
"Every project moves at its own pace," said Scott Luth, CEO at the FloridaWest Economic Development Alliance.
Luth, along with city and airport officials, was steadily involved in negotiations with ST Engineering Aerospace.
"We built a strong relationship with the local leadership out of Mobile," Luth said, before meeting with corporate officials from San Antonio and Washington, D.C. "Over the years, we moved up to the headquarters office in Singapore. I traveled to Singapore several times with (then) Mayor Ashton Hayward."
ST Engineering Aerospace is, according to its website, "the world's largest commercial airframe MRO (maintenance, repair and overhaul) provider with a global customer base that includes leading airlines, airfreight and military operators." It has facilities and affiliates in North and South America, Asia and Europe.
Its suite of MRO services addresses airframe, components and engines, aviation materials and asset management, and aircraft interiors.
It offers customized engineering and design solutions, including passenger-to-freighter conversions.
ST Engineering Aerospace projects that Hangar 1 will become the workplace for 400 employees. But the company will not be stopping there.
In October in Singapore, ST Engineering Aerospace and Hayward signed off on a memorandum of understanding calling for the addition of a 655,000-square-foot airframe facility at the company's Pensacola Aerospace Campus.
ST Engineering Aerospace will invest $35 million in the $210 million expansion project; additional funding will come from the City of Pensacola, Escambia County, Triumph Gulf Coast Inc. and the state and federal governments.
Construction of the airframe facility is projected to start in 2022.
"The incredible partnership between the City of Pensacola and ST Engineering has brought forth a monumental opportunity to expand the I-10 aviation corridor and ignite transformational change to the region," Hayward said at the MOU signing ceremony.
Luth said the opportunity for ST Engineering Aerospace to "tap into a good, aviation-rich labor force" was a key factor leading the company to rank Pensacola ahead of the other locations it scouted in Mississippi, Alabama and Florida.
"Labor is the new natural resource," Luth said. "It means a lot to have so many men and women exiting the military in our area with great skill sets. And our schools are doing a great job."
Luth noted that Booker T. Washington High School near the airport has added an aviation academy. George Stone Technical College established a program leading to airframe and power-plant certifications.
"Education was a big part of our success in the ST Engineering project and accounts for the interest of many others in Pensacola," Luth said.
That interest is running strong. Interviewed in December, Luth said that FloridaWest had 48 projects in its pipeline and that 26 of them were active, meaning they had moved beyond the initial inquiry stage.
Of the 26, seven were related to existing industry expansions and 19 involved companies that would be new to town.
Of the 48 projects overall, Luth said, 41 percent involved manufacturing, 15 percent were related to aviation and 11 percent were tied to information technology.
Other categories included professional and business services and warehouse/distribution operations.
"Career academies in cyber and information technology and programs at Pensacola State and the University of West Florida are paying dividends," Luth said. "We are attracting a good mix, a good balance of inquiries."
Partners in progress
The FloridaWest Economic Development Alliance operates under contract to the Pensacola-Escambia Promotion and Development Commission (PEDC), a statutorily created economic development authority made up of five public officials and four private-sector appointees.
The county routes all of its annual economic development appropriation to the PEDC; the City of Pensacola sends half of its economic development dollars to the PEDC and half directly to FloridaWest.
City and county funds made available to FloridaWest totaled $750,000 in fiscal year 2018.
The PEDC helps build and develop industrial commerce parks. It holds the title to the Pensacola Technology Campus and is working to create an industrial campus, The Bluffs.
FloridaWest, Luth explained, serves as the marketing arm for economic development on behalf of the PEDC, the city and the county.
Its responsibilities also include running and managing a business incubator, Co:Lab, which is housed in downtown Pensacola in a building owned by Pensacola State College.
That is, FloridaWest is involved in "growing our own" in addition to recruiting businesses from afar.
Tenant entrepreneurs at Co:Lab pay a fee and typically stay for about three years. The lab employs a full-time director, part-time business coach and office manager.
Successful Co:Lab graduates include Dr. Sunil Gupta, who founded Intelligent Retinal
Imaging Systems (IRIS), an organization dedicated to eliminating preventable blindness through the early detection of vision-threatening pathologies including diabetic retinopathy and glaucoma.
"IRIS bought a building downtown and is a great, growing company," Luth said, adding that Co:Lab has spawned companies that in total have accounted for $9.5 million in gross sales and created 38 jobs in the Pensacola metro area. Fifteen businesses in development are currently at Co:Lab.
Co:Lab figures prominently in FloridaWest's latest five-year (October 2018–September 2023) strategic plan, compiled last year with suggestions from PEDC.
The plan includes six broad initiatives representing FloridaWest's program of work:
Business incubator — Operate a business incubator to encourage entrepreneurship and grow new businesses.
Business expansion — Encourage business retention and expansion of existing industries.
Business development — Attract new employers with wages higher than the state average.
Workforce development — Provide support to help create a well-trained target industry workforce that attracts new employers to the community, meets the skills training needs of area residents and supports existing industry.
Sites and buildings — Work with PEDC, private and public entities to support and advocate for the development of high-quality business parks and sites.
Organizational support — Pursue organizational strategies to increase the needed resources and partnerships to carry out the mission.
The organizational support objective commits FloridaWest to adding four members per year for five years.
"We're not a chamber of commerce," Luth said. "We're not a large membership organization.
"We're looking for members who are invested in the community, businesses with large customer bases that will grow when Pensacola and Escambia County grow.
Financial institutions, the health care industry, construction companies, utilities, those are our targets."