Northwest Florida is a Hub of Aerospace and Aviation Activity
Flying High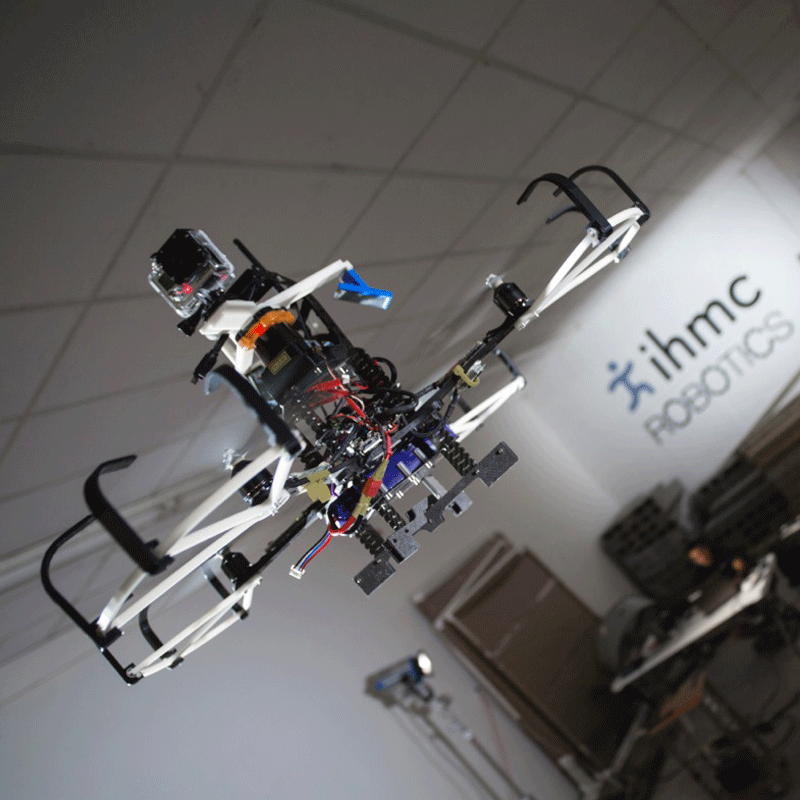 William Howell, IHMC
John Carff (holding remote control) and Daniel Duran at the Institute for Human and Machine Cognition in Pensacola test an Unmanned Aerial Vehicle, or drone.
Florida is home to more than 2,000 aerospace and aviation companies that employ more than 87,000 workers, have a $5.5 billion payroll and pay an average wage of $63,303.
At a minimum, 400 of those companies, including 23 aerospace manufacturing plants, are located in Northwest Florida, which has become a hotbed of aviation and aerospace activity that includes research, testing and education.
For example:
David Still started out life as an optometrist. He went into the Navy, where he learned about peripheral vision through his work with patients and while earning an advanced degree in vision science. Today, employed by the Institute for Human and Machine Cognition in Pensacola, he is working on OZ — a new system that is designed to help pilots more easily navigate and absorb the information coming from airplane instrument panels.

In March, Fort Walton Machining was honored with the Governor's Business Ambassador Award for its efforts in creating jobs in North Florida. In the past decade it has grown from 76 to 220 employees working in two divisions that provide assembly, metal finishing and machining services to the aerospace industry, among others.
At the Florida Center for Advanced Aero-Propulsion in Tallahassee, private airplane manufacturers are tapping in to a high-speed wind tunnel developed by university scientists that can analyze wind flow, fuel efficiency and maneuverability of aircraft. The tunnel, which can generate wind speeds up to Mach 5, is only 12 by 12 inches — but its foundation is sunk 60 feet into the ground to keep it stable.

The Bob Sikes Airport in Crestview is home to an 8,000-foot runway that can handle the largest planes in the world and has a host of tenants, including Quest Air Parts, which has a 76,000-square-foot facility that dismantles airplanes that have aged out of service, reselling the usable parts worldwide.
And that's only a hint of what goes on here.
Northwest Florida is home to six military bases, five of which are aviation-related: Pensacola Naval Air Station, Whiting Field, Eglin Air Force Base (including Duke Field), Hurlburt Field and Tyndall Air Force Base. And the unique mix of military in the region has helped attract not only many of the largest U.S. defense contractors but also commercial aerospace and aviation companies — one of the largest concentrations in the world. Some are engaged in cutting-edge research and development — including on drones. Others are making sure the planes fly better and safer. Familiar company names include Boeing, General Dynamics, L-3 Communications Vertex Aerospace, Lockheed Martin, Sikorsky, Embry Riddle — and there are dozens of others scattered across the region, clustered around the bases, near universities and at some of the industrial airparks that dot the landscape of Northwest Florida.
"Along the whole Gulf Coast there is a constellation of companies and military facilities and NASA assets, with building, maintenance and repair facilities," said Brice Harris, associate director of the Office of Economic Development and Engagement at the University of West Florida. "Now with Airbus coming to Mobile and the spillover effect that's going to have … there is a significant potential for more."
Inside the Florida Center for Advanced Aero-Propulsion:
Trained Workforce
Most everyone agrees that one of the area's key assets — and a good reason for aviation and aerospace companies to locate here — is the significant number of military who separate each year.
"Northwest Florida has the highest population of active and retired/transitioning military in the nation," Harris explained. And many have already had training in the aviation/aerospace field.
There are an estimated 60,000 military personnel in Florida, and when many of them retire, with many prime working years still left, they opt to remain in Florida and seek employment here.
The Florida Center for Advanced Aero-Propulsion attracts about $4 million in annual funding from sponsored research clients, including the FAA and NASA. Here is the Anechoic Wind Tunnel, a subsonic facility.
"Combine our one big natural resource — airspace — with our wonderful talent and, all of a sudden, aviation companies want to be here," said Griff Salmon, executive vice president and COO of Enterprise Florida. "This is a global business. These companies can locate anywhere they want in the world. And we have the capacity to compete."
In fact, Florida has been ranked as the top state in the nation for available talent to work in the aerospace/aviation industry. Perhaps no surprise then that it has the second highest concentration of aviation and aerospace companies in the U.S. — and has been ranked as the No. 1 state for manufacturing attractiveness in those industries by Price Waterhouse Coopers.
"We have the foundation of a trainable workforce," added Neal Wade, executive director of the Bay Economic Development Alliance and chairman of the four-state (Florida, Alabama, Mississippi and Louisiana) Aerospace Alliance. "The educational system is beginning to develop specific training programs that focus on aerospace, even dipping into high school to attract those students who might want to begin apprentice programs, take college training and move directly into the workforce."
Airbus Cometh
The elephant in the room, of course, is Airbus. The European plane manufacturer is building an assembly plant in Mobile, Alabama, just 50 miles west of Pensacola, its sixth center in the U.S.
Construction of the $600 million facility began in April 2013, and assembly is set to start in 2015, with delivery of the first A320 Family jet in 2016.
According to Airbus, it spends 42 percent of its aircraft-related procurement in the U.S. — buying more parts, components, tooling and other material from the U.S. than any other country. And Northwest Florida economic developers hope that will remain true with the new plant, bringing dozens of new companies to the region that will supply thousands of new, high-paying jobs.
Toward that end, five counties — Bay, Walton, Okaloosa, Santa Rosa and Escambia — have formed the Gulf Coast Aerospace Coalition to promote Northwest Florida's strategic location for aerospace suppliers. Not only are the five the closest Florida counties to the new Mobile Airbus plant, they are also well placed to service the recent expansion of aviation original equipment manufacturer (OEM) plants throughout the Southeast, including Boeing in Charleston, South Carolina, Gulfstream in Savannah, Georgia, and Embraer in Jacksonville and Melbourne.
Dozens representing the Aerospace Coalition went to the Global Aerospace Supply Chain Conference in Hamburg last fall to meet with European-based suppliers, forming relationships that they hope will result in some establishing a presence in Northwest Florida.
"We had terrific meetings," said Bay County's Wade. "It's all about networking and business relationships. Our goal is when those suppliers start looking to put a facility here to supply Airbus, we just want to get into the competition."
The group brought the same message with them in May to the Berlin Air Show and will deliver it again in July, at the Farnborough International Air Show in England, the third largest air show in the world. "You can't have just one meeting and that's the end of it," Wade said. "You've got to keep in touch with these leaders so they don't lose sight of who you are."
Enterprise Florida's Salmon said Northwest Florida has been extremely aggressive in its pitch to get Airbus's European suppliers to set up shop here, and the state is supportive of the push.
"We want to do everything we can to help them, to facilitate," he said. "In Hamburg, the exposure the area got with industry leaders was huge. We've had good feedback from our foreign office in Germany that is still getting calls as a result of that trip."
And the state can help make the region more attractive to those companies showing interest — with tax rebates, tax incentives, discretionary grants. "We want to offset some of the burdens on the companies," Salmon said.
In its winter issue, Southern Business & Development magazine listed Bay County and Tallahassee as two of the 10 best supplier locations in the Southern aerospace corridor to service Airbus and Boeing.
"The 2010 opening of Northwest Florida Beaches (International) Airport, along with increased commitment to infrastructure development, has increased accessibility and continues to make Panama City an extremely attractive option for suppliers," the magazine wrote of Bay County. Of Tallahassee, it said, "With its highly productive and educated labor force, quality of life, strategic location and thriving high-tech presence, Tallahassee is a natural fit for aviation and aerospace growth."
In fact, said Kyle Touchstone, executive vice president of the Economic Development Council of Tallahassee/Leon County, Tallahassee is perfectly positioned to serve more than one of the Southeast's airplane manufacturers.
"We have land available, and it's publicly owned," he said. "We have more than 1,000 acres at the airport, and we want to recruit and grow existing businesses that will help us move forward at the airport. Most suppliers will be looking for more than one contract, and we're within 400 miles of Boeing, Lockheed/Martin (Atlanta) and Embraer. We're at the center."
Research and Development
Research for major airplane manufacturers is taking place in Tallahassee's Innovation Park, home of a high-tech wind tunnel that can produce winds up to Mach 5 — 3,806.04 miles per hour. The tunnel is a joint project of the National Science Foundation and the Florida Center for Advanced Aero-Propulsion. It is the first new one to be built in more than 15 years and the only one of its kind located in a university setting.
"Most of the wind tunnels out there are old and big and take a lot of energy to run," explained Mark Dobek, assistant director of the center. "We've had visits from Boeing and Lockheed Martin. We have state-of-the-art testing equipment, which makes us very attractive. We are deeply rooted in mechanical and aeronautical engineering, but we also do a lot of projects with private industries and we expect to do that more frequently."
The Center was established and first funded by the Florida Legislature in 2008 as a cooperative Center of Excellence including Florida State University, the University of Florida, the University of Central Florida and Embry Riddle Aeronautical University. Since then scientists have brought in hundreds of grants to help foster research. The polysonic wind tunnel was primarily funded by more than $3 million provided by the National Science Foundation and more than $1 million from FSU.
FCAAP's Polysonic Wind Tunnel is capable of speeds up to Mach 5 and is used for cutting-edge research that's attracting interest from government agencies and major airplane manufacturers.
Research using the tunnel tests various parts of an airplane to analyze the wind flow. But unlike old wind tunnels, which had to use the actual airplane part, the smaller tunnel uses scaled-down replicas. Airplane manufacturers, the military and NASA are looking for ways to change plane structures to make them more fuel efficient, less noisy and more maneuverable, among other things.
"It is a facility that has been specially designed to help aerospace and aviation leaders test concepts and solve problems, while also educating and training the engineers who will shape the future of air and space travel," Farrukh Alvi, director of the Center, has said.
Meanwhile, about 200 miles to the west in Pensacola, aviation-related research is also being conducted at the Institute for Human and Machine Cognition, a non-profit research center of the state university system pioneering technologies aimed at leveraging and extending human capabilities.
David Still's area of research interest includes night vision goggles, aviation vision standards, contact lenses, visual acuity and flight instrument displays utilizing peripheral vision. The latter project has been dubbed OZ and has seen Still working on his research in Pensacola and at the Army's Fort Rucker in Alabama, where helicopter pilots are trained.
A longtime pilot, Still said the current collection of instruments that a pilot must use makes instrument flight "terribly difficult" because a pilot has trouble keeping up with the visual information he's getting.
"Only the information on the gauge you are looking at gets to the brain," he explained, adding that it takes a minimum of one-fifth of a second to move the eye from one instrument to another. "In the time you take to look at five instruments, you are at a minimum more than a full second behind the airplane. And the airplane situation can easily change in two seconds."
His answer is to replace the numbered gauges with a display of dots and lines that are configuring the data in such a way that the pilot can take a look at the situation and immediately see if he is experiencing too much drag on the plane, needs to adjust the flaps or increase speed. While that's a way oversimplified explanation, OZ allows the pilot to use his peripheral vision — which he or she can't with numbered gauges — to monitor six displays that are doing calculations.
"It reduces the mental work of the pilot," Still explained. "It will kick you in the rear end and tell you you're screwing up."
While Still focuses on making it easier for pilots to fly, Matt Johnson has been the lead on integrating robots into several projects, including NASA and Office of Naval Research unmanned systems projects. His research includes the areas of teamwork, coordination and human-robot interaction.
His current Air Force research lab project focuses on getting unmanned aerial vehicles, known as UAVs, to navigate in cluttered environments.
"Most operate at altitudes where there is no obstruction," he explained. "We want to navigate through the clutter of the real world, in urban areas. We try to do it through human/machine teaming, allowing the human to join in the perception and decision making of the drone."
In Johnson's work, the human is not piloting the drone. "We're not grabbing a joystick and flying," Johnson said. "We have a 3-D interface that marks up the world. The human watches what is going on and can adjust and tweak things while the drone is navigating through the environment."
About 18 inches across, he said the drones could be used for surveillance, assessment or disaster response, investigating bridges that have been hit by a boat or a tsunami or a building devastated by a hurricane or tornado.
The beauty of it? "You can go out and look without having people in it."
Recent Developments
Manny Mencia, senior vice president of the International Trade and Business Development division of Enterprise Florida, recently told a conference on foreign trade that aviation and aerospace is Florida's fastest growing sector of the state's economy.
And Northwest Florida isn't missing out on the action.
In March, CareerSource Escarosa in collaboration with several community partners, including Naval Air Station Pensacola Fleet and Family Support Center and Pensacola State College, hosted a recruitment session for anyone looking to learn more about career opportunities with ST Aerospace Mobile Inc., which currently employs more than 1,300 workers at its Mobile location and has plans to construct a satellite operation inside the Pensacola International Airport Commerce Park that could produce up to 300 jobs. The global maintenance, repair and overhaul giant has customers that include FedEx, Delta Airlines, American Airlines and UPS.
Space Florida, Florida's aerospace economic development agency, already has launch sites at Kennedy Space Center and in Jacksonville, and recently indicated an interest in the Pensacola Technology Park. The agency has signed a memorandum of understanding to secure tenants that will take up to 75,000 square feet of space.
Matt Burke
(Above) Monica Mammah, Tyler Reichard and Tristen Bowman at Embry Riddle University campus in Okaloosa County prep a drone for testing. (Below) Ron Garriga, director of Embry Riddle campus operations in Okaloosa.
According to Space Florida documents, the proposed anchor tenant will be a leading aerospace company from the Pensacola region. Other tenants would be a mixture of institutions of higher education and economic development service providers, "thereby helping Space Florida to fulfill its statutory duties of partnering higher education and economic development entities to grow cooperatively in support of the state's aerospace industry."
Explained Tina Lange, a spokeswoman for the state agency, "There are many states in the U.S. vying for commercial launch business … We have to get aggressive if we want to compete for this business. Florida's robust university system is incubating businesses tied to cube and micro satellites, which have an extremely promising future as well through earth observation, crisis management and so much more. In addition to this, Florida is a natural fit for space tourism."
In 2013, the Economic Development Council of Okaloosa County established an Unmanned Systems Network in hopes of attracting and fostering advancement of business development and technology transfer in military, government and commercial applications.
"We have a very deep aerospace and aviation heritage. Hurlburt and Eglin Air Force bases have been mainstays in our economy," said Nathan Sparks, executive director of the Okaloosa EDC. "It's allowed a very diverse and vibrant contractor community to proliferate. We have 300 contractors, give or take, of all shapes and sizes."
In 2011, 220 aircraft mechanics separated from one of the two local bases — a fact that the county uses to influence the decision makers in aerospace companies and sell them on the fact that the county has a ready-made talent pool.
"We believe the future is very bright. The Gulf Coast has become the new focal point for the aerospace sector. It's a hotbed for aviation/aerospace growth," Sparks said.
Growing Industry
In 1987, Fort Walton Machining began doing work related mostly to the nearby Air Force base. By 2002, it had 76 employees. Today it has two divisions, high precision machining and metal finishing, along with 220 workers, and hopes to grow to 300 in a few more years.
Much of the company's aerospace work is now done for Lockheed, Boeing and Grumman, working on the framing and structure of aircraft.
"We started out in the early years to support the base, but the company has grown and matured," said CEO Greg Britton, who is also chairman of the Northwest Florida Manufacturers Council. "Our average salary is in the mid-40s to the low 50s. We don't want to hurt tourism or our military, which are important for our economy. But we need some diversification, and the stage is perfectly set for aerospace."
One of the best examples is what has happened at Bob Sikes Airport in Crestview, a haven for industrial aerospace development as well as modification and conversion companies. There are thousands of acres around the airport available for aviation-related companies.
"Literally, any aircraft in the world can fly into Bob Sikes with its 8,000-foot runway," said Mike Stenson, deputy director of Okaloosa County Airports.
The airport is home to aviation giants like L-3 Communications, BAE, which does modification work on C-130 gunships, and Quest Air Parts, which buys airplanes that have "timed out."
"Before they even buy the airplane they have a buyer for the engines and then the plane is slowly dismantled, parts are catalogued and sold to people throughout the world," Stenson said, adding that of the $500 million a year the county's three airports contribute to the local economy, most of it comes from Bob Sikes.
Two years ago, L-3 Crestview Aerospace announced it would be expanding its aircraft manufacturing operations and adding 340 jobs with an investment of $13.7 million, including hangar retrofits and facility upgrades. L-3 is a world-leading provider of aerostructure fabrication and assembly and aircraft modification.
The airport is also home to one of three Embry Riddle campuses in Okaloosa County — part of an exerted effort to train students in aeronautics and get them to remain in the area.
"Last year we had 2,100 enrollments in Okaloosa, and this year we're on track to have more than that," said Ron Garriga, director of Embry Riddle's campus operations in Okaloosa. And that doesn't count 158 high school students in the dual enrollment program, earning college credits while learning about aviation. One of the more popular courses for high school students involves unmanned aerial systems.
"It's a phenomenal experience to prepare the students for the work force after high school," Garriga said. "We are so proud to be part of the integration between education and workforce."