North Florida's Trees Have a Major Economic Impact on The Region
The State's Wood Basket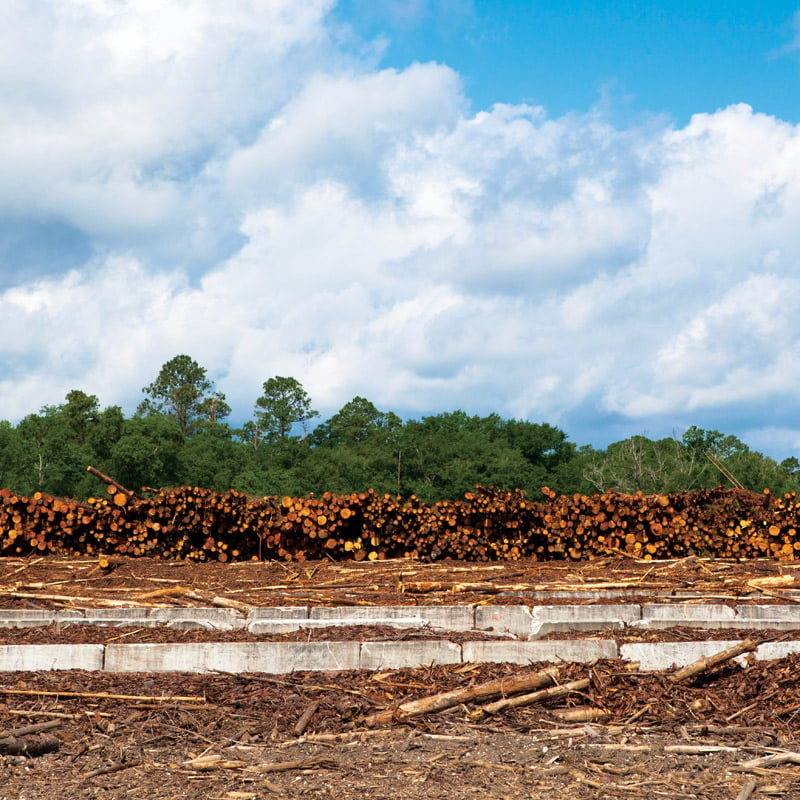 Matt Burke
Forests play a significant economic role in Florida. Lee Ann Fisch, of the Florida Forestry Association (FFA), likes to say "forestry is agriculture's best-kept secret." Agriculture, mind, is Florida's second major industry after tourism, and forestry is one of agriculture's top revenue generators.
In 2011, the latest available figures from the Florida Department of Agriculture (FDOA) show the state's nearly 17 million acres of timberlands supported economic activities that generated $13.95 billion in revenues; employed 76,000 full and part-time workers; provided $5.15 billion worth of exported forest products; and generated $401 million in indirect business taxes.
In terms of employment, the pulp and paper products industry accounted for 75 percent of those 76,000 jobs; forest management and logging for 13 percent; secondary wood production, seven percent; and lumber, veneer and panels manufacturing,
5 percent.
Admittedly, the 2011 numbers were lower than in 2010; still, 2011 was a marked improvement over 2008, the lowest point of what has come to be called the Great Recession.
Nationally, the news for forests is good. According to a 2007 comprehensive analysis by the Society of American Foresters (SAF) titled "The State of America's Forests": The United States is the world's fourth richest country in forests; U.S. forestland acreage has essentially remained unchanged the past century; the volume of growing stock of hardwood and softwood tree species in U.S. forests grew by 49 percent between 1953 and 2006; an estimated 25 percent of U.S. private forestland is sustainably managed in accordance with one of three major forest certification programs; and conservation initiatives on private land are on the rise.
Courtesy
Florida Forest Service
New firefighters hone their tractor defense skills during basic fire control training. Prescribed burns are used to keep private and public forests healthy.
On the downside: U.S. forests face significant challenges from insect and disease mortality, non-native invasive species, wildfires, encroaching urbanization, and on the timber production side, increasing foreign competition and forest divestures by large corporations in the forest products industry (The St. Joe Company's sale of the majority of its land holdings in Northwest Florida comes to mind; although in this case, the Utah-based AgReserves Inc., a subsidiary of the Mormon Church, is expected to continue in the forest products industry.)
The SAF findings are corroborated at the state level by the 2013 Florida Agriculture by the Numbers annual report from the state's agriculture department and 2013 Comprehensive Statewide Forest Inventory Analysis and Study from the Florida Forest Service (FFS).
The state findings underscore the viability of Florida's forests and their economic importance, particularly in the Panhandle. The basic message of the two reports is that Florida's forests are largely healthy and sustainable.
Drawing from these reports and market trends, timber industry experts foretell a post-recession rebound driven by renewed housing starts, continuing Asian demand for softwood logs and lumber (primarily China), and expanding domestic and foreign bio-energy consumption, among other factors.
The news from the paper industry is equally upbeat.
"We continue to see improvements overall," says Cathy Foley, vice president of the American Forest and Paper Association, which represents the U.S. pulp, paper, packaging and wood products manufacturing industry. "The U.S. paper industry has been running a trade surplus in recent years, with about 20 percent of production exported in 2013. World paper consumption is expanding approximately 2.1 percent a year, and we continue to experience growth in the containerboard and tissue sectors."
North Florida is particularly poised to take advantage of the upswing, given it contains the overwhelming majority of the state's forestlands, 96 percent of its tree plantations and most of the primary wood-using mills, earning it the moniker of "wood basket."
The picture isn't totally rosy, however. Florida forests face threats from fires, non-native invasive species and urbanization/fragmentation pressures, as well as potential softwood timber shortages in some areas. At the industry level, the challenges include high operating costs, shrinking profit margins, burdensome regulations, stagnant lumber rates and an aging logger population, combined with a limited number of young people entering the industry. "We're a dying breed," laments one logger.
A Forestry Primer
The SAF defines the forest industry as "a diverse group of manufacturers that harvest, process and use timber in their products."
Individuals in this industry engage in such activities as planting, harvesting and selling trees, as well as converting timber into primary products (lumber, plywood, wood pulp, etc.) or secondary products (pallets, furniture, paper goods, etc.). Included in the industry are tree farmers, forest managers, loggers, mill operators and sundry others in associated industries that make, use or sell wood or wood products, as well as thousands of forest-derived products.
In terms of timber production, trees — not unlike other agriculture commodities — are a cash crop, if with a long-term yield, as it typically takes about 15 years before they can be harvested. And silviculture, commonly called "the agriculture of trees," deals with how best to grow, manage and manipulate trees to maximize their growth, health, quality, composition, etc., and do so sustainably. Silviculture is not limited to the private sector; the public sector also practices it, if for different reasons.
Courtesy Ginger Gray
Jerry Gray, owner of Gray Logging LLC Shop in Madison County, with granddaughter Hannah Light, worries that not enough trees are being planted to replace the timber taken out.
"These are basic techniques taught in Forestry College," says Winnie Schreiber, FFS forest manager bureau chief. "We do many of the same things as the timber companies as far as thinning, prescribed burns and harvesting."
The difference, she says, is that in the private sector the aim is typically to maximize productivity and economic yield, whereas in the public sector it's to ensure overall forest health and enhanced multiple uses.
Not that the state doesn't sell timber. Along with managing public forests for maintenance of the ecosystem, wildlife habitat and general health, revenue generation through timber sales is a definite goal.
"Timber harvesting is a significant component of our management," Schreiber says. "We do an annual inventory plan for timber sales. We sell the timber, monitor the harvests and do reforestation."
It's in the private sector, however, where timber production truly dominates. According to the FFS analysis, 63 percent of Florida's forests are privately-owned, most by non-industrial, non-corporate property owners, with private ownership reaching as high as 76 percent of forestlands in some areas of north Florida.
The literature suggests that a great percentage of private forestland is in the hands of families that own less than 10 acres. This group, furthermore, is growing, its mean age is increasing, timber production isn't necessarily its primary objective and few have management plans. All of which has implications for sustainability.
Matt Burke
Sustainability
Sustainability is a key issue in forestry, as it is in many other industries and endeavors, both for ensuring continuation of resources and meeting industry and government expectations, if not requirements.
Florida forests' sustainability is generally not in question. The FFS analysis found the state's forests to be sustainable overall across species and timber products. Even so, the study points to 18 counties in north and central Florida where demand is outstripping supply "due to high levels of industrial timber demand for pine pulpwood and lower levels of reforestation."
Dr. Jarek Nowak, FFS forestry-utilization specialist, attributes the lower reforestation levels to numerous causes. These include fewer and more cumbersome federal cost-sharing programs that help offset the cost of replanting, mill closings (from 143 mills in 1987 to 52 presently) and conversion of forestland into other uses. Whatever the causes, reforestation is crucial, Nowak says.
"If replanting doesn't keep up with harvesting, that's a problem," he says. "As an agency, we're concerned people aren't replanting as much as they used to."
Other worrisome trends the studies cite insofar as sustainability include population growth/urbanization pressures, a notable demographic shift of private forest landowners from traditional farmers to absentee landowners more interested in recreational uses of their land than farming and a decrease in the average size of private owners' landholdings.
Sustainability is an issue that resonates with those in the industry.
Lynetta Griner is FFA president and co-owner, with husband Ken, of Usher Land & Timber, a third-generation family-operated logging/farming/cattle business in Levy County.
"In my area, it's clear that forestland is being put into cropland," Griner says. "We're definitely seeing a lot of conversion happening. Sometimes what you see isn't the reality. The studies all say we have more trees now than 100 years ago. But when you drive around, it's hard to believe that because of what you see."
It's a concern shared by silvicultural contractor Bobby Callahan of Bobby Callahan Company, a Panama City operation that annually plants hundreds of thousands of trees on a contractual basis for corporations, institutions and private landowners in Bay and Calhoun counties.
"I can see demand outstripping supply," Callahan says. "The demand is increasing, and the land base is getting smaller. St. Joe, for example, is getting into development. Within the next decade, I can see a shortage of trees."
Allen Boatright and Jerry Gray echo the sentiment. Boatright is owner/operator of Boatright Timber Service Inc. in Gadsden County, and Gray is owner/operator of Gray Logging LLC Shop in Madison County.
"We've got a lot of land with little or no timber and a lot of landowners who don't want to invest in reforestation," Boatright says. "My concern is, where is the raw material going to come from? I can show you tract after tract of timber that's gone. A lot of it has been put into farmland. I'm talking thousands and thousands of acres."
Gray agrees. "I'm worried about the future of our business, because people aren't putting trees back into the ground," he says. "It's a long-term investment of 20 years or so. When you look at the cost of replanting and put pencil to it, you kind of scratch your head and wonder if it's worth it. Most landowners are getting up in age, they don't want to put their money in it and their kids either don't have the money or don't want to put it into replanting."
Certification programs, LEED and fragmentation
One almost can't speak of sustainability without touching on three certification programs that together account for the 25 percent of U.S. private forestlands being managed in a sustainable manner, and the parcelization/fragmentation of forestland.
A sore point with the FFA is that the U.S. Green Building Council solely recognizes the Forest Stewardship Council (FSC) certification program under its Leadership in Energy and Environmental Design (LEED) designation, which awards points for "green" constructed buildings. The problem, per the FFA, is that the FSC certifies only 120 acres in Florida, whereas the American Tree Farm System (ATFS) and Sustainable Forestry Initiative (SFI) programs certify nearly three million acres.
The FFA holds that LEED's criteria creates an uneven playing field that puts Florida's woodland products at a competitive disadvantage, forcing the use of FSC-certified wood from other states and countries for "green" constructed buildings wanting the LEED designation.
In 2013, Florida lawmakers adopted language allowing for consideration of more than one green building code in public construction projects and requiring that Florida wood products receive priority consideration in said projects.
The FFA views the legislation as a partial victory, given private projects seeking the LEED designation still tend to use FSC-certified wood, and the law also doesn't apply in other states.
As for parcelization/fragmentation, the issue is that although small forest owners collectively represent a significant number in the forestry sector, "only a relatively small proportion of them engage in systematic management practices designed to ensure sustainability." The literature suggests that notwithstanding the fact many in this group harvest timber, most rank aesthetical, recreational and wildlife viewing as their top reasons for owning forestland. It's also among this group that parcelization and fragmentation are more likely to occur, further threatening the contiguity and ecological integrity of forestlands.
Parcelization involves "changes in ownership patterns whereby large forested tracts are divided into smaller parcels." Fragmentation, as defined by the SAF, is "the process of dividing large tracts of contiguous forest into smaller, isolated tracts surrounded by human-modified environments." Parcelization doesn't necessarily lead to fragmentation, but it increases the likelihood through construction of roads and buildings.
Not your father's industry
Griner and Fisch like to say, "Today's is not your father's forest industry," a way of underscoring the logging industry's evolution.
"My dad is 87," Griner says, echoing a common theme. "He couldn't get a load of wood to the mill now if his life depended on it. The regulations are incredible."
Fisch casts a different light on the situation: "The industry's relationship with environmentalists, the way we work with government, the proactive approach that forestry takes to a lot of issues, people don't realize that we're very cutting edge — literally and figuratively."
It's true the industry has evolved, from the sophisticated equipment it utilizes to the Best Management Practices (BMPs) it employs in timber harvesting — BMPs being industry-specific minimum standards that aim at protecting the water quality and wildlife habitat and promoting sustainability.
"BMPs are not optional," Griner says. "We have to have a Master Logger on every crew. That's dictated by the mills, because they want to certify their wood is produced in a sustainable manner for Home Depot to market it."
The evolution is likewise evident in the partnerships the industry has forged with various government agencies and environmental groups. Finding common ground, as opposed to emphasizing the differences, is more often than not the model nowadays, Griner and Fisch suggest. That doesn't mean, however, that regulations aren't resented or battled, or that things are perfectly copacetic between the industry and government and environmentalists.
When you talk to individual loggers and foresters, their top concerns are high operating costs, stagnant lumber prices and burdensome regulations, problems many see as intrinsically interwoven.
Tim Southerland of K&B Timber and Land Company in Panama City, possibly best articulates the latter viewpoint. A self-described industry advocate, Southerland is passionate, articulate and politically engaged (his brother is U.S. Rep. Steve Southerland). Southerland's concerns are many, but they essentially boil down to government regulations and unrealistic standards that stifle competition and add to the everyday costs of doing business. He further sees many regulations as ultimately derived from misguided or misinformed bureaucrats and wrongheaded environmentalists.
Having to wear hardhats in a logging area is a sensible regulation, Southerland says. Requiring timber-hauling trucks to carry expensive warning lights on their rears during daylight hours is asinine.
"If you can't see a log truck in the daytime, you don't need to be on the road," he says.
Likewise for regulations that in his view merely increase the cost of equipment, insurance rates, workman's compensation and the like, or generally put American producers at a disadvantage, especially against foreign competitors who aren't subject to the same standards and often are government subsidized to boot. And don't get him started on the wrongheadedness of logging bans in national forests.
"The majority of the issues we face are coming from outside forces that don't know anything about our industry," Southerland says.
Although not as vocal, other logging operators voice similar concerns. Operating costs, particularly fuel, are killing them, they say. The cost of new equipment — between $750,000 and $1 million to outfit a crew — is becoming practically prohibitive, one reason young people can't buy into the game. Log prices have essentially remained unchanged, leading to shrinking profit margins. Emission and other onerous trucking regulations, not to mention conflicting state and federal highway permit requirements, are insufferable. Many, in fact, see the trucking component of their operations as "a necessary evil."
"Being able to provide decent trucks, hiring decent drivers and paying the fuel bills, these are the biggest challenges we face daily," Gray says.
Recovery and Bio-energy
It's not all bad news, however. Most see business improving, if they're not yet ready to celebrate the recovery. Call it cautious optimism. They take hope from new wood products being developed and emerging markets, particularly in bio-energy, with Green Circle Bio-Energy Inc. (GCBE) in Jackson County a prime example.
At Green Circle Bio Energy in Jackson County, locally harvested trees are transformed annually into 670,000 tons of wood pellets that are mostly shipped overseas out of Port Panama City.
In operation since 2008, GCBE converts roundwood and diversified raw materials (sawmill residues, wood chips, etc.) into pellets that go to heat buildings and co-fire coal-based power plants. With annual production now at 670,000 tons, much of it shipped overseas, GCBE is seen as a "game changer" in the region. The prognostication for its future, moreover, is good, as European power plants are expected to use at least 20 percent renewable energy by 2020.
"The wood pellet industry has grown from a small niche industry mostly serving the residential heating markets in North America and Europe to becoming an important export commodity," says Morten Neraas, Green Circle's CEO and president. "With the European market expected to continue seeing strong demand growth, coupled with new markets opening in Asia, we're optimistic the strong growth experienced to date will continue … In the years to come, wood pellets have the potential to become a very important export revenue driver for the U.S., bringing economic growth and jobs to rural areas in the Southeast."
Last year the company announced it would establish a similar operations in southern Mississippi.
Coda
Foresters and loggers will tell you theirs is hard work, long hours and pay that sometimes doesn't seem worth the effort. They wonder how much longer they can hang on. Press them, however, and most will readily admit they love what they do and couldn't think of doing anything else.
"I'm a third generation logger," Boatright says. "I can't fathom doing anything other than this."
Adds Southerland, "It's in the blood. Once you get turpentine in your hair, you can't get it out."