New Gulf Coast Parkway is Likely to Spur Economic Growth
The Gulf Coast Parkway is over 30 miles of new roadways that extend from Gulf to Bay County.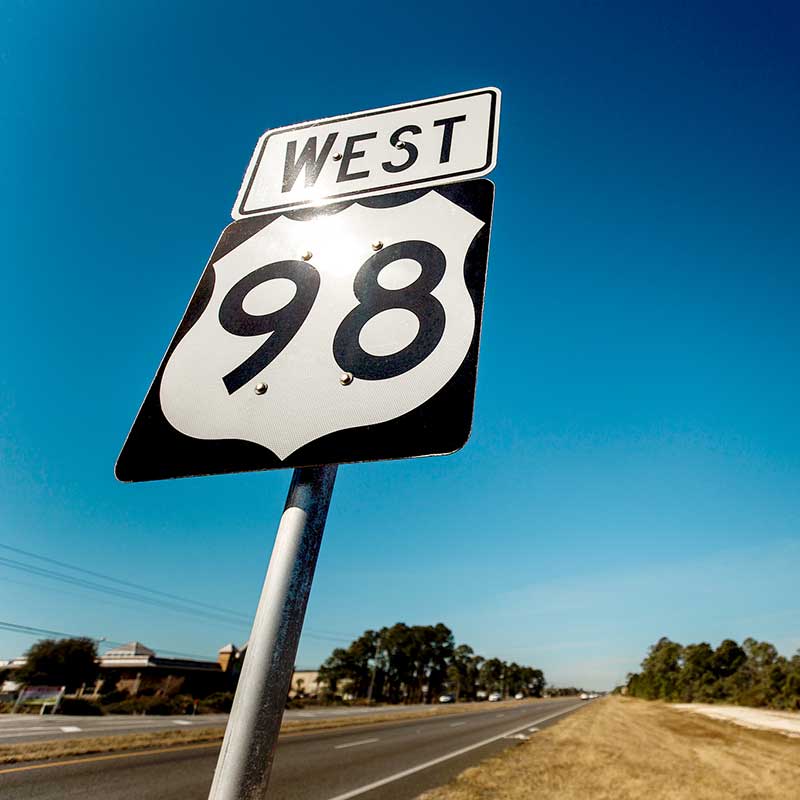 Andrea Hernandez, owner of Barefoot Kayak & Paddle Board Rentals, is one of many business owners in Mexico Beach whose store is located on U.S. 98, the Florida Panhandle's coastal highway.
Running from Mississippi to South Florida, U.S. 98 is a 964-mile-long, east-west corridor that carries freight and motorists.
In Northwest Florida, the highway is about to undergo a dramatic reconfiguration.
Hernandez grew up in Mexico Beach and has seen a marked increase in traffic, especially by commercial trucks.
"Traffic here is as busy as it is in the summertime, year-round," she says. "We need a new road that takes traffic around Mexico Beach."
The Florida Department of Transportation (FDOT) has been working on a plan that will accomplish that and much more, creating a new route — to be named the Gulf Coast Parkway — that will enhance access to major transportation arteries in Northwest Florida.
Construction is scheduled to begin in 2021.
Ian Satter, a spokesman for the Florida Department of Transportation, said the Gulf Coast Parkway, which the Northwest Florida Transportation Corridor Authority (NWFTCA) calls "a future highway of commerce," will provide a much-needed stimulus for the economy in Gulf and Bay counties by facilitating freer movement of goods and services in the region.
"The Gulf Coast Parkway is over 30 miles of new roadways that extend from Gulf to Bay County. The first segment of the Parkway will extend 1.4 miles from U.S. Highway 98 to Star Avenue in Bay County," Satter said. "This is just one portion of the new roadway system that's going to be built; other sections have not yet been scheduled."
Two of the unscheduled sections include a new high-level bridge that will cross the Gulf Intracoastal Waterway (ICWW) and a segment of highway that will skirt around Mexico Beach, reducing the flow of traffic through the town and moving much more traffic elsewhere.
Al Cathey, mayor of Mexico Beach, says he doesn't think that less traffic in his community will harm local businesses in any way. "I don't have a problem with being a community that you come to instead of go through," he says. "I think the Gulf Coast Parkway will be a very positive thing."
Hernandez summarized what many local business owners said: "It will get some of the logging and construction trucks off the road and let people who are actually coming to Mexico Beach get here."
Regional economic initiative
The Florida Department of E conomic Opportunity (FDEO) considers Calhoun, Franklin, Gadsden, Gulf, Holmes, Jackson, Liberty, Wakulla and Washington counties, and the city of Freeport in Walton County to be the "Northwest Rural Area of Opportunity." This is a reincarnation of the FDEO's previous and, perhaps, less optimistic name for the region: the "Northwest Rural Area of Critical Economic Concern." Rural Areas of Critical Economic Concern are, by FDEO definition, "rural communities, or a region composed of rural communities, that have been adversely affected by extraordinary economic events or natural disasters."
Warren Yeager, head of the Gulf County Economic Development Coalition, says, "The economy in Gulf County has certainly picked up in a number of different areas over the last year and a half, with the biggest area of growth in construction. We're quickly being discovered as an alternative to the fast-paced lifestyle of counties to the west of us.
I've also seen a significant increase in people expressing interest in bringing their businesses to Gulf County."
Yeager was a Gulf County commissioner who handled monies from the BP oil spill in the Gulf before he took on the role of head of the Economic Development Coalition. As a commissioner, he assisted in planning the Parkway — a task that took cooperation from many people and entities in Bay and Gulf counties.
"About the time I left office, we had come to a good understanding with Bay County," he says. That "good understanding" took the form, on paper, of "Alternate 19": a new, hybridized route for the parkway that was designed to improve access to regional facilities.
"It will open up a lot opportunity for the Port of Port St. Joe to engage in traditional port operations," says Yeager.
Guerry Magidson, chairman of the Port Authority of Port St. Joe, agrees. "I believe the Parkway will help traffic and businesses by allowing businesses to get to the Port easier than having to go through Panama City and Tyndall Air Force Base just to get to Highway 98."
Satter says the Gulf Coast Parkway will also benefit Tyndall Air Force Base.
"U.S. Highway 98 runs through Tyndall Air Force Base, which is Department of Defense property," he says. "Any time there is a certain situation on the base, they can close that roadway."
Those episodic closures currently force vehicles to take a 50-mile detour around the base. Satter says that not only will the Gulf Coast Parkway cut 30 miles from the detour distance, it will also help Tyndall Air Force Base maintain security by reducing pass-through traffic and allowing the base to close the highway whenever necessary.
Another advantage of the Gulf Coast Parkway is that it will serve as a new hurricane evacuation and recovery route. Currently, citizens of southwestern Bay County evacuate northward via U.S. 231, State Road (SR) 77 and SR 79. In Gulf County, northbound routes are limited to County Road (CR) 386 and SR 71, both of which are two-lane roads.
Southeastern Bay and Gulf County residents must travel on U.S. 98 before they reach any of the northbound evacuation routes. According to the FDOT, U.S. 98 isn't an acceptable evacuation route, because it's within the surge zone for a Category 3 or greater hurricane through most of the corridor.
Andrea Hernandez, for one, is eager for her hometown to return to the peace and quiet she once knew. "I look forward to having Highway 98 as a scenic route," she says, "where we can enjoy the sound of the waves instead of waves of traffic."
Gulf Coast Parkway Timeline
2001 Opportunity Florida creates the Gulf Coast Parkway Feasibility Study.
2008 Opportunity Florida transfers the project to the Florida Department of Transportation (FDOT).
2009 The Federal Highway Administration (FHWA) approves a summary report that outlines 12 alternative corridors for the Gulf Coast Parkway. Five alternatives are presented to the public.
2014 The Federal Highway Administration approves the Draft Environment Impact Statement (DEIS), which analyzes and compares the five alternate routes for the parkway. Public hearings are held in Gulf and Bay counties to present the routes.
2015 Gulf County names "Alternative 19" the county's desired route for the Parkway.
2016 Bay County names "Alternative 19" the county's desired route for the Parkway.
2018 The FDOT purchases right of way for the Gulf Coast Parkway and plans for future construction.
2021 Construction will begin on the first segment of the Gulf Coast Parkway, from U.S. 98 to Star Avenue in Panama City.