New Communities
Development is changing streetscapes and lifestyles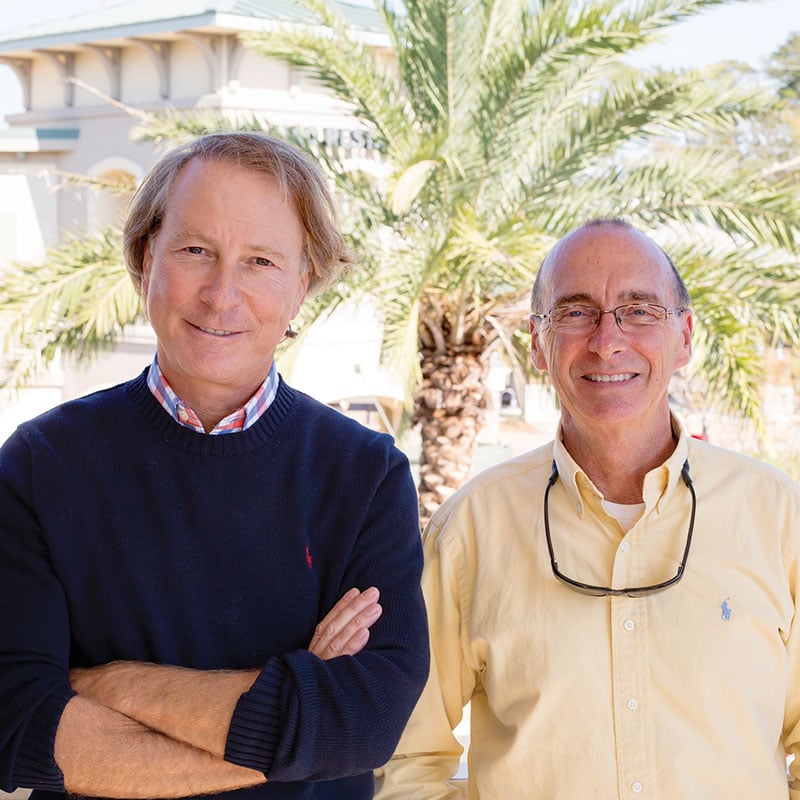 As dramatically as new real estate developments are changing the streetscapes around Tallahassee, they are changing how Tallahasseeans live, work, play and shop.
"It's a good time to live in Tallahassee," said Edward Murray Jr., President/Broker and Principal of NAITalcor, a local commercial real estate company.
Real estate development boomed over the last decade in Tallahassee. The revitalization of Gaines Street and new development in Midtown and around Bannerman dramatically impacted surrounding communities. According to a recent report by the Tallahassee Chamber of Commerce and the Blueprint Intergovernmental Agency, the taxable value of land around Blueprint project areas increased by $4.4 billion in the City of Tallahassee and $6.5 billion in Leon County since 2000. Real estate owners and experts saw land prices and rental income increase as well.
These developments create more than new buildings. They create new lifestyles.
Bannerman Crossings
For example, anyone living in northeast Tallahassee knows well the daily mass exodus of residents from the suburbs into town for the morning commute. In the late afternoon, they travel back out to their homes and families.
"You have 50,000 people who live within a five-mile radius with the highest income in the county, but if they wanted dinner out, they had to get on Thomasville Road and drive south, because there was nothing out here." said Claude Walker, CEO of the Summit Group Commercial Properties and developer of Bannerman Crossings.
"Our vision for Bannerman Crossings was to have enough mix of different types of retail and eating establishments so everybody could stay in their neighborhood. We wanted a community where you could live, work, play and shop. It kind of morphed into us building a little city out here," he explained.
Bannerman Crossings, owned by Rick Kearney, has three commercial components. Phase 1, the Walgreens at the corner of Thomasville Road and Bannerman Road, with Phase 2, comprising Chick-fil-A, Dunkin Donuts, Battery Source and a host of other businesses, occupy roughly 75,000 square feet of retail space.
Phase 3, a 116,000-square-foot "Destination Lifestyle Center," was completed in 2016. This open-air shopping area is divided into quads, each anchored by a restaurant in the center of the complex. With mostly perimeter parking, Bannerman Crossings is designed to draw people into the core of the complex, making it more of a destination than a typical shop-and-go strip mall. The boutiques are local retailers, and the restaurants include both high-end and casual dining. Office space occupies the second floors. Summit Group also is developing retail and office space on the north side of Bannerman Road.
Walker said although lunch traffic is good, Bannerman Crossings comes alive in the late afternoon and evening. He said Bannerman Crossings hosts events under its large pavilion to bring people out, and the Friday events get going around 7 p.m.
"This place is packed," he said.
The next phase is a residential development on the western edge of the shopping center. Preliminary plans call for 147 homes — 22 attached single-family homes, 35 detached single-family homes, 43 minimum-lot-line houses and 47 standard single-family lots of one-third acre. Plans also include a 15-acre conservation easement with trails running through it. Walker said they expect to break ground in spring 2018.
It's designed to be interconnected, walkable, golf-cart-friendly and to improve quality of life.
Midtown
Efforts to breathe more quality of life into quaint Midtown began in the early 2000s.
Three or four little commercial developments began to pop up, with Manor at Midtown being most notable.
"Today, you can walk to 15 to 20 restaurants very comfortably," said Murray, whose own office is in Midtown. "You can't do that anywhere else in town."
He described the area as very diverse with lots of housing in all price ranges, serving many demographics.
"Commercial real estate in Midtown is scarce and expensive," said Murray, "which substantially affects housing too. Everything is driven by location."
A significant "get" for Midtown was Whole Foods Market. The grocery retailer determined there would be only one Tallahassee store and that it would be in Midtown at 1817 Thomasville Road.
Downtown
Closer to downtown, Allan Franklin of Culpepper Construction Company called the new 66,000-square-foot "Ballard Building" at 201 E. Park Avenue the nicest building he's ever built. He said that with its sloping canopy, copper accents and exquisite interior detail, the six-story building is unique to Tallahassee. The new home of Ballard Partners, the law firm of lobbyist Brian Ballard, features office space, a roof-top terrace, a ground-floor restaurant and 80 parking spaces.
"A few more buildings like this would make downtown really special," Franklin said.
Other efforts to improve downtown and Frenchtown got underway in the early 2000s with the help of local government. The revitalization of Gaines Street was a massive project identified and advanced by the City of Tallahassee.
Gaines Street
Gaines Street, the first paved road in Tallahassee, and its surrounding real estate had experienced decades of decline. Even though the corridor ran between FAMU and FSU, there was little to offer the student population and it consisted mostly of warehouses and industrial-type businesses.
The City of Tallahassee created a Community Redevelopment Area (CRA) encompassing the 1.25-mile Gaines Street corridor and several large tracts of City-owned property. In 2005, the Tallahassee City Commission adopted a Gaines Street Revitalization Plan with the goal of rebuilding the corridor and creating a vital, pedestrian-friendly street blending commercial, resident and cultural uses. It hired Genesis, a Florida-based planning, engineering and landscape architecture firm, to fulfill those goals, according to a report by Genesis CEO Mark Llewellyn.
The City was not alone in seeing the opportunity presented by a revitalized Gaines Street corridor.
Shawn McIntyre, North American Properties (NAP) Florida Managing Partner, said, "A lot of people thought it was crazy. I had people in town tell me in 2011 and 2012 that they would never let their daughters walk down Gaines Street at night, let alone live there."
But McIntyre saw opportunity. He saw zoning and utilities, all in the shadow of the FSU stadium. He saw a pedestrian-oriented area where students walk three blocks to campus.
The district now widely called CollegeTown spans from FSU's intramural fields and the FSU stadium to Macomb Street and Railroad Avenue.
"I decided we needed to go big or go home. Building the Deck (student apartment complex) as an outpost wasn't going to work; we had to create critical mass. Instead of turning the opportunity down, we doubled down. We built the Deck, the Block and Axis (apartment buildings) all at one time — $72 million worth of property, 790 beds at once."
McIntyre opened those properties in 2014 and said they continually experience 97 percent occupancy.
"Students accepted this area. I don't have a vacant bed right now, and that's why I've continued to build," he said.
"We couldn't just build the residences. We seeded (retail) with lower rents to get tenants in there, knowing as we continue to add beds to the district, retail will catch on," he said.
McIntyre said the new Publix planned for the corner of Gaines Street and Railroad Avenue and expected to open in 2018 will change the game for retail. He predicted within two or three years, the retail space will be full.
North American Properties' investment in CollegeTown is substantial.
McIntyre explained the CRA gave NAP a $2.1 million tax incentive. NAP invested $66 million for Axis, Court and Lumberyard (a new student housing project) plus $51 million for the original phase.
"So far, NAP has invested a total of $117 million, and I own property to build two more student housing projects (on Gaines between Court and Block and the Field House, south of the intramural fields) for a total of $188 million invested on Gaines Street. We have about two and a half years where I will start a new building every January. So, $2.1 million CRA money yielded a total investment of $188 million."
He said those figures do not include other developers in the area. He estimated the total economic impact of CollegeTown to be around $1 billion.
"The same thing is gonna happen downtown," he said, referring to NAP's $158 million Cascades Project, expected to be completed in 2020.
Cascades Project
This massive project will span two downtown blocks and connect to Cascades Park. Plans call for a five-story boutique hotel, retail space, apartments, townhouses and a restaurant.
He said the residential area is designed to attract young professionals working in the downtown.
According to McIntyre, NAP is building 320 apartments that can sleep 450 people, or approximately 1.5 percent of the 32,000-person downtown workforce.
He predicted, "Seventy percent of residents will be under the age of 35. That's what the city wants.
"To have a vibrant 18-hour downtown, you can't just build a restaurant and put it on the edge of a park. You have to build something that is cohesive, that'll work, and you build it in one phase and you take huge risk," McIntyre said.
With great risk comes the potential for great reward.
"Practically all sectors of commercial real estate are active in Tallahassee. Value is up. Activity is up. Consumer confidence is up. Unemployment is down. All that is good," Murray said.
"A good, healthy, active economy is good for everybody," he continued.
Property values around new developments are rising. According to Doug Will, Chief Deputy with the Leon County Property Appraisers office, residential values north of Kerry Forrest Parkway increased 4 to 5 percent last year, with retail increasing 6 to 8 percent and offices 4 to 5 percent.
Around the campus areas, apartments have increased 8 to 10 percent, retail 3 to 4 and office values were flat.
Increased property value brings higher property taxes.
McIntyre said, "Property taxes increased around CollegeTown, but so has rent and other revenue. I think it's been disproportionate. Revenue has increased more than property taxes on a percentage basis."
A local business owner on Gaines Street who was not part of the massive development projects agreed. Sharod Bines, owner of Retrofit Records said, "We have seen an increase in foot traffic. More people results in more record sales, so yes, business has been good."
Increased property taxes, according to McIntyre and Murray, present their own rewards.
"Accessed values are off the charts," said Murray, "and that raises the tax base, which gives government more money to concentrate on areas of need."
McIntyre explained, "Without development in CollegeTown, Tallahassee expected about a 2 percent growth rate in property taxes. (Since the development of CollegeTown) we have experienced about a 200 percent growth rate. It created all this uplift of taxes."
He asserts that even when the CRA gives an incentive to a developer to defer taxes for a certain amount of time, the City benefits. During that time, tax revenue rises on all the properties in that area because of increased property values. Even after the deferment ends, property values and taxes should continue to increase. That money is available to the public budget and is utilized to support the social programs required to bring people out of poverty.
"We need economic development to establish a tax increment, which increases ad valorem taxes, which allows funding sources for social programs that educate, empower and employee minority workforces."
Development potentially becomes the catalyst that not only changes the way Tallahassee looks, but changes the lives of all those living here, rich and poor.