Neighborhood Concerns Addressed as Gateway Project Advances
Seven segments of road improvements are set to happen within the southwest quadrant.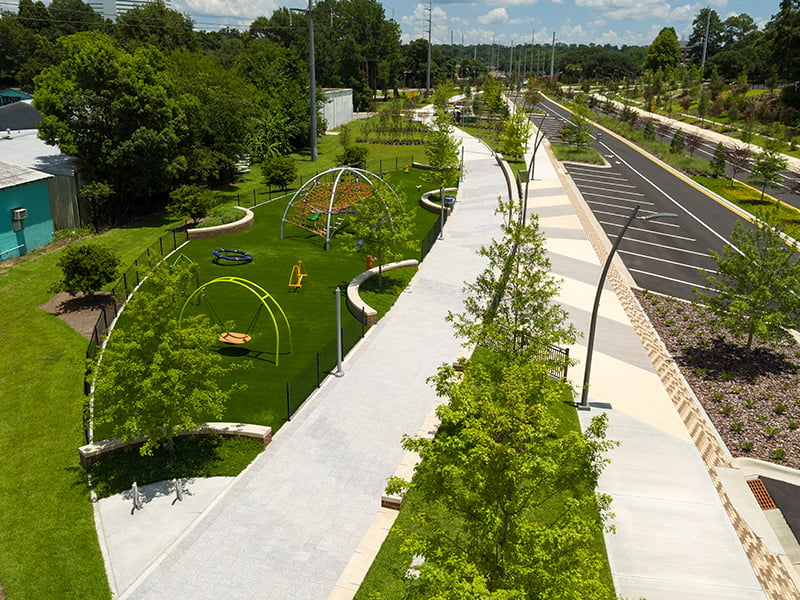 Plans to create a more scenic drive from Tallahassee International Airport to downtown have shifted toward Florida State University's southwest campus, with FSU increasing its financial commitment to the project and local officials confident they found a solution that will spur economic development in the southwest quadrant of the city while easing neighborhood residents' safety concerns.
"There were compromises that brought everything along, which is how we were able to come to agreement," said City Commissioner Curtis Richardson, who lives on the south side and serves as current chair of the Blueprint Intergovernmental Agency Board.
"There were neighborhood concerns about an increase in traffic along South Lake Bradford Road, especially with no sidewalks there, and that is being addressed."
Tallahassee city commissioners and Leon County commissioners, meeting jointly in March 2018 as the Blueprint Intergovernmental Agency Board, voted unanimously to amend the Airport Gateway Plan to include two routes from Capital Circle Southwest to downtown: The Springhill Road gateway to North Lake Bradford Road and Gaines Street; and the South Lake Bradford Road route, now called the "complementary route," which will connect to the new road through FSU via Orange Avenue.
The new, and as-yet unnamed, road will connect to the recently completed FAMU Way Extension via Roberts and Stuckey avenues, near where Gamble Street meets North Lake Bradford Road. Once on FAMU Way Extension, it's a direct line to Railroad Avenue near downtown.
The Blueprint board in June 2018 approved issuing up to $100 million in bonds to fast-track several projects, including the Airport Gateway and infrastructure improvements along Bannerman Road.
Otherwise, work would proceed as the annual revenues were collected from the special 1 percent sales tax voters authorized in the Blueprint 2020 referendum held in 2014.
"This represents a big infusion of dollars, support and planning for the south side and southwest," County Commissioner Kristin Dozier said. "From parks to utilities to stormwater management, all of that has an economic impact."
The Gateway Plan pulls together seven segments of road improvements, but two are state road projects funded by the Capital Region Transportation Planning Agency: the widening to four lanes of Orange Avenue west of South Adams Street and the widening to six lanes of Capital Circle Southwest between Crawfordville Road and Orange Avenue. The remaining section of Capital Circle includes the airport.
The Gateway will be designed as a cohesive infrastructure project, but the work done in each segment will specifically address uses and needs there.
For example, South Lake Bradford will be widened and landscaped to accommodate heavier traffic, and sidewalks and bicycle lanes are planned to improve safety.
North Lake Bradford, closer to Doak Campbell Stadium and FSU's main campus, is already four lanes but needs enhancements in streetscaping, landscaping and lighting.
Richardson thinks Springhill Road will eventually be widened to four lanes from Capital Circle Southwest to Orange Avenue, where the current four-lane segment ends.
He's particularly pleased that sidewalks will be added along Orange Avenue.
"Children walking from Liberty Park to Nims Middle School have to walk on the bike path once they cross North Lake Bradford Road, and they are in danger," he said.
"These are the neighborhood concerns that are being addressed. These areas have lagged behind, but the southwest quadrant is finally getting attention."
Blueprint's 2019 budget, approved in September 2018, includes $1 million to start the design process, with construction beginning within two years once the design phase is completed, likely in 2023. County Commissioner Dozier said preliminary engineering and community engagement is expected to start with the Stuckey and Levy segments and the new road through FSU.
"Things are certainly moving, but we are several years away," she said.
Among the community engagement aspects that must be explored: protecting the area's lakes and watershed, as land-use codes in recent years have changed; dealing with anticipated increases in traffic; and providing affordable housing in an area where property values are expected to increase because of the Gateway improvements.
"It's a delicate balance," Dozier said. "I'm hoping we can mitigate some of these issues."
FSU is donating the land for the new road, as well as $3 million toward the Gateway project. Although the city will be responsible for maintaining the roadway, FSU will maintain the landscaping around it.
"Southwest Tallahassee should be the focus of development in Leon County," said Kevin Graham, executive director of FSU's Real Estate Foundation.
"The Rez, the new golf course, the College of Engineering, the private sector that has harnessed the power of magnet technology, it's all tied to economic development, and it's significant."
The new golf course is a Jack Nicklaus Legacy Design, the first in North America. It is projected to open in fall 2019 and has been described as a championship golf course that will be unlike anything within 250 miles.
"We think it's going to give one more reason to be here, whether for retirement or to take a job," FSU men's golf coach Trey Jones said. "It's going to be one of the top university courses in the country."
Both Jones and Graham see the $6 million golf course project as an asset to Innovation Park's efforts to recruit tenants and create jobs, as well as FSU's research programs and partnerships. Once the new road is built, it will provide the main access to the golf course.
Until then, Levy Avenue off Lake Bradford Road and Dirac Road will be the connectors.
"Once everything is done," Jones said, "the golf course could be the front door to the university."