NAS Pensacola Adds Cutters, Solar Farm and Cybersecurity Partnerships
Pensacola Naval Air Station is expanding the military's already considerable presence in the local economy.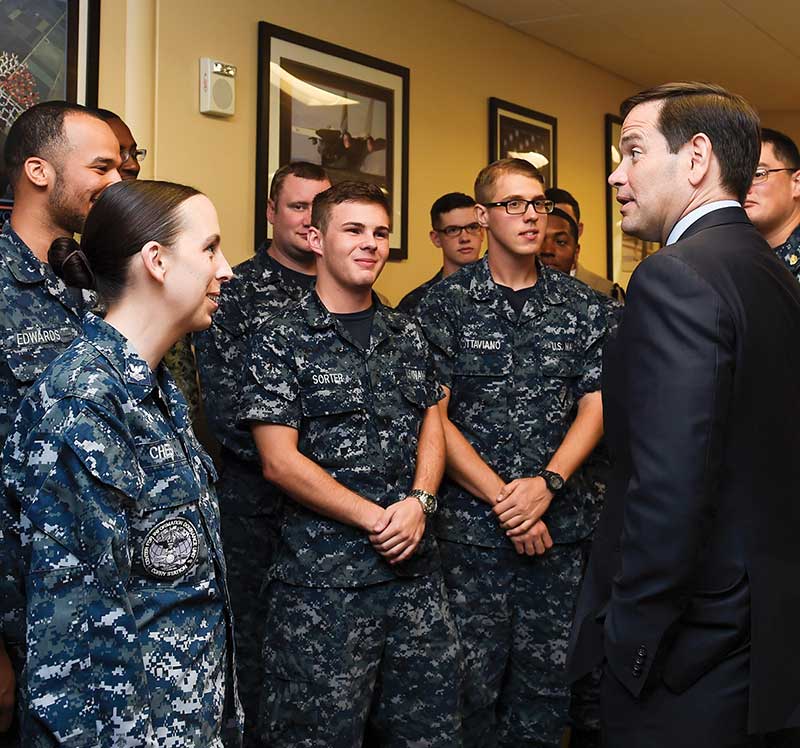 The Coasties are coming.
They're the 152 officers and crew members aboard the U.S. Coast Guard cutters Decisive and Dauntless, due to make their home port at the Pensacola Naval Air Station by August, expanding the military's already considerable presence in the local economy.
That's not all. Military-support organizations including the Florida Defense Alliance and a new group, the First Place Partnership, have been hard at work building bridges between local businesses and the military, which contributes an estimated $7.8 billion in total economic impact to the region.
Apart from the impending arrival of those ships, recent milestones include development of a massive solar generation facility on military land plus a cybersecurity initiative.
Retired U.S. Navy Capt. Keith Hoskins, the former commander of NAS Pensacola who chairs the partnership, is so bullish on the area that he retired there in 2016.
"I saw a lot of growth potential here," Hoskins said. "There's just a lot of great things going on in Northwest Florida. You're starting to see organizations getting more synchronized, getting more collaborative, more aligned. I still feel like I'm a public servant. I want to give back to the communities that I live in."
Hosting the 210-foot cutters will require additional investment in improvements to docking facilities. The ships will conduct anti-drug, search-and-rescue and maritime law enforcement missions and will search for undocumented immigrants. They will join the 225-foot buoy tender Cypress, already homeported in Pensacola.
"This is incredible news for Pensacola and for all Northwest Floridians," U.S. Rep. Matt Gaetz, R-Fort Walton Beach, said in announcing the move last June. "Not only is Northwest Florida gaining 152 new families, but the safety and security of the Emerald Coast and the Eastern Gulf of Mexico is significantly enhanced."
Such decisions are made at high levels in the Department of Defense, said Debi Graham, an Air Force brat who serves as vice president for armed-services relations with the Greater Pensacola Chamber of Commerce. The business community's role is to be welcoming and to help clear any obstacles including encroaching development that might compromise the military's missions, she said.
"Even if you don't know specifically which areas are being relocated, it's important to create a military-friendly environment," Graham said. "So when those opportunities come along, the community is ready for them."
Helping to do just that is the FloridaWest Economic Development Alliance, which draws upon city, county and private funding to promote industrial expansion in Escambia County, including efforts to leverage the military presence into private investment. On its website, the alliance notes that more than 35,000 military veterans call the area home, and more join the private economy every day. Counting military, civilian and defense industry workers, the sector contributes more than 80,000 jobs.
"These professionals are educated, disciplined, technically proficient self-starters, the type of employees that all leaders want in their companies," the alliance says.
NAS Pensacola is renowned as the "Cradle of Naval Aviation" and still maintains programs training pilots and aviation systems specialists who also participate in air sorties. The Air Force trains many of its such specialists in the area, too.
Beyond that, "basically, all of the Navy's aviation maintenance training goes on here," Graham said. "That's the largest part of this. Those are weapons folks. Those are mechanics, firefighters, flight control, engine repair — anything that would tie into aviation on a carrier or in a flight squadron is done here. We have a massive resource, not only of the students coming through but also the instructors."
Cyberwarriors
Then there's the Center for Information Warfare Training at Corry Station, the "cradle of cryptology," which is training a new generation of cyberwarriors for the Navy and other armed services.
The economic implications are clear.
"Those are highly desirable skill sets. If you're looking to expand into aviation manufacturing or repair, those are the folks you want to hang on to," Graham said.
"A senior enlisted person who leaves after 25 years in the military, they may only be only 45 years old. Many of them are goingto start a second career. They have very advanced skill sets. The University of West Florida is expanding some of their programs in those areas, and Pensacola State College too. Those are areas where we definitely see potential."

FloridaWest is among the organizations attempting to spin off the Navy's cybersecurity infrastructure to create a "Pensacola Cyber Coast," with a strategic plan launched in October to "become a regional and national leader in cybersecurity."
Roughly 500 local companies engage in cybersecurity, information technology, aerospace and defense, and the Department of Homeland Security also maintains a presence. UWF hopes to develop a $27.5 million technical campus on 9 acres of cleared land to house training facilities including a Cybersecurity Innovation Center.
The United States faces a deficit of at least 1 million cybersecurity experts, according to Brigadier General Gregory Touhill, the nation's first chief information security officer.
"The region's industry is already heavily invested in information technology and digital operational technology," Touhill wrote for a strategic plan report. "I am confident that with its strong, smart and hardworking people, bountiful resources, and drive for excellence that the Cyber Coast is well on its way to vaulting to national prominence."
The Department of Homeland Security and the National Security Agency both support UWF's efforts.
In addition, Graham, at the Chamber of Commerce, has been encouraging local public safety agencies to work when possible with the military in joint training to respond to emergencies.
And Gulf Power Co., where Hoskins is Western District General Manager, collaborated with solar energy provider Coronal Energy to construct three solar farms on 940 acres owned by the Department of Defense, including the NAS's Saufley Field.
Together, the facilities can generate enough power to light 18,000 homes while promoting renewable energy and grid resilience. The juice began flowing in August.
"It's one of the largest solar projects east of the Mississippi," Hoskins said.
"Obviously, there's a lot of rich history in West Florida with the community and the military," he said. "We're looking for some opportunities for how we can enhance that and build those partnerships."