Municode Embraces Technology-Driven Advances
Helping to ensure that the businesses take advantage of emerging technologies.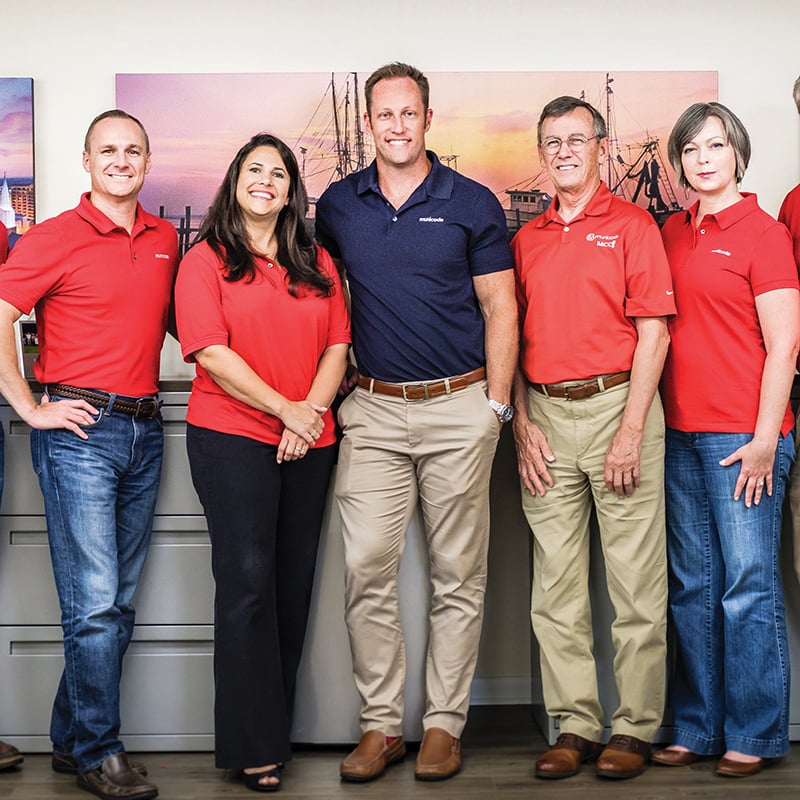 In a meeting room at Municipal Code Corp.'s headquarters on Capital Circle SW hang pictures demonstrating the reach of this homegrown Tallahassee business: Seattle. Miami. Salt Lake City. Southampton Township, Michigan.
Municode, as the company is widely known, is expanding its reach technologically, too, via a series of acquisitions that have transformed it into a high-tech comer.
At the same time, it has retained its traditional business, producing hard-copy codebooks for 4,500 municipalities across the nation, including some 420 in Florida. (The City of Tallahassee was its first customer. Leon County uses Municode, too.)
The three-building Capital Circle SW headquarters, and satellite offices off Capital Circle NW and in Lake Oswego, Oregon, accommodate 180 employees — attorneys and traditional editors and proofreaders, as well as web developers and other high-tech workers.
The transformation qualifies Municode as "a 67-year-old start-up," company president Eric Grant said. "When you think about what Municode does, in the biggest of pictures, we strengthen democracy.
"We do that by connecting the communities with their citizens. We've developed a suite of products that enables us to do that in a way that nobody else does.
You can connect to the meetings; you can connect to the website; you can connect to the code. And all of that can push information from one location to multiple locations," Grant said.
Its work places the company at the very nexus of the relationship between municipal governments and citizens.
Want to open a business? The local municipal code governs where you can rent or build. Got a loud neighbor? The noise ordinance establishes whether he's breaking any laws.
Want to raise chickens in your backyard? The codebook says whether that's allowed.
Finding that information is another matter, for the layman. A typical municipal code can run to 650 pages.
You've got to look up the zoning status of your home or business, then the section explaining what's allowed there. You might need to scan city council agendas for any zoning or ordinance amendments in the works.
City websites don't necessarily make that easy — too many, Municode noticed, relied on poor designs that buried links to ordinances and other vital information.
Municode's business strategy has centered on making the process simple. That has entailed organic growth plus acquisitions — four in the past four years.
" …We've developed a suite of products that enables us to do that in a way that nobody else does. You can connect to the meetings; you can connect to the website; you can connect to the code. And all of that can push information from one location to multiple locations."
— Eric Grant, president of Municode
Thus far this year, Municode has picked up AgendaPal, a Texas company rebranded as MunicodeMeetings, and Municipal Codes Online in Utah.
Earlier, it acquired the Colorado Code Publishing Co. and government web designer aHa Consulting, out in Lake Oswego.
Municode software allows local officials to create and approve agendas, including tallying of votes, video streaming and email notification to interested parties.
The service includes notification to Municode of any changes so the company can update the published ordinances. You can even pay bills.
"You create what we call the 'circle of governance,' which is bringing all of those pieces together inside a unified platform," Grant said.
In other words, Municode identifies needs and finds ways to meet them. Or "a way to do it better," marketing chief Woody Estep said.
"Traditionally, you have a company that has an agenda management process — they sell that," Grant said.
"You've got somebody who produces websites, and they sell those. A couple of companies have combined the agenda and the website. But, until us, nobody has put all three of those pieces together."
The strategy has worked because of the goodwill the company generated over time. The founder was George Langford, who grew up in Thomasville; was drafted into the Army; landed in France on D-Day and fought his way across Europe; and returned to study law at the University of Virginia.
He wound up working for legal publisher Michie Co., later absorbed into the LexisNexis empire. (Municode now owns Lexis' book publishing business.)
Langford hit upon an innovation: Why not publish books in the form of binders, so that, when a code section changed, purchasers could easily remove the old language and insert the new?
"You could open them and close them, and take pages out and put pages in. It was something the whole industry ended up adopting, which is called loose-leaf supplements," Grant said.
Langford founded the company in 1951. His son, Lawton, became president during the mid-1980s and now serves as chairman and CEO.
Tallahassee had obvious appeal as a base — it was close to home and a government town. The years "Mr. George" invested in building trust with clients would pay off.
"You now had the ability to go into the clerk's office, the attorney's office, the city manager's office and say, 'You've known us and trusted us with the law; now let us show you what we can do with the websites,' " Grant said.
Easing aHa's absorption was the fact that its owner — like Grant and his father, Rick Municode's chief operating officer — were U.S. Naval Academy graduates (Eric Grant served in the Marine Corps). "We immediately had a connection," he said. "We had a very good culture fit to begin with."
The company takes pride in its innovations — it was the second direct connection to the internet in Tallahassee, after Florida State University.
And it takes pride in its culture. That's what attracted Grant, who, like the company's founder, studied law at the University of Virginia.
He graduated in 2007 — right before the bottom fell out of the economy — and interned with Charlotte law firms that handled mortgage-backed securities.
"Those two summers gave me enough insight to say, 'This is not for me,'" he said.
"I knew my dad had been working for Municode for about a decade. He had always spoken very highly of Lawton and Mr. Langford.
So I came down here for the interview and was just immediately drawn to the type of people who worked here, its value system — saying what you mean and meaning what you say, honesty, integrity — that, to me, was very, very appealing."
Municode's footprint is national, and the second biggest hub is Oregon, home to the company's website developers and many business-system analysts.
"That talent pool is extremely smart, wonderfully intelligent, very driven, but it's extremely expensive to live there. So our longest-serving member of Municode Web just moved here to Tallahassee," Grant said. "For the rent he was paying in Oregon, he could afford to buy a house here."
And, these days, telecommuting allows workers to live wherever they please.
"Why don't we as Tallahassee position ourselves as the remote-worker destination of choice?" Grant said. "What does everybody love about Tallahassee? Great place to raise a family.
What does Tallahassee not necessarily have the most of? High-paying jobs. Why not appeal to folks who have high-paying jobs but want to live in a great place?"
At Municode, pay is commensurate with expertise; the business must compete for top talent.
Perks include a 401(k) match plus a profit-sharing plan and more: quarterly performance awards; financial planning and debt-reduction classes; scholarships; physical education boot camps; a gym and subsidized yoga classes; massage therapy; and food trucks.
Of course, in many high-tech companies, such perks are designed to keep employees on site to get more work out of them.
Not so at Municode, which believes in flex time. As long as you put in your 40 hours, you're free to come and go pretty much as you please, as long as you clear it with your supervisor.
In fact, on a recent Friday afternoon, a visitor found the main campus largely deserted.
"We've got single moms, single dads, grandparents who are taking care of their kids. All sorts of different things," Grant said. "Some people we've had come in at 3 a.m. and leave at 1. Doesn't matter."
Micromanagement? Not hardly.
"We believe in giving your teammates a mission, giving them the tools they need to succeed and then getting out of the way," Grant said.