Moving Up and Out
Headquartered in Grand Ridge, Ducky Johnson House Movers lifts or moves about 1,000 structures annually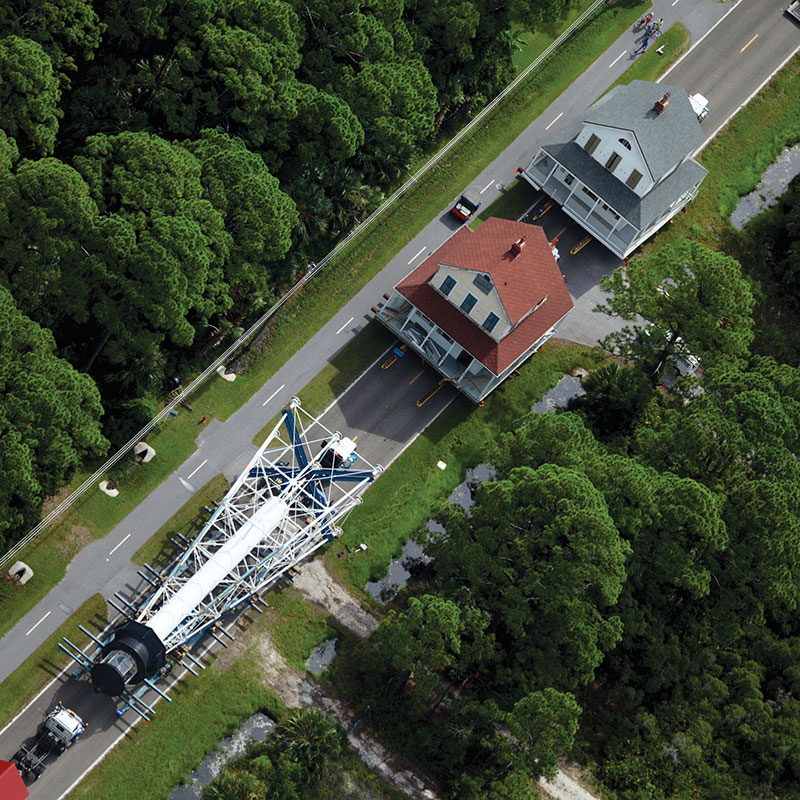 Suppose your house foundation needs leveling, shoring or replacing; you want your house moved to a new site; or a historic building requires relocation to save it from demolition: Who would you call?
A house mover, of course; and if you're in North Florida, the East or Gulf coasts — or anywhere in the country for that matter — you'll likely call Ducky Johnson House Movers in Jackson County.
Headquartered in Grand Ridge off U.S. 90, the third-generation family-owned-and-operated business goes back 50-plus years — more if you count the grandfather's experience — and it lifts and/or moves about 1,000 structures annually.
"It's been crazy this week," President/CEO Charlie Johnson offers as he walks from the repair shop, where he was helping service a vehicle, to his nearby office. "Five trucks just left for New Jersey. We're all spread out and I coordinate it all. I'm a one-man band."
Casually attired in jeans and polo shirt, the 41-year-old Johnson is solidly built and muscular, with short-cropped hair and a neatly-trimmed beard.
"Right now, we've got crews in Galveston, New Orleans and Toms River (New Jersey)," he continues. "We keep branching out; I don't know where it's going to stop."
Indeed, since Charlie — as he prefers to be called — took over in 2007 upon the death of his father and company founder, Charles "Ducky" Johnson, the operation has expanded from three to 10 states. More emphasis also is being put on elevation and foundation work as opposed to moving structures. Accounting for the growth and shift in emphasis is the rash of storms that have caused major flooding and damage in populated regions of the country in recent years, necessitating the shoring and elevation of houses.
With rapid expansion, of course, come not only opportunities but also challenges.
"The biggest challenge we face is organization and structure to get the men lined up to do their jobs efficiently," Charlie says. "We're bidding jobs from 1,000 miles away, so there has to be a lot of coordination and organization. In my father's day, everyone met at the shop mornings and we talked face to face; now the person doing the job may not see the persons helping him. We were used to doing everything old school; now we're having to change quickly."
As he talks, Charlie scrolls his smartphone, displaying photos of projects his company is bidding or working on, along with copies of lengthy contractual documents — all contained within the framework of the small electronic device. Although largely computer illiterate by his own admission, he couldn't function without his smartphone, given the extent of business conducted electronically nowadays.
It's a far cry from 1963, when his dad started the company with little more than a dilapidated pickup truck, a set of steel beams and a whole lot of grit and gumption.
"My grandfather, Noah, moved houses to survive," Charlie says. "My father took it to a business level. Did my dad have it harder than I've had it? A hundred times more. If it wasn't for my parents paving the road for me, I wouldn't be where I am."
For him, there was never any question what he would do post high school graduation.
"This is the only thing I've ever known," Charlie says. "When I was 2, my father put me in the car with him, and I was in the car with him my whole life. I graduated on June 1, 1992, and went to work full time June 2."
By 1995, his father had started releasing the company reins, allowing Charlie to exert a growing degree of control.
"He went from coming to the shop every morning, to coming three mornings, to coming two mornings, to coming one morning," Charlie says. "He let me call the little shots, then the little bigger shots, then the bigger shots. Still, at the end of the day, he was always in the background. He was watching a lot more than I knew he was watching."
His father's passing away changed the nature of the business for him.
"It took a lot of the enjoyment from the work," Charlie says. "As long as my father was involved, it was enjoyable. Now I have to make the decisions, it isn't quite as enjoyable. Because the wrong decision comes back on me; it used to be it came back on him."
Helping him administer the operation is his wife, Nicole. Once a week at least, he's on a plane to check on the progress of some out-of-state project. A tightly knit family organization, the company employs from 100 to 150 men during the peak summer season, counting subcontractors.
"But there's always family on the ground at every site to oversee the operation and make sure things are done right," Charlie says. "That's an advantage we've got."
Typically, when house foundations are repaired or replaced, his company does the lifting, a two-to-three-day process, and subcontractors do the actual foundation work. Altogether, the process takes about 30 days.
Moving structures is more complicated; it entails satisfying bonding, licensing and permitting requirements, as well as disconnecting utilities, digging under the foundations and employing unified systems of hydraulic jacks and dollies to lift and move the structures, among sundry other activities. It also requires coordinating the efforts with various public and private entities, as the transports may require the temporary closure of roads and removal of mailboxes, phone and power lines. Every structure and situation is unique, and improvisation always plays handmaiden to expertise.
"There's no rulebook saying what you can or can't do," Charlie says. "A lot of creativity goes into it."
Almost any structure can be moved, no matter its height, size, weight or material makeup. Money is the only limitation.
"If the checkbook is open, it can happen," Charlie says. "But as a general rule, everything has to make dollars and sense."
His advice to homeowners is to do their diligent homework when choosing a company: Ask for credentials, insurance, experience, workman's compensation and references.
"We welcome competition," Charlie says. "We just want to make sure it's good competition. If someone doesn't understand what they're doing, it harms the industry."
Charlie sits on the board of directors of the International Association of Structure Movers (IASM), the industry's trade association, with about 400 members worldwide. In Florida, possibly 10 house-moving companies meet IASM standards, Charlie says.
"If you haven't been raised in the business or been around it a long time, it's hard to do," he says. "We always say the school of hard knocks is where you learn it."
A drag-race enthusiast and father of two young daughters, Charlie is anchored in family and community.
"At the end of the day, family is what makes us go," he says. "Even if they're not family, we've got guys who've been with us 25 years — they're family."
As a rule, he solicits employees' input when it comes to the big decisions, figuring they have skin in the game.
"That's the reason we're in New Jersey," Charlie says. "They voted to go. The ones that gotta go decide; if it's no, we don't go. At the end of the day, if family can't come first, we'll shut it down and do something else."