Mossy Head Industrial Park Sparks Growth 'Above the Bay'
The park is a bustling transportation and distribution hub in northwest Walton County.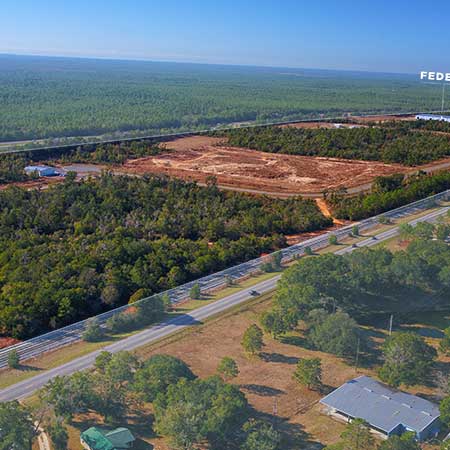 Less than 10 years ago, it was fairly easy to drive by Mossy Head Industrial Park without even knowing it was there. Though open for years, the roughly 315-acre property located between U.S. 90 and Interstate 10 was vacant and still awaiting its first tenant.
Today, the park is a bustling transportation and distribution hub in northwest Walton County. It's about 75 percent developed, with seven established tenants and at least one more — a new Waffle House — on the way.
"It's been very successful," says Bill Imfeld, executive director of the Walton County Economic Development Alliance. "We never expected it to develop this much this fast."
The industrial park claimed its first tenant when Love's Travel Stops & Country Stores — along with a Subway and a McDonald's inside — located there in 2014. In its first year, the truck stop was ranked the 18th most productive location among the company's 300-plus stores.
"In just taxes paid to the government, in the form of gasoline taxes and sales taxes, more than a million dollars in new revenue came into Walton County from that one facility alone," says Imfeld, a former Walton County commissioner who took over at the EDA in November 2016.
Not only was Love's a success, its presence seemed to spur the region to sit up and take notice of the property and what it had to offer. By September 2016, the park had welcomed big-rig dealer Empire Truck Sales, Southern Tire Mart, I-10 Truck Center, a Sleep Inn motel, a Frito-Lay distributor, a large FedEx Ground distribution center with almost 300 employees and a Walton County Sheriff's substation.
"Once it became shovel ready, it was a domino effect," Imfeld says. "Love's came in, then Empire Trucking, then Southern Tire and just one after the other saying, 'Yeah, this is a great place to be!'"
For Imfeld, whose commission district included Mossy Head, watching the park grow has been exciting and satisfying. As a commissioner, he pushed the county to complete the park's infrastructure and get utilities up and running because he saw great potential in its location.
"There's a common thread of transportation and distribution out there, and there's still some 80-plus acres to be sold and developed," he adds. "We constantly still get people looking at it."
For Empire Truck Sales, the second company to move into the industrial park, Walton County's workforce has been responsive and dependable.
"Our workforce there … has probably been the most stable of any store," says Bill Wells, vice president of customer support at Empire. "We have very little turnover."
The park, with its proximity to I-10 and U.S. 90 and a dedicated spur track for direct CSX rail service, is a valuable asset in the ongoing effort to diversify commerce in a county where the strongest economic engine is tourism.
"Month after month, the TDC reports record bed-tax collections over the previous year," Imfeld says. "It's just a continuous string of increases, and that's good for those providing lodging, those providing food and those providing entertainment. But most of that is below (Choctawhatchee Bay). Above the bay, it's still very rural."
Above the bay, he adds, the key is attracting businesses compatible with those already in place as well as the workforce available in that area of Walton County.
"You do not want to kill the goose that lays the golden egg," Imfeld says. "As we start to diversify, we want to live in harmony with a good tourism industry."
Walton County is not in the market for smokestack industries or something like a sprawling automotive assembly plant.
"We don't have the workforce to support something of that size," Imfeld says. "But in the meantime, we do have the workforce to support smaller yet significant industries that … keep us from being totally reliant upon tourism."
To make that happen, the EDA works closely with officials in Okaloosa and Santa Rosa counties along with Enterprise Florida, Florida's Great Northwest and Opportunity Florida to promote the region as a whole.
The county is hoping to secure $31 million from Triumph Gulf Coast oil-spill mitigation funds to finance a major water and sewer expansion along the U.S. 90 corridor to accommodate builders.
Another necessity for Walton County in the next few years is workforce housing. Many, if not the majority, of workers currently at the Mossy Head Industrial Park drive from the Crestview and Niceville areas and from Alabama.
"We're looking for ways to get workforce housing built — not subsidized housing but workforce housing — so that many of the people who work in Mossy Head could live there and not have to come over from adjacent areas," he says. "We talk with local builders. We also look at what kind of economic stimulus we can give them."
Imfeld landed Waffle House by sending out fliers to a variety of national chain restaurants with information about traffic flow around the park and the number of truckers that drive on and off I-10 and U.S. 90.
"Waffle House came in and made us a great offer," he says, adding that he was surprised to hear that Eglin Air Force Base officials are especially excited about the new restaurant.
"They conduct a lot of night military exercises on State Road 285 just a couple of miles south of that location, and they are ecstatic. … I expect when they get their doors open, they are going to have a good, round-the-clock business coming into Waffle House."
Imfeld is optimistic that above-the-bay growth will continue with increased residential building, more mom-and-pop businesses and more box stores.
"And it's not just Mossy Head," he says. "All of Walton County is open for business. We want to use the successes we've had in Mossy Head as a spring board for successes elsewhere."