More Than Just Numbers
Natural Born Leader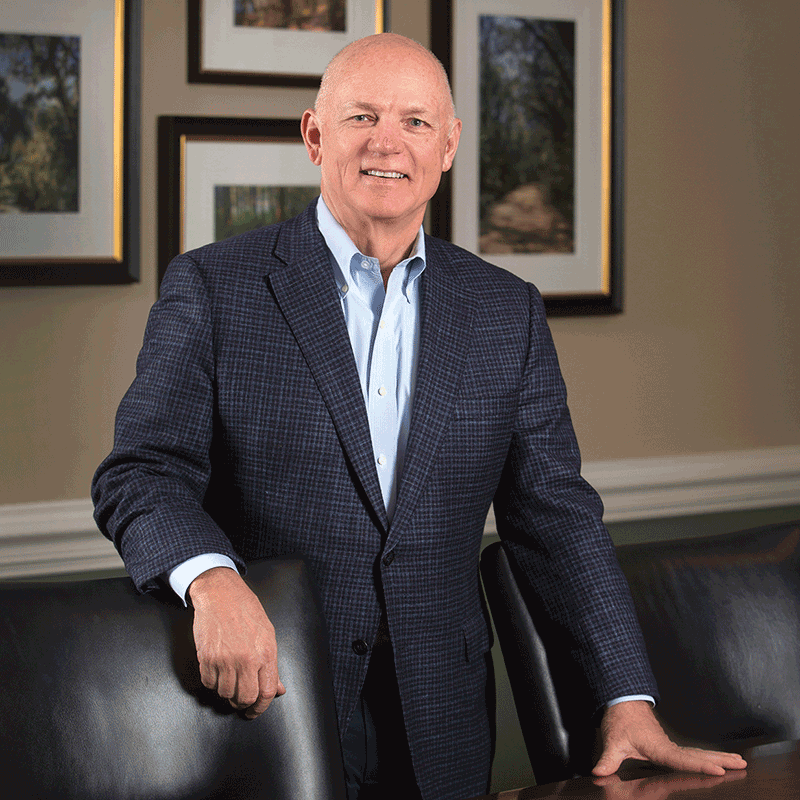 Much like his namesake, Winston Churchill, leadership comes naturally to Winston Howell.
As the head of the Tallahassee-based accounting firm Thomas Howell Ferguson P.A., which includes more than 70 accounting professionals and a large support staff, Howell's leadership style is described as effective, kind, fair and sometimes intense.
"I think I get the best out of people," Howell, 60, says. "I don't like mediocrity. I encourage (our staff members) to be their best. I ask 'why' a lot and encourage each employee to do the same."
His inquisitive nature led Howell to change his college major 14 times before graduating magna cum laude from the University of West Florida with a Bachelor of Science in accounting. He is also a graduate of Harvard Business School's executive management program "Managing Professional Services Firms."
His first accounting job was with Arthur Andersen in Birmingham, Alabama. Howell moved to Tallahassee in 1993 to join Ernst & Young, one of the country's "Big Four" accounting firms.
Believing that opportunity doesn't wait for convenience, Howell and his partners, John Thomas and Bill Ferguson, acquired the firm in 1993 instead of moving to Jacksonville as part of Ernst & Young's consolidation strategy.
In 2002, Howell took over the reins as managing shareholder from the retiring Thomas.
850 Magazine recently sat down with Howell to talk business, relationships and the "game of life." — Karen Murphy
---
Q&A with Winston Howell
---
Why accounting? It's about problem-solving and relationships. It's a people business. Everybody says it's about numbers, but it's really about relationships and what those numbers do to the relationship, and how people live their lives around those numbers. I enjoy the entrepreneurial side of the business, working with and serving entrepreneurs. You have to have really good people to work in this business, and you hopefully have the opportunity to work with a lot of really good people as clients.
What's the most interesting thing anyone has tried to write off their taxes? A 911 Porsche.
When do you file your taxes? (Laughing) At the last minute.
Professional pet peeve? Clients waiting until the last minute or saying, "Oh, I forgot to tell you … ."
Craziest thing about tax season? The emotional curves that other people give you. Team members being overwhelmed, in terms of requests, timelines, data deadlines. Clients emotionally challenged by the unknown, by the costs associated with their proportionate share of taxes, the emotional aspect of that interfering with their lives. It's not the technical aspect. Emotions tend to disrupt things, and sometimes people just need a moment.
Most rewarding volunteer work? Everything I do, I am either all in or all out. I am not a passive participant. I'm on the board of Tallahassee Memorial Hospital, and the way it touches lives and influences lives … I've had it touch our lives personally with my father and my wife. My father was brought in on a LifeFlight (for a heart attack). My wife came for cancer treatment. In both cases, they received tremendous care.
Favorite hobby? Golf, the game of life. You can hit your best shot and get the most unlucky break. You can hit your worst shot and get the luckiest break. It's not intended to be fair. You have to adapt and adjust, and it's fun.
Favorite saying? "Every organization is perfectly designed to get the results it gets." You can apply that individually: "Every person is perfectly designed to get the results that you are getting." So if you're happy with your life, if you're pleased with your life, you design all of your activities, all of your functions, all of your structure to get those results. If you're not happy, if you're frustrated, reassign what you are doing.