Model of Efficiency
Georgia-Pacific's Foley Cellulose plant in Taylor County provides jobs, saves resources and works to foster good relations with the community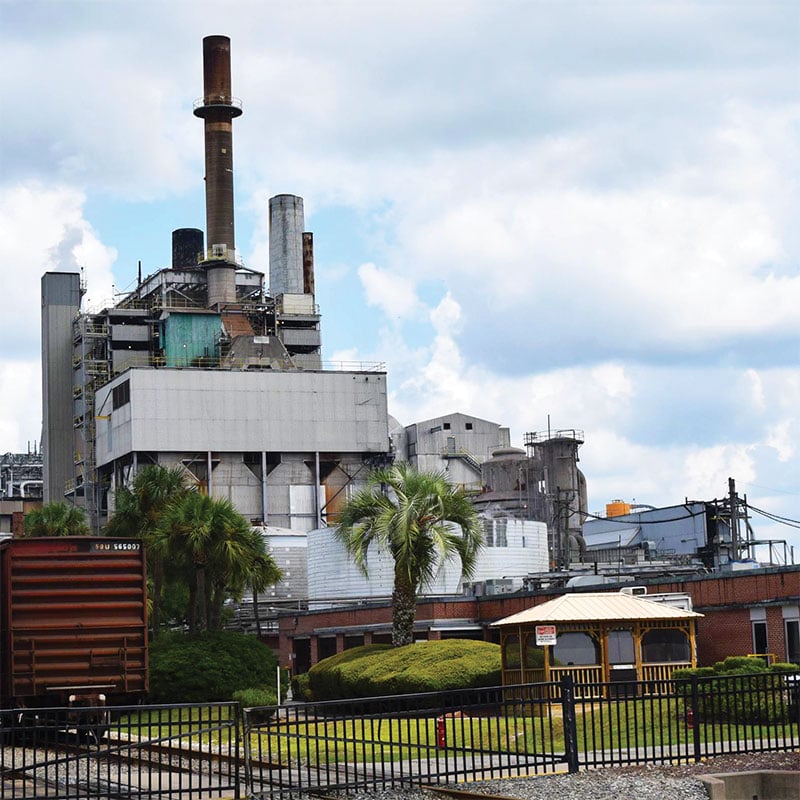 Sustainability may be an overused buzzword, but it aptly describes how successful businesses manage manpower and other essential resources. Factors including adherence to a free-market idea, demand for a product and acceptance by the public of a business further add to its foundation for longevity.
At Foley Cellulose, a division of industrial giant Georgia-Pacific, "sustainability" means working every day to make sure all of those bases are covered.
"We use it because it's a common word, but sustainability is about making sure the resources and support infrastructure needed for businesses and society to continue are in place," said Georgia-Pacific engineer Chet Thompson, who's been working at the plant since 1987.
The Foley Cellulose mill, located in Perry, was opened by Procter & Gamble in 1954. It was sold in 1993 when P&G sold off its Cellulose and Specialties Division. The partnership that bought the plant became Buckeye Technologies Inc. in 1995. Buckeye ran it until Georgia-Pacific bought it in 2013.
Foley Cellulose converts truckloads of Southern pine trees to "specialty" pulp and "fluff" pulp, which are sold to customers worldwide. The fibers processed there are found in products used around the world. Depending on the level of processing, wood pulp can be used in clothing, baby wipes, tires, shampoo, diapers, incontinence products, feminine hygiene products, filters, concrete, paints, towels and even food casings.
"A lot of the products that everyone uses in their daily lives, many that people don't realize, have some form of cellulose in them," said Foley spokesman Scott Mixon. "I love ice cream, and many times the brand that I buy has cellulose in it. We rely on cellulose more than most people realize."
The company pays $4 million in local taxes annually and contributes more than $230 million to the Florida economy in payroll, wood purchases, materials, supplies and services. About 570 employees work at Foley Cellulose, and it's estimated that the paper mill sustains more than 1,000 jobs related to its operations. The company prides itself on being a good corporate citizen by giving back to organizations such as the United Way and community programs.
"We do this in four areas: education, entrepreneurship, environment and community enrichment," Mixon said. "This year we'll contribute $130,000 to the community. We're also one of the largest United Way contributors. Last year, we gave United Way close to $184,000 in contributions. We believe very strongly that although we are a profit-based company, our responsibility is to give back to the community that provides us a home."
Saving Resources
Foley's sustainability program is focused primarily on raw resources and is broken down into five categories: power, water, wood, carbon and making sure the plant's carbon footprint meets greenhouse gas standards.
"And then we are also looking at ways we can better use our materials to make alternative products. That's sustainability in a nutshell," Thompson said.
When it comes to power, Foley wins the race for conservation hands-down. A whopping 83 percent of the plant's total energy comes from parts of trees not used in the paper-making process.
"Most of the energy we get here is from actual residual materials left from our pulp-making process," Thompson said. "So we're high-percentage renewable energy, and 83 percent of our energy is from renewable biomass versus 60 percent for Georgia-Pacific as a whole. Even looking at the industry worldwide, we have a very efficient site here."
A new turbine generator and improved processes help the plant use steam more efficiently. It doesn't produce any additional steam, Thompson said, but it's using it more efficiently — so much so that it's able to generate 12 megawatts more power. It's like saving 200,000 barrels of oil.
"It also reduces some emissions, so there has been some major progress made here within the last five years of having a sustainable energy approach," he said. "We're buying less power and making it ourselves, and we're making that power on the same amount of fuel that we had before, which is an improvement of efficiency."
Meanwhile, water consumption also is going down. The pulp-making process uses a lot of water. When Thompson started working at the plant in 1987, it was using almost 50 million gallons a day. In 2005, that number was down to 42 million gallons a day, and now it's a little more than 36 million gallons a day — all while making the same amount of pulp. A project slated to kick off in September is expected to save another 1.1 million gallons a day.
"I'm not saying 37 million gallons is not a lot of water, but there have been significant drops in consumption," Thompson said. "From a well field and sustainability aspect in the area, we … are not depleting the aquifer."
Restoring a River
The company is past the midpoint in a long-term project to return the nearby Fenholloway River to recreational water quality standards. The river is a small, 36-mile-long black water stream that drains the 392-square-mile San Pedro Bay watershed in northeast Taylor County.
The cleanup project has spanned the three owners of the location. Significant progress was made under the Buckeye ownership, and it remains a priority of Georgia-Pacific to finish the project.
Degradation of the Fenholloway was a major controversy that pitted environmentalists again the mill owners and workers. But the beginnings go back nearly seven decades.
To stimulate economic development in the post-World War II Florida economy, the state Legislature in 1947 designated the river an "industrial stream" to attract industry, primarily manufacturing, to Taylor County. Simply put, it opened the door for industrial waste to be discharged into the river.
That began to change in the late 1960s and early '70s as the federal government took a greater interest in the environment and crafted stringent regulations for air and water. Thompson said that before the Clean Water Act of 1972 was passed, some "pre-legislation" in the late 1960s called for states to designate uses for water — but the Fenholloway's classification didn't change.
"What that means is the state actually went through and said this water will be for industrial use, this water will be for fishing and recreation, and this water will be for potable water/consumption use. The Fenholloway was designated consistent with the 1947 legislation as industrial use," Thompson said. However, legislation also called for studies to be conducted every three years to find out how all the state's waters could achieve a minimum goal of "recreational" — water where it is safe to fish and swim.
As this was going on, Procter & Gamble was taking steps to improve the Perry plant. In 1968, the first industrial secondary wastewater treatment facility in Florida was built, and this was followed in 1972 by the addition of 120 acres of treatment ponds. In 1988, better ways of recycling and reducing chemical discharge were put in place. But by the early 1990s, it was realized that more could be done.
"Through a number of actions Florida got very serious about this, with the Fenholloway, in 1991," Thompson said.
That year, a federal Use Attainability Analysis had the U.S. Environmental Protection Agency, Florida Department of Environmental Protection and Procter & Gamble all asking the question: What's it going to take for the Fenholloway to meet those fishable and swimmable standards?
In 1994, the Florida DEP came out with a report that said the cleanup would be possible and suggested ways to do it.
"One was to make certain mill improvements," Thompson said. "The primary thing there was to move our chemical process from a pure elemental chlorine process to a chlorine dioxide process. It still has the 'chlorine' word in it, but it's a different chemical and it reacts differently with the pulp, and it doesn't create some of the issues that pure elemental chlorine does."
At the same time this was happening, it was also noticed that the San Pedro Bay watershed — the headwaters of the Fenholloway — needed some attention. This led to a three-phase, $500,000 project to "restore wetland function" to the watershed. (That project has since been completed.) As the watershed was being restored, other wheels were in motion. In 1997, the Florida DEP began the approval process for projects to restore the Fenholloway, and in 1998 the EPA began studying whether "fishable and swimmable" standards could be met without having to redirect the plant's effluent discharge.
In 2003, the EPA concluded that redirecting the treated discharge was necessary, and that is one of the final steps Foley Cellulose is taking as part of a new EPA National Pollutant Discharge Elimination System permit. (The other is upgrading the plant's wastewater treatment system.) The treated effluent — which retains a certain degree of saltiness — will be channeled via pipeline from its current discharge point in the freshwater portion of the Fenholloway to more naturally salty areas a mile and a half from the mouth of the river. That part of the project has to be complete by March 2021. Overall, this water quality project is perhaps one of the most ambitious restoration projects of its kind in Florida and in the end will cost upwards of $200 million.
"It will complete all criteria to meet both freshwater and marine water standards on the river and will have finished that long effort that we've been working on since 1991," Thompson said.