Mexico Beach Supermarket Offers That Small-Town Touch
Quality and attention to customer needs have helped fuel Gulf Foods' success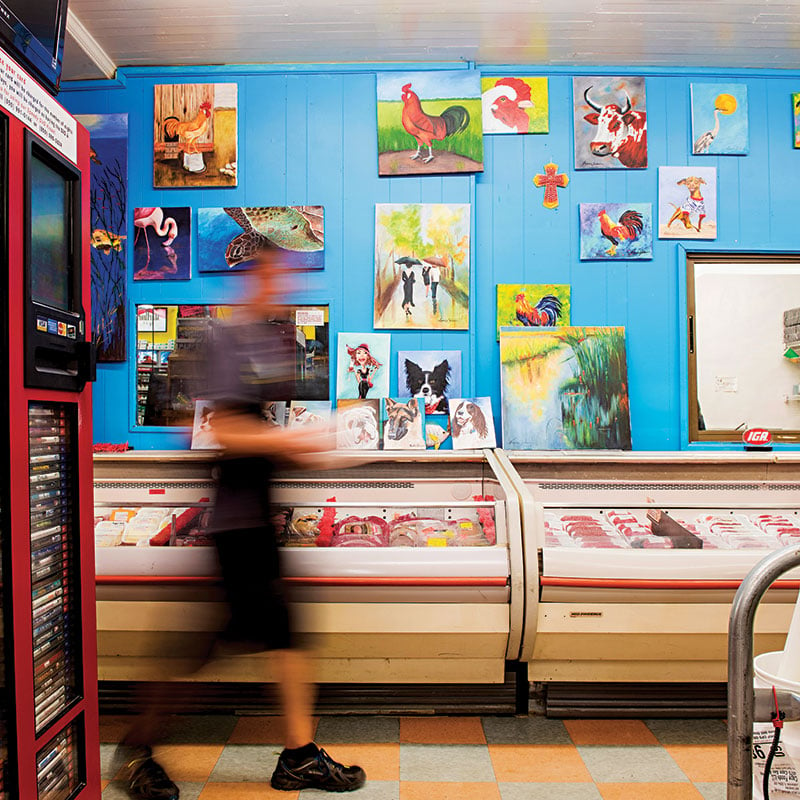 Small towns, if their sizes don't warrant a Piggly Wiggly, Winn-Dixie or another such chain supermarket, are lucky if they have a hometown grocery store that offers more than the basic fare found at convenience stores. Count Mexico Beach among the lucky with the family-owned and operated Gulf Foods Superette and Beach Things on U.S. Highway 98.
A full-line grocery store and gift shop, Gulf Foods sells a varied selection of fresh produce, quality meats, dairy products, seasonings, beers and wines, and even specialty items not always found in larger stores, along with the usual assortment of staples and non-food items. Add the gift shop with its mix of beachwear, jewelry, souvenirs, toys, airbrushed T-shirts and such, plus original artwork, and it makes for a diverse experience.
At the helm of this thriving business are Bonnie and Ike Godwin, hands-on owner-operators since 2007. Bonnie, moreover, is an accomplished artist, which explains the beach murals on the building's façade and artwork for sale inside.
Ike Godwin, or "Mr. Ike," as most customers and employees call him, got started in the grocery business in 1962, straight out of high school. Given an opportunity to manage a country grocery store (his other option was farming), he not only accepted the challenge but eventually purchased the business and sold it not long after. In 1965, against conventional wisdom, he built his own store on family-owned land where his grandfather's house had once stood. That store has since more than doubled in size and become "Walmart-like."
Now 71, with 53 years of grocery store experience under his apron, Godwin concedes he should probably be retired and enjoying the fruits of his labor. Most days, however, you will find him at Gulf Foods by 6:30 a.m., working alongside his 16 employees, interacting with customers and generally overseeing the operation and ensuring friendly, courteous service.
"Personal attention encourages customers to buy more," Godwin says.
Nor is Gulf Foods his sole enterprise, although it's his primary focus. He also owns a 700-acre farm in Georgia; the original grocery store in Pelham, Georgia, that his two sons operate; and a realty business that mostly deals in coastal properties.
"I have a lot of irons in the fire, a lot of weight on my shoulders," Godwin says.
So why not retire?
"I love the business," he says. "It's a joy to me to be with people and meet people. I just love that; and what better place to be than on the beach, where you meet folks from all over the world."
Not surprisingly, the majority of Gulf Foods' customers are visitors, especially in the summer, the beach community's busy season.
"Business quadruples in summer," Godwin says, noting that his nearest competitors are a Piggly Wiggly in Port St. Joe and a Walmart in Callaway, a suburb of Panama City. "The local business is good and you can survive with it, but it's 400 percent better in summer. It's mostly locals and a lot of snowbirds from November through February, the offseason."
The prevalence of visitors explains the store's varied selection, including some high-end products. Godwin makes a point of approaching customers, asking if he can help them find an item, and taking note of the fact if he doesn't stock it. If two or more customers ask for something he doesn't have, he will stock it.
"Spices are an example," he says. "People tell me we have more spices than bigger stores. We also carry a lot of specialty items you wouldn't normally find in stores this size. But we have a variety of people who demand high-end products. They're more expensive, but they sell well."
The meats and produce are another example. Godwin is proud of the store's selection of meats, which are cut in-house. Gulf Foods, in fact, enjoys a reputation for quality meats, with out-of-towners often buying the meats to take home.
"We have a huge meat business," Godwin says.
As for the produce, it's delivered thrice weekly, as well as purchased from local sources whenever possible and straight from the field in season.
"Meats and produce are the backbone of the grocery business," Godwin asserts.
He's particularly pleased with his switch to IGA (Independent Grocers Alliance), a name he says people associate with bigger stores, more products and lower prices. And in fact, prices on many of the store's products have come down since the switch, he says.
Godwin estimates that the store does about $3.5 million in sales annually, a million-plus dollars more than when he purchased it.
"It's grown tremendously," he says. "The inventory has more than doubled. And it continues growing. Last year we were around $150,000 over the previous year. And this year we'll be more than that."
The growth reflects the improved economy and Mexico Beach's upbeat tempo in the wake of the recovery, evident by the increasing number of visitors and property sales and rentals.
The Godwins themselves fell in love with Mexico Beach in 1995, when they came to celebrate Bonnie's birthday. The same weekend, they purchased a beach house and, soon after, Godwin got into buying and selling coastal properties.
"It was fun and easy," he says. "It was the boom time."
When the grocery store came available, he jumped at the opportunity.
The store then was run down and in need of hands-on management, Godwin says. He and Bonnie redid much of it, as well as purchasing additional sections of the building that today house the gift shop and a tenant business.
Godwin returns to the theme of retirement. Selling the store isn't completely out of the question, he allows. That is, if the right person were to come along — someone who would maintain the store's quality and integrity.
"I want people who will keep going what we have," he says.
Were he to sell, however, he wouldn't necessarily hang up his apron. Instead, he would likely return to the Pelham store and help his sons, he says.
"I love what I do," Godwin reiterates. "I look forward to every day."