Capital Regional Medical Center Expands with Satellite ER's
Construction of freestanding emergency facilities is part of an effort to extend patients quality care in convenient locations.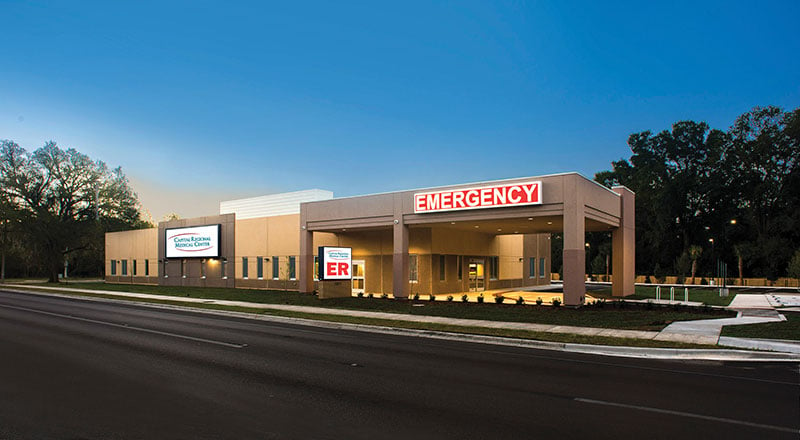 Capital Regional has long welcomed improved health-care technology, advances in best practices and bright stars in medicine to its clinics and emergency rooms, the number of which will grow in 2018 to address the needs of an expanding Tallahassee.
Mark Robinson, the medical center's president and CEO, explained the plan: "There are four ERs in this area. You have Capital Regional's main ER at the hospital; our ER at the Gadsden Campus in Quincy, Florida, 20 miles away, and then there are two other ERs that aren't affiliated with Capital Regional in Leon County. So why are we building two more ERs? First and foremost, we care about our community and the people that travel to visit our emergency rooms. We want them to get the medical attention they need, but also we believe that we're the best at emergency care. A lot of people like to compare hospitals by size. Well, we're not the largest, but we know what we're the best at."
In 2016, Capital Regional saw 101,000 ER visits — roughly half of the total visits made to area ERs.
"There's a reason for those numbers," Robinson said. "It's because we do a fantastic job. The quality of care our patients receive from our highly trained physicians and staff is phenomenal, and we're fast. Anyone who goes online to look at the data can see that our two ERs already have the shortest wait-time of any ERs in the area. We're at an average of eight minutes from the time a patient arrives until he or she is seen by a health-care provider. The two new, freestanding emergency facilities that we're building represent our latest step to expand health care into the community. … Our goal is to provide our patients with quality care in convenient locations, with little to no wait time."
To facilitate this goal, each of the 12-bed, 10,800-square-foot ERs will be staffed by approximately 31 individuals, including board-certified emergency physicians, nurses, paramedics, technicians and imaging providers, and they will be equipped with a trauma room, lab, CT scanner, ultrasound unit, X-ray machine and more. These ERs are intended to offer the community a full range of urgent-care services, including pediatric care, 24/7.
"Understanding the needs of our community is what keeps people coming to us," Robinson said. "We believe that these needs circle around a few things: access, convenience, quality and satisfaction. In building our new ERs, we are adding quality, convenient emergency services in an environment that focuses solely on the patient."
Data indicates there is a need for additional emergency services in particular areas of Tallahassee. That's why Capital Regional will build one of its new ERs on North Monroe Street, right off the I-10 exit. The other will be built in a rapidly developing area close to SouthWood; Robinson expects patients will also come to this ER from Wakulla County.
"In each of the new, freestanding ERs, we expect to see upwards of 13,000–15,000 visits per year," he said.
Capital Regional expects to break ground on both ERs by Jan. 1, 2018, and he plans for the centers to be open around the beginning of the fourth quarter. The expertise and resources of HCA, Capital Regional's parent company and one of the nation's largest private, for-profit hospital systems, will help get them built in this timeframe. Robinson says they've got the process down to a science.
"Our two new ERs will be built upon the expertise that HCA has already acquired," he explained. "We're going to take that expertise and the quality of care that Capital Regional is already known for to our two new freestanding ERs so we can make sure they're the best they can be. It all goes back to knowing what our community needs and providing for those needs."