Meet The OMNICOMMANDER
Miramar Beach start-up commandeers marketing niche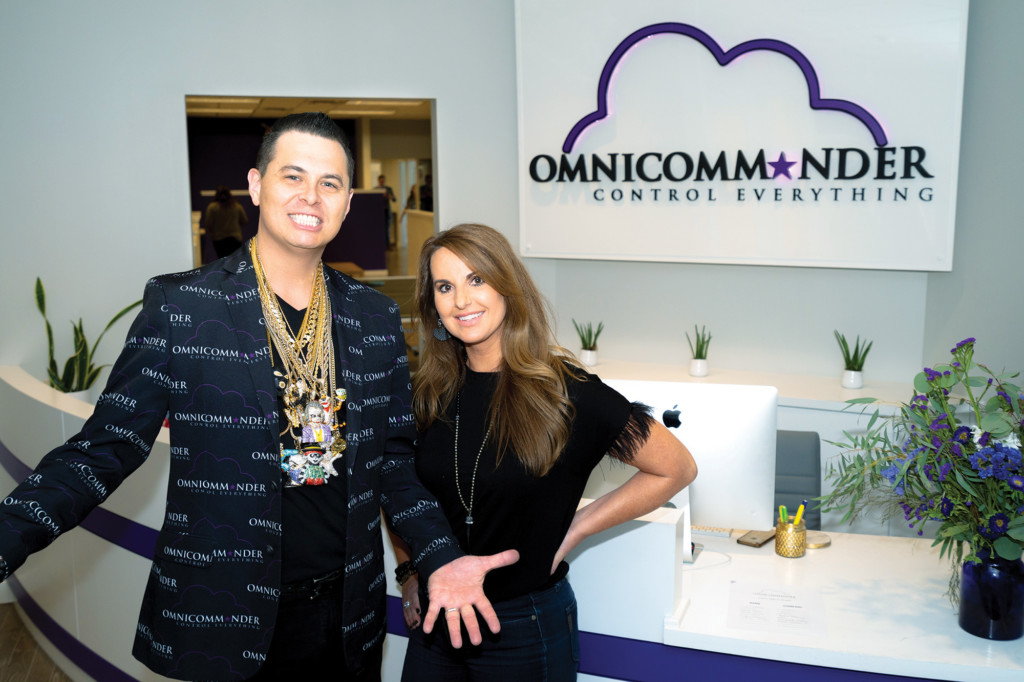 Eric Isham, an Army Armor Officer veteran turned digital marketing mogul, has always been a man of action.
So it was that when Isham, while working as a financial technology consultant, saw a need among credit unions for website design services, he decided to fill the niche himself.
In 2017, he founded Omnicommander, a business devoted to the custom design of webpages and social media marketing strategies for credit unions and other businesses.
Already, it has emerged as an industry leader, having launched some 300 websites for clients across 43 states, Ireland, Argentina, Barbados and Canada — and won a bunch of awards along the way.
"Credit unions are a very small community," Isham explained. "There are about 5,000 credit unions in the entire United States. Unlike other small businesses, when they find something good, they want to share it with other credit unions."
For Omnicommander to scale quickly, Isham said, it made sense for him to concentrate on a close-knit community and trust that word of his work would spread rapidly.
Headquartered in Miramar Beach, Omnicommander employs 35 people and has established offices in Los Angeles and Nashville to better serve its widespread clients.
In 2018, then Gov. Rick Scott phoned Isham to congratulate him on his success in creating jobs in the financial technology sector.
"We're hiring as fast as we can find the right fits for us culturally," said Isham, "because we are a company that continues to succeed and is driven by the culture we've created here."
Omnicommander is managed by military veterans in addition to Isham. His wife, Kimberly Isham, serves as company president.
"To work here, you have to be willing to drink the purple Kool-Aid," Isham said, referring to Omnicommander's purple, star-studded logo. "We're looking for detail-oriented candidates who exhibit passion, high energy and a dedication to over-delivering for our clients. That's what has helped define us as the best in this space. We have over 300 clients now who expect us to quickly meet their needs, so every employee has to get in the saddle every day with the mentality of being the best and keeping up the pace."
Omnicommander operates with the mantra, "Control Everything." As it relates to their primary service, web design, Isham noted that credit unions often complained that they had to contact their website host in order to execute updates.
Omnicommander sees to it that "partners" — Isham rejects the term client, preferring to think of customers as family — can manage everything on their website whenever they choose.
Omnicommander employs responsive web design (RWD), which yields mobile-device friendly, streamlined layouts that are easily navigated.
"From our first kickoff call with a customer to going live with a website, it takes about 30 days," Isham said.
"If partners are responsive and getting back to us on all our concerns, typically, in about a month, they'll have a fully responsive, gorgeous, ADA-compliant website."
Americans with Disabilities Act compliance has been a hot topic, Isham noted, and not just for credit unions.
"Dominoes got sued, the NFL got sued, Beyoncé, Playboy — all for violating the Americans with Disabilities Act with sites inaccessible by visually impaired users," Isham said.
"I certainly don't want any of my clients being sued, so from the get-go, Omnicommander was going to build sites the right way."
Omnicommander currently employs two ADA compliance officers who meticulously go through each website to confirm accessibility.
In addition, two blind employees with screen-reader devices sign off on sites before they go live.
That same attention to detail, Isham said, is applied to Omnicommander marketing strategies.
"Anything that is user facing, we want to be gorgeous," said Isham. "We help partners with logos, branding, digital signage, social media marketing, email blasts and reputation management.
Anything that their users could potentially come in contact with, we want to design."
Again, "Control Everything" comes in to play. A "holistic approach," he said, gives customers maximum return on their marketing dollars.
According to Isham, credit unions increasingly are leaning toward the complete outsourcing of marketing and brand management.
"We put together a world-class team of about 15 people that are at our customers' beck and call," Isham said.
"The opportunity for a small to medium-size business to be able to have those types of resources on a full-time basis is otherwise nonexistent."
Omnicommander is equipped to produce promotional videos; review comments posted to Yelp, Facebook and Google; and write social media posts intended to boost user engagement.
"It takes a small village to do those things consistently, and we're doing that at a high level on a consistent basis," Isham said.
"We build the digital signage in your branches, or your small, three-person, mom and pop business. We want you to focus on your core competencies and outsource to us so we can assemble an attractive presence for you and get the word out about what you've got going on."
Today, Omnicommander is the top-rated credit union website host.
"Everybody here takes pride in being the best provider in our space," said Isham. "Our clients love us because of everything we do for them. We've got a long way to go, but we're growing close to being the market leader in terms of the volume within our client base, and we're having a lot of fun along the way."