Meet The 20-year-old Wunderkind Who is Helping Rewrite The Geography of Tech
At Home in 'Silica Valley'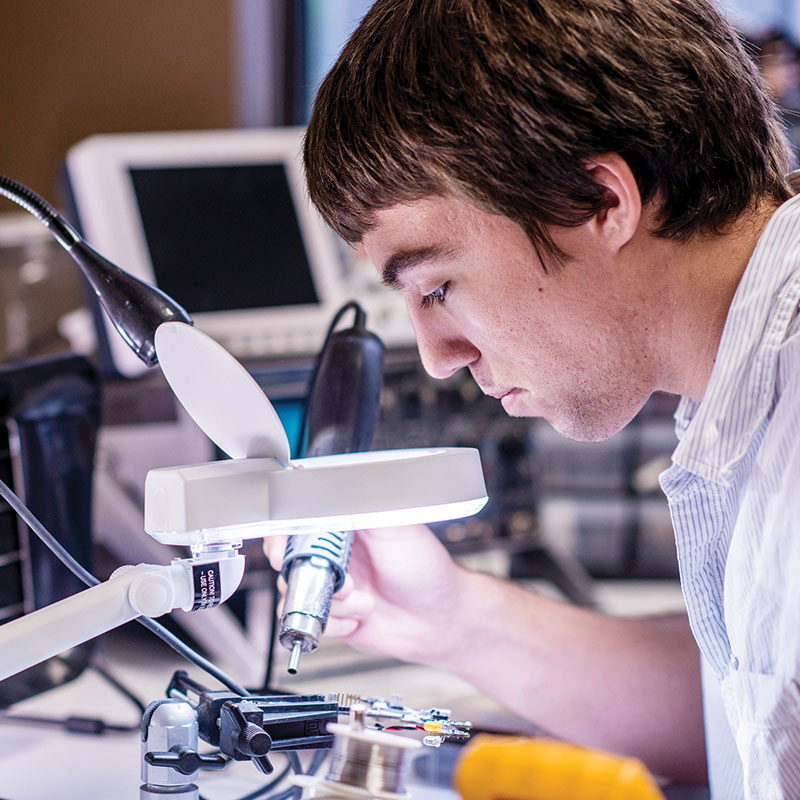 In a rare quiet moment, Colton Black sat back in an overstuffed break-room chair at the Center for Innovation and Entrepreneurship and looked out the windows toward downtown Pensacola.
Colton Black
It has been a busy year for Black. He became chief technology officer of a robotics start-up. He proposed to his girlfriend — with a ring he designed and manufactured using a 3-D printer — and he is in the final stages of negotiating a game-changing deal to license his company's pioneering drone technology.
It would be a dizzying position for anyone, at any age — let alone 20. But Black doesn't seem dizzy. He is remarkably self-assured and carefree — no black circles under the eyes, no tousled hair — just mile after mile of youthful optimism.
"I have taught myself to treat business like a game," Black said. "If I fail, I can always just start over. Even better … the more failures one has in business, the better one becomes."
That optimism might sound naive to some but, so far, Black is winning.
When people talk about tech start-ups, they usually think of Silicon Valley, not the silica beaches of the Gulf Coast. It is surprising for many to find tucked in Pensacola's historic heart, amid towering live oaks and colonial-era houses, one of the nation's leading research institutions in the field of robotics — the Institute for Human and Machine Cognition.
It is here that Robotics Unlimited — the company Black co-founded with French scientist Sebastian Cotton — got its start.
Black came to the institute as an intern in 2012, less than a year after graduating high school, and quickly distinguished himself from his peers.
"He's very passionate about what he's doing and is extremely knowledgeable," said the 30-year-old Cotton. "He's the kind of guy who can take something and learn it on his own."
By the time he hit the seventh grade, Black had been hired by the University of West Florida to debug an educational computer game. By high school, he had made his first foray into business — selling homemade games on a website he also built.
Black's real break came after graduation, when he landed a two-month internship at Kiva Systems, a Boston-based robotics company that sold to Amazon in 2012 for a reported $775 million.
"I learned a lot about the professional world," Black said of his time in Boston," … (and) Kiva Systems was small enough still where I could work on some pretty cool stuff."
When he returned to Pensacola, Black started interning at the Institute for Human and Machine Cognition, where he joined a team of researchers co-led by Cotton to work on "Fastrunner" — an effort funded by the Defense Advanced Research Projects Agency (DARPA) to build a better running robot. Although he was a college freshman at the time, Black was soon promoted to lead electrical engineer.
The agency slashed funding for the project before a working prototype could be created, but not before the team had built a six-legged robot called Hex-runner that demonstrated many of their ideas. It was faster and more energy efficient than anything on the market, and it was capable of performing well on a variety of rough terrains.
Seeing promise, Cotton decided to license the technology from the Institute for Human and Machine Cognition with the intent of further refining and commercializing it. He asked others on the team to join him before deciding to cast his lot with Black.
Cotton said he was attracted to the young engineer because of his entrepreneurial bent and raw talent, which Cotton said surpassed that of most graduate-level electrical and mechanical engineers.
Since founding the company, the duo has focused on refining the Hex-runner platform and exploring possible applications.
In April, the two hired their fourth full-time employee and were spending most of their time — and paying the bills — by consulting for several regional firms. However, they had focused on the future.
Black said they hoped to wrap up their initial round of investment by July — with the goal of raising $600,000. Meanwhile, they were also closing in on a deal to license their technology to a leading multinational toy company.
Though they could not disclose details, Cotton said the revenue potential would be enough to sustain the business through the next two years of growth. The deal would also lay the groundwork for the second phase of their business plan — to market their drones to the defense industry for use in border surveillance and related applications.
Black said they have already been approached by a couple of interested defense contractors and have been in the process of applying to a security-focused business accelerator in San Diego. If accepted, it could raise the company's profile and valuation and introduce them to deep-pocketed venture capitalists.
Even if that were to happen, though, Cotton said the company is committed to "Silica Valley."
"We will stay in Pensacola for sure," he said. "It is a very nice place to live. The cost of living is fairly low. If you try to start a new company in Silicon Valley, the amount of capital you need is going to be through the roof. Here, we can start small and grow slowly."
As for Black, he's considering dropping out of classes at UWF, where he studies electrical engineering, so he can focus fully on the company. (He already logs more than 50 hours most weeks.) Regardless of how things pan out, though, he is committed to the start-up game.
"It's very addictive," Black said. "It's not just the risk element. You're in charge of your own destiny — and the promise is bigger."