Meet Julian MacQueen of Pensacola
High-Flying Hotelier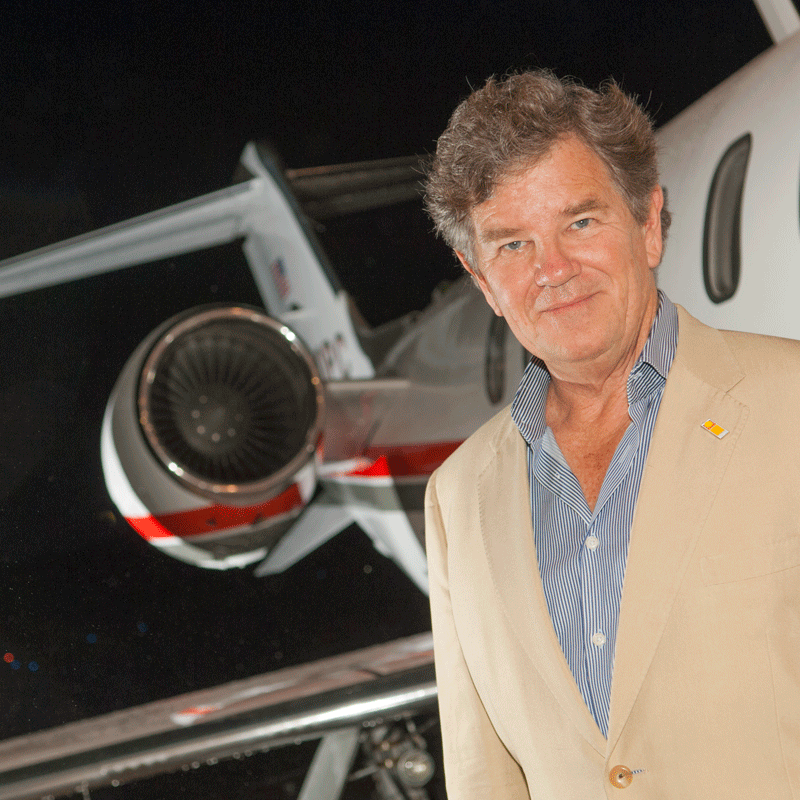 It was the summer of 1966, and a 15-year-old boy from Birmingham didn't want to leave the beach. His parents told him to get a job.
So Julian MacQueen hitchhiked the shores of Destin until at last he arrived at the Jack Tar Beach House. His Southern manners scored points with the chef, who hired him on the spot. By the time he finished college at the University of South Alabama, he had eight years of hotel experience and a degree in psychology.
"You always wonder what's happening subliminally, why you do things," MacQueen muses. "I couldn't believe my good luck … I never left the hotel business."
And he still didn't want to leave the beach. Working out of Knoxville, Tennessee, as a sales manager for Hyatt, he made the acquaintance of a man with no formal education but a booming hotel business. That man asked MacQueen to fill his rooms for an upcoming world's fair. (In exchange, he would teach him the trade of earning interest in hotels.) With Family Inns of America, MacQueen built five hotels in the same number of years. He then traded four of them for one in Mobile, Alabama, where Innisfree Hotels got its start in Room 201.
Today, his company boasts 1,000 employees and twice as many rooms, including hotels, RV resorts and the state-of-the-art Innisfree Jet Center located at Pensacola International Airport. But MacQueen himself does not boast. He just wants to export the natural beauty and Southern charm of our piece of Florida to the rest of the world — one visitor at a time.
---
My Wife, the Marriage Counselor Oh, I'm a constant subject. It takes a professional to be married to me, is the joke.
You Get What You Give We measure ourselves on people, profit and the planet. By creating sustainable practices and taking care of the people around us, the profits come as a result.
Avid Aviator I would take my tip money from the Jack Tar Beach House and go get a flying lesson. I got my license at 16, and I've been flying ever since. I bought this classic flying boat that I'm real proud of. I use it like a station wagon.
If I Could Hop in a Plane … (Oh Wait, I Can.) We live part-time in British Columbia. A life-changing experience for me was visiting a place called the Great Bear Rainforest. (He took along photographers who captured images of the white black bear, featured in National Geographic's "The Spirit Bear," August 2011.)
Luck or Hard Work I'm believing more and more in luck. There's a saying in our religion – Baha'i – about walking the mystical path with practical feet. If you open your mind up to the universe, it will provide for you. If you have your head down and don't see the signs, then you end up just going from A to B. I think that attitude has served me well. But so has having ADD.
To the Class of 2014 Be willing to be wrong and to laugh at yourself. Expect answers from the most unlikely places, and open yourself up to the infinite possibilities around you. Recognize that you can't control the world. It's how you react to it that's going to define you.
That Yeats Poem My wife is the scholar. I'm the guy who goes out and puts stuff together. She came up with the name (from "The Lake Isle of Innisfree" by William Butler Yeats), and I thought it described the atmosphere we wanted at our hotels.
850 Tourism When I travel around the world, I rarely tell people I'm from Florida, because we're in a part of Florida no one knows about. But when they come here once, they keep coming back. It's because of the gentility, this natural sense of hospitality that is uniquely ours. As a Southerner, I feel very proud to export that around the world.