Market-Driven
Catherine McCloy and St. Joe respond to public's pulse in transforming region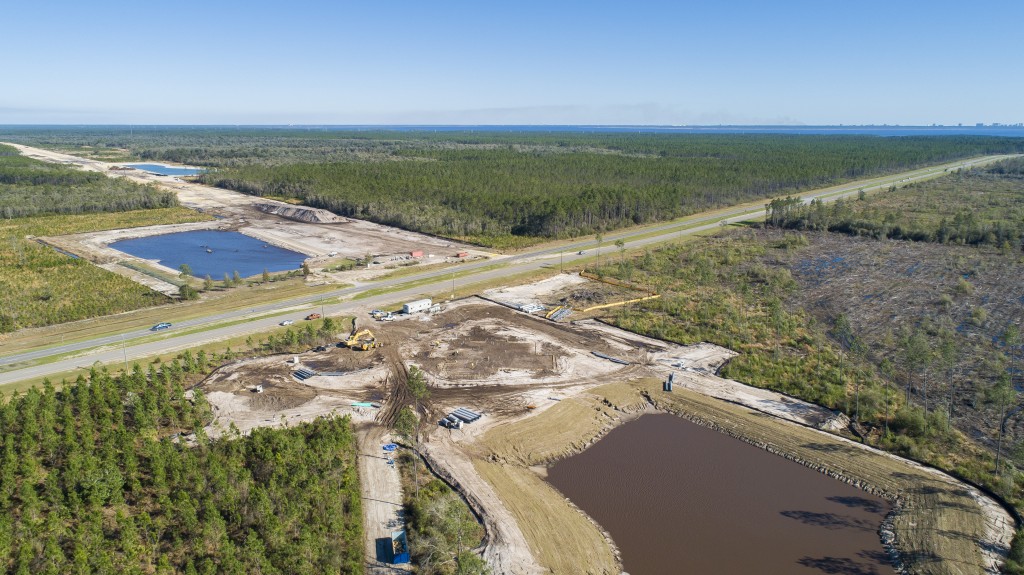 The Bay-Walton Sector Plan, a 50-year vision of growth, development and resource protection, went into effect in June 2015. It comprises 110,500 acres, all of them owned by the St. Joe Company — 97,216 acres in Bay County and 13,284 acres in Walton County.
Per state law, a sector plan must address a minimum of 15,000 acres, and is approved in two steps. Step one is the creation of a Long Term Master Plan that is adopted by local government as a comprehensive plan amendment following review by local governments and state and regional agencies.
Additionally, local government must adopt a Detailed Special Area Plan (DSAP) before any new development may occur. Expressed purposes of the sector plan are:
Add a significant active adult community component and provide the amenities, recreation, entertainment and medical facilities required for a successful active adult community.

Connect the Northwest Florida Beaches International Airport and its surrounding commercial properties with Bay County and Walton County for a well-planned and cohesive development.

Provide the uses needed by working families serving the airport commerce area and the active adult communities.

Through policies, establish urban form planning concepts for walkable communities that encourage multiple transportation modes including walking, biking and golf carts.

Maintain commitment to economic development efforts around Northwest Florida Beaches International Airport.

Coordinate and facilitate the planning of regional infrastructure like the West Bay Parkway.
Create a regionally significant watershed level environmental framework that contains 53,229 acres of a series of well-connected conservation and preservation areas.
Facilitate a regionally significant trail network of at least 100 miles that will connect to an existing network of trails.
Five years into the plan, progress has been made. Notably, a DSAP containing the planned Latitude Margaritaville Watersound adult living community is in place. Developer Minto Communities USA, lifestyle brand Margaritaville Holdings and St. Joe announced in December of last year that land development activities had begun at a site north of Panama City Beach and near the intersection of highways 79 and 388.
Latitude Margaritaville Watersound is the third Latitude Margaritaville community to be developed by Minto and Margaritaville, and the first to be developed in partnership with St. Joe. The first two Latitude Margaritaville communities are located in Daytona Beach, Florida, and in Hilton Head, South Carolina. The initial phase of Latitude Margaritaville Watersound is anticipated to include approximately 3,500 homes with a sales center, model homes and resort-style amenities.
As St. Joe's director of planning and development, Panama City native and Bay High School graduate Catherine McCloy will have a lot to do with implementation of the Sector Plan and other projects in the 850 area. She holds a bachelor's degree in business and tourism/hospitality from the University of Florida and a master's degree in urban and regional planning from Florida State University.
---
Q&A with Catherine McCloy
850: How did you and
St. Joe come together?
McCloy: I worked for St. Joe when I graduated from Florida. I really liked the master planning taking place and the community involvement, and I was intrigued by it. That experience was what inspired me to go to graduate school. After FSU, I worked as a planner for an international engineering firm (Stantec) in Tampa and Tallahassee for about 12 years. Some opportunities arose with St. Joe, and I had always wanted to return to working for them. I was happy to come back on board.
850: What is the scope of your current responsibilities? You have a job that, given the vastness of St. Joe's real estate holdings, must be close to unique.
McCloy: It is. While I do a little bit of everything, I am primarily responsible for long-term planning and permitting. I work with local governments and with our consultants to package and design our developments on both a short- and long-term basis. I coordinate the entitlement process, master planning and design/development. Entitlements and planning are my core focus. I also work on environmental permitting and maintaining compliance and ensuring that we are doing everything properly.
850: Speak to what is meant by entitlements in a development context. (The Bay-Walton Sector Plan is entitled for approximately 170,000 homes.)
McCloy: It's all encompassing. For example, in the Bay-Walton Sector Plan, the entitlements on a large scale dictate how many residential units, how much commercial/industrial/office square footage we can have and all of the requirements that go along with those developments. And, on a small scale, we implement them on a parcel-by-parcel basis. For example, building our new corporate office building at the Beckrich Office Park in Panama City Beach is an individual project that we are utilizing entitlements on.
850: What should people know about the Bay-Walton Sector Plan? How would you characterize it generally?
McCloy: Probably the most important thing to keep in mind is that it is very long range. It is a 50-year plan that serves as an overall framework for development and construction. It specifies the entitlements. Our approach is market-driven. We are not going to build something just because it is on a plan. We will wait until the market warrants that it be created. Another significant component of the plan is its conservation areas. They comprise about 53,000 acres out of the total of about 110,000 acres, and provide for wildlife corridors (versus isolating populations of animals in small enclaves).
850: St. Joe is involved in diverse projects, many of them joint-venture partnerships (27 at this writing). They include a Starbucks coffee shop, a Busy Bee convenience store, a shooting range and an assisted living facility. What is the process that leads to decisions about which projects and partnerships to pursue?
McCloy: We are not a typical developer. We have owned the land that we are developing for a long time. We live in the community where the development is taking place. Some of us are from here. Our friends have history here. We are invested, and we aren't going anywhere. Our development is important to us because it is our legacy and it is where we are going to be. We start by looking at what the market is demanding and then determine if we have an opportunity to fill a need, either with our own expertise or by partnering with our world-class joint venture partners. In communicating with the Walton County School Board, we found that there was a need for a STEAM school and because we are leaving this campus, it worked out for us to give them an opportunity to locate here. Instruction here commenced in December, and when we leave in June, they will start taking on more and more building space.
850: Let's touch upon the 55-plus community, Latitude Margaritaville Watersound. Obviously, you were satisfied that there is a market demand for that type of product.McCloy: We are seeing interest in it already. Site work has started. We have broken ground on the sales center and we anticipate that model homes and the sales center will be complete in 2021, and the first homesites ought to be available. As complements to that development, we will be developing a commercial area along State 79 and a marina on the Intercoastal Waterway. Minto will market the project. The sales center will be unique. It will have a lot of special, interactive features.
850: Don't get too far out there or you may leave your target audience behind.
McCloy: I am sure there will be oversight and assistance as needed.
850: What is the extent of the infrastructure that a project of that magnitude will require?
McCloy: That is all part of the DSAP and the entitlement process. We are required to analyze any of the needs as part of the project approval process. Any needs created we will have to provide in conjunction with Bay County and other jurisdictions.
850: What is your outlook on the VentureCrossings commerce park at the Panama City Beaches International Airport, given the departure of GKN Aerospace?
McCloy: We are still very excited about it. A 143-room Hilton Garden Inn is under construction there. We have completed a 60,000-square-foot light industrial building that is attracting prospective tenants. The airport is adding new flights and new carriers and so we are still very optimistic. We don't like to lose a tenant, obviously. But GKN's departure had to do with a strategic shift within the company. It had nothing to do with our area. We look at the GKN building as an asset. It has a lot of special features that will be in place for the right tenant when it comes along.
850: What is St. Joe doing to help out with the need for affordable housing in Bay County?
McCloy: We have three projects — College Station, Titus Park and Park Place —along the U.S. 231 corridor. Single-family housing has always been part of our long-term development plan, but after the hurricane, there was such a need for housing that we accelerated some of those plans to meet the demand for housing coming from displaced workers and their families. Work is underway on all three projects, and we should have homesites available later this year. We are also developing apartments in Panama City Beach at Frank Brown Park and at Breakfast Point.
850: You remain committed to developing a hotel at the Downtown Marina in Panama City.
McCloy: Yes, we've been making progress on a lease at the marina, and we are in the design phase for the hotel and a restaurant. We are working closely with the city and the community to come up with new designs that will be a good fit with historic downtown. We had been working with the city before Hurricane Michael and had a memorandum of understanding in place. We recommitted after the storm, and we have held three public meetings to get feedback and input on the hotel. Those meetings weren't required, but we wanted to hear the voice of the community, and we have modified plans in response to comments we've received.
Kerrigan: I might add that we have a track record that way. When we were developing the sector plan, we had more than 20 open houses, again not required, to get feedback. We don't just give lip service to participants in those meetings. Suggestions are implemented.
850: Is there such a thing as a benevolent developer?
McCloy: How so?
850: A good guy developer.
McCloy: I think we are a good guy developer.
Kerrigan: I think so, too.
850: Developer tends to be a dirty word in Florida. If you can, by example, set a high standard, that could be good for the region and the state. Agreed?
Kerrigan: We have so much at stake here. We have so many projects. We can't afford to do something irresponsible. The land donations that we've made, and the Conservation Park and the other conservation efforts that we have made over and above what may be required, and the donations for things like schools, hospitals and sports parks. I think that adds up to a nice guy developer.
McCloy: This is my hometown, and it's important to me, and I don't want to do something that I am not proud of.
850: As a planning person with a big-picture perspective on things, do you find that the center of town has moved to the west in Bay County?
McCloy: I don't think it has necessarily moved. But there are different focal points. They will continue to shift over time. As downtown Panama City redevelops, that will be a core in addition to Pier Park. Things will ebb and flow over time as individual needs and generational needs shift.