Maritime Park is a Home Run for Downtown Pensacola
Wahoos and more score well for public and private investors alike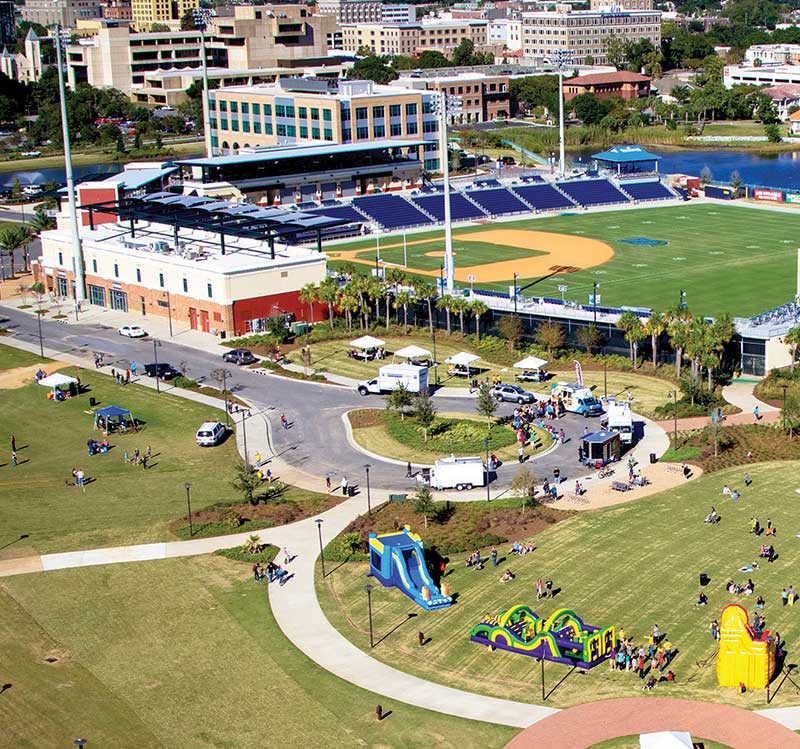 For nearly 40 years after a fire destroyed the Frisco Docks, their location off Main Street on the edge of Pensacola Bay remained dormant.
Oh, how that has changed. And the remarkable transition into the 32-acre Vince Whibbs Sr. Community Maritime Park sparked a rebirth of downtown Pensacola that is still in progress.
The park contains the Hunter Amphitheater, Exhibition Grounds, Rotary Centennial Playground and Blue Wahoos Stadium. Built from 2009 to 2012 at a cost of $53 million, Maritime Park was honored in 2016 with an Urban Land Institute North Florida "Open Space" award.
"Certainly, I can say the impact of the entire park and the stadium has been overwhelmingly positive," said Pensacola City Administrator Eric Olson.
"If you think of Pensacola as a brand and how are we perceived by people who are outside of our community," Olson added, "now people think of Pensacola as a quality place: 'Hey it's got something to offer to people of all ages.'"
In fiscal year 2017, 34 events were hosted at Hunter Amphitheater, Exhibition Grounds and Rotary Centennial Playground, according to Tonya Vaden, Pensacola city marketing director.
Those included concerts, outdoor movies and running and fitness events.
CPA Mandy Bills, the city's business process review manager, said general fund revenues from Maritime Park for fiscal year 2017 totaled $810,735, with capital maintenance and repair fund revenues totaling $169,417. It adds up to $980,152, with the Blue Wahoos accounting for $765,637 of that. Growth in taxable property value attributed to the park is greater still.
"The growth in the taxable value of property within the CRA Urban Core area since the Maritime Park was opened in 2012 is approximately 20 percent," Bills stated. "While the Maritime Park was not the only factor that contributed to this increase, it was one of the catalysts that helped fuel the growth."
Bills added that $45.64 million of Redevelopment Revenue Bonds that were issued by the City of Pensacola to finance the construction of Maritime Park will be paid off in April 2040.
Worth noting is that Randall K. and Martha A. Hunter donated $600,000 toward construction of the amphitheater.
Which brings us to the major tenant of Community Maritime Park – the Pensacola Blue Wahoos minor league baseball team. The ballpark was financed as part of the Community Maritime Park project, for which the City of Pensacola issued the $45.64 million in bonds in December 2009.
Additionally, a federal New Market Tax Credit allocation that was awarded was sold for $12 million. Overall, owners Quint and Rishy Studer invested $17.5 million in bringing minor league baseball to Pensacola. That included $3 million toward building the $18 million ballpark.
"What the Wahoos did is they created a neighborhood," Studer said. "There are so many relationships that are connected, so many people see each other at the ballpark, and I think the ballpark has become a special neighborhood for the community, and that's what we wanted it to be."
With a seating capacity of 5,038, Blue Wahoos Stadium is the smallest in the 10-team Class AA Southern League. The population of the Pensacola area (including Escambia and Santa Rosa counties) is the third-smallest market in the league.
All of which makes yearly attendance figures of more than 300,000 something impressive. The Wahoos led the Southern League in their 2012 debut, averaging 4,826 fans per game. From 2013 to 2016, Pensacola was second overall in attendance each season. In 2017 the Wahoos were fourth, averaging 4,296 per game.
Such numbers evidently impressed Bubba Watson, a PGA tour star and two-time Masters champion who grew up next door in Santa Rosa County. Recently he moved to Pensacola and purchased a 10% share of the Wahoos. The stadium's bar and restaurant was renamed Bubba's Sand Trap.
Watson told CNN: "Ever since I went to my first Blue Wahoos game, I have been a big fan. I love the atmosphere. It's such a great place to go with friends and family."
But the 70 baseball games during the summer represent less than half the events that are held year-round at the stadium.
"We host roughly 150 events a year," said Jonathan Griffith, executive vice president for the Wahoos. "Our goal is to always have people down there and make it exactly what it was supposed to be, a multi-use stadium. It can be anything and everything."
That includes football games played by the University of West Florida, Field of Screams Haunted House, Soul Bowl, Flag Football, Autism Pensacola Event and Green Egg Fest. The Wahoos also hosted an inaugural Kazoo's New Year's Celebration featuring the popular Pelican Drop.
"I think the entire idea of the ballpark was to get people downtown," Griffith said. "We have only 260 parking spots for a 5,000-seat stadium, and the reason for that was we wanted people to park downtown, eat downtown and drink downtown."
In May 2017, Visit Pensacola, the area's tourism marketers, released its first "Value of Visitors" Escambia County report, conducted by Majority Opinion Research. That report stated that in 2016, more than 2 million visitors spent nearly $800 million dollars and paid nearly $22 million in taxes to the county.
"Over the past three to five years we've seen some incredible growth," said Nicole Stacey, director of marketing and development for Visit Pensacola.
"With the stadium and the Maritime Park, it just helps drive that foot traffic," Stacey said. "When you're downtown for a game, before or after, you can check out our restaurants, historic museums and all kinds of things that are very walkable."
Curt Morse, executive director of the Pensacola Downtown Improvement Board, offered a similar assessment.
"This little town that had great curb appeal that drew in a few visitors is now this more polished city that offers more and better amenities," Morse said. "People are actually coming here with intention, and not just because their favorite place in Destin was booked or it's too crowded on the beaches in South Walton County."
Visiting Pensacola has become an "entire experience," according to Morse.
"You can come spend a few days at the beach, then come into town and catch a great game and have an exceptional culinary experience," he said, "and if you're into the nightlife, there's plenty of that here too. So it's really the fulfillment of our community growing into this more refined place."And the impact of Community Maritime Park and the Wahoos?
"Oh, huge — huge," Morse replied without hesitation. "Here we have a city of just under 55,000 people and the MSA (metropolitan population) in the neighborhood of 240,000. But we have big amenities of cities that are much larger. The Wahoos play a very, very prominent role in that, and they are situated to have a very dominant place in the downtown culture."
Rusty Branch, executive director of the Escambia County Destination Marketing Organization, grew up several counties away in Marianna and pitched at the University of West Florida.
"When you're talking about the quality of a place, it's all the amenities," Branch said, "and one of the big amenities added in the past five years is the Wahoos.