Marina Hotel Construction Begins
Leaders expect $36 million project to spur transformation of downtown Panama City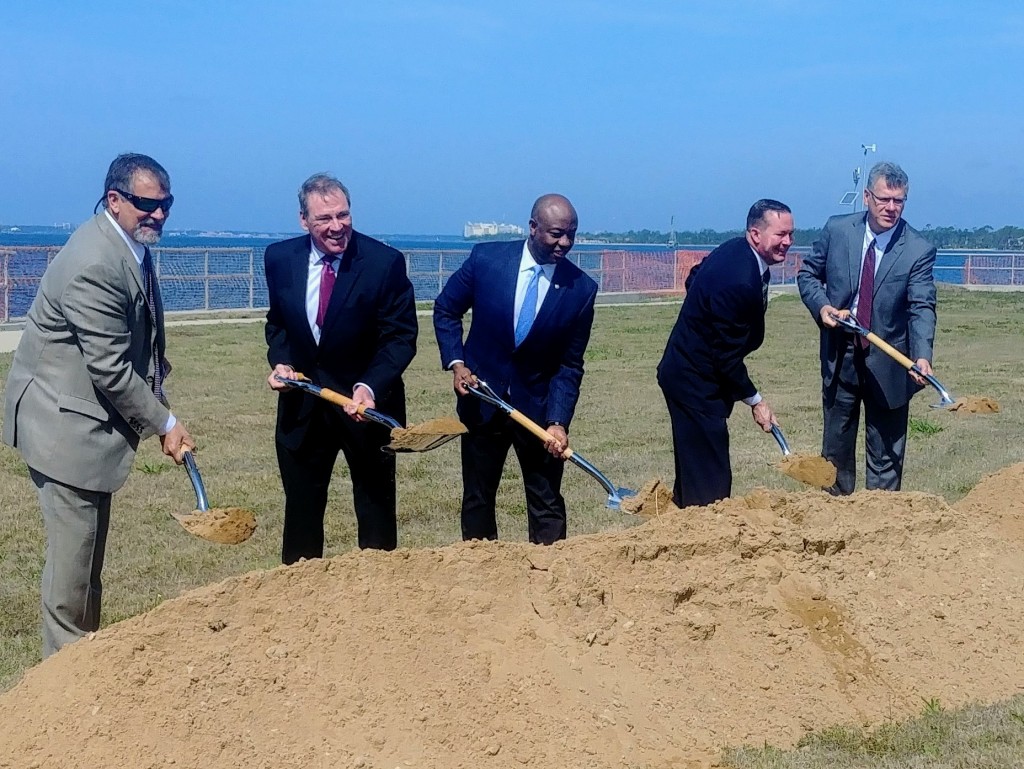 The remarks of dignitaries assembled at Panama City's Downtown Marina moved beyond talk of resiliency to realization instead.
"Today, we are hitting a milestone that is unbelievable," said Bay County Chamber of Commerce chairman Chris Moore, a retired Navy captain. "It's not just a jumpstart. It's a super charge."
As Moore spoke, an Air Force jet passed overhead, fittingly it seemed. "The flyover is a little bit late," he joked, prompting laughter. "Sounds of freedom."
For two-plus years — ever since "Hurricane Michael made an impression on us," as Congressman Neal Dunn put it — Panama City has sought freedom from despair and reason for optimism. For those assembled at the marina, the "milestone" celebrated at a groundbreaking ceremony on Wednesday provided precisely that.
Construction by the St. Joe Company of a $36 million, 124-room Hotel Indigo at the marina is set to begin.
"We of all people like groundbreakings," said St. Joe president and CEO Jorge Gonzalez. "The only things we like better are grand openings."
The hotel project, he said, "is about the continued upward trajectory of the heart of every community, its downtown. It's been a long road with many twists and turns along the way including a Category 5 hurricane and a worldwide pandemic, but here we are, and downtown is coming back."
Gonzalez noted the importance of small businesses to downtown's recovery and future. He thanked them for their commitments to the community.
"Individual investments add up," he said. "Singles score runs."
But the hotel, as Moore suggested, is a homerun. It is scheduled for completion in the spring of 2023, according to Mike Kerrigan, St. Joe's corporate director of marketing.
"What we're doing here today is an example of government getting it right," said Panama City Mayor Greg Brudnicki, "where people get together, leave their egos at the door and hammer out a deal."
Panama City experienced false starts with intended downtown re-developers, Brudnicki acknowledged.
"We had great pretenders prior to St. Joe, but now we have a great partner," he said.
Gonzalez said St. Joe chose the Hotel Indigo brand because it designs its properties to fit into the context of communities and respect their culture and history.
"We are believers in downtown Panama City and see a bright future ahead," Gonzalez said. "It has the potential to not just be OK, but to be great. We really believe that. Great things happen one step at a time. Get the first step right and build on it. Get the second step right and build on it. And move to the third step."
He thanked city officials for their trust in the St. Joe Company.
Poignantly, he said, "We are not going to let you down."
Moore quoted his boss, longtime Bay County Chamber of Commerce president and CEO Carol Roberts, who has said, "Our organization for my entire career has fielded inquiries from vacationers, business travelers and concert attendees looking for waterfront accommodations, a walkable community and for dining, shopping and entertainment."
Dunn spoke to that vision.
"The ground we stand on has untapped potential," he said. "I am thrilled to have the opportunity to watch Jorge and St. Joe improve this property in a way that will benefit the entire region. I have wanted nothing more in my time here than to see this region thrive and grow. We live in one of the most beautiful cities in the country. Many people visit here, but only a lucky few get to call it home. I want some new businesses to come in, see our potential and call it their home, as well. This project is a great step in the right direction."
Brudnicki introduced U.S. Sen. Tim Scott of South Carolina.
"My Hurricane Michael came in 1989," Scott said. "It was called Hurricane Hugo."
Scott was 23 and living in Charleston at the time.
"I wanted to help out, but all I could afford to do was buy toilet paper for a few people and diapers for one friend," Scott said. "But if you do what you can do and others do what they can do, everything will be OK.
"What I love about being here today is not seeing, but feeling the passion that your leaders have for the community. That is a rare and special ingredient. If you are looking for the secret sauce in the formula, it doesn't come from Washington. It comes from home. It comes from you.
"Can I get an amen?"
That he got.