Marianna's Battle for Family Dollar
Why a Fortune 500 company agreed to build a $50 million distribution center amidst miles of cotton fields.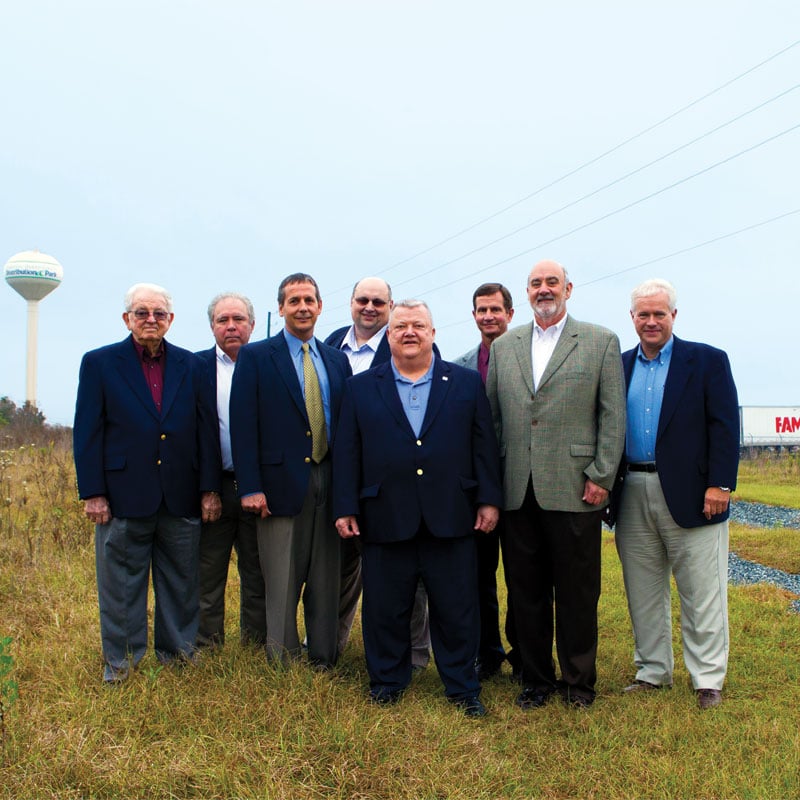 Marianna is an official Florida Main Street town, having been restored to resemble its distant past. Antebellum homes line the quaint streets. Famous underground caverns draw tourists, if only for a day trip.
The leading industries traditionally include education, health and social services. Russell Corp., a fabrics manufacturing company, which closed in 1999, was also a vital source of employment for more than 1,000 workers. "We were really hurting when textile and apparel left the area. This region was very dependent on it," says Bill Stanton, executive director of the Jackson County Development Council. "We needed to jumpstart a new industry sector we could target and build upon."
With a population of around 6,200 people and little growth over the years, this small town needed an economic boost. It was then that Marianna and Jackson County officials banded together to persuade a Fortune 500 company to build a $50 million distribution center amidst miles of cotton fields.
Family Dollar, a consumer discount retailer with more than 7,200 stores in 45 states and 50,000 employees, offers convenience goods and basic food items. The company needed to increase the coverage of distribution center facilities as it expanded the number of stores throughout the country, the focus being on an ability to reach a large number of stores within a day's roundtrip.
As Family Dollar began its search for sites for a new distribution center that would cover much of the Southeast, there were 118 potential communities in the region up for consideration. The list was narrowed by focusing on certain criteria that included: highway access, market reach, land cost, public support for infrastructure improvements and workforce availability. After slicing the short list again and again, the final two locations in the running were Cordele, Ga., and Marianna. In a highly publicized battle between the two towns, Marianna won out due to many factors, including a direct on-ramp access to Interstate 10 and the ability to serve all of Florida's markets, as well as key markets in Georgia, Alabama and Mississippi.
But perhaps the strongest determining factor was the passionate public support from the local community, as well as the organization of local officials who impressed the company representatives with their well-thought-out plan.
"I think one thing that helped us is that once we found out what their layout and requirements were, we came up with a plan to meet their infrastructure needs," says David Melvin, CEO of Consulting Engineers. "When they did the site visit, we had drawings of their building, parking lot and roads laid out. I think it surprised them that we were that prepared."
Ted Lakey, Jackson County administrator, who came on board just as the project was being pitched to Family Dollar, says the teamwork and shared ambition of the city and county paid off big. "It was the county and city working together that got it done," he says, adding that the distribution center was a huge boost to the local economy. "It helped diversify the employment in addition to the prison and agriculture."
Adds Stanton, "I think they were confident they were going to deal with a better town. They pretty well said that."
Family Dollar officials found the local support and commitment to economic development to be impressive and were confident in building the facility in Marianna. "We love having our distribution center in Marianna," says Josh Braverman, communication director at Family Dollar. "It's been a great partnership, and we look forward to a continued strong relationship with them."
In addition to their charm, the team leaders used several creative tactics to induce the company to choose Marianna as its distribution center site, including tax incentives, supportive construction and cooperation from the state and federal government. "We had to pledge to do some things that were pretty tough," Stanton says, pointing to two three-inch binders full of charts, lists and data related to "Project Raven," as it was known.
Several organizations were in play, including Enterprise Florida, Chipola Workforce Development Board and Florida Public Utilities, in addition to the City of Marianna and Jackson County. Former Gov. Jeb Bush, U.S. Congressman Allen Boyd and the local legislative delegation were also involved. The local, state and federal government incentives added up to $24 million. The city and county donated the 75 acres for the site, as well as a 90-acre public buffer. The company also received a 10-year ad valorem tax exemption, which expires in 2014, and about $4.7 million in lower taxes. Because of the tax incentives, the facility paid the county $666 in 2011, but nearly $300,000 to the Jackson County School Board.
"It is the most difficult project we have ever done in this area, the whole region," says Stanton, who led the drive. "The complexity was magnified by having to ultimately do it in an undeveloped area." The City of Marianna and Jackson County both contributed financially and also built roads with truck lanes and turning lanes with access to Interstate 10 and Route 276, a fire station, an electric substation, a 300,000-gallon petasphere and two more 300,000-gallon water tanks, as well as a regional storm water retention pond, with hopes that a successful acquisition of the one distribution center would entice other companies to move in later.
The facility opened in January of 2005 as the eighth distribution center developed by the Family Dollar company. The massive building is a 75-acre site within a 351-acre distribution park. The center has 26 acres of space under one roof with 1.2 million square feet and 32-foot-high ceilings. With anywhere from 300 to 400 semi trucks loading or unloading daily, the D.C., as it's called, is always busy.
The community was ecstatic about the addition, with 6,000 people applying for the 515 jobs available at the center. "We've never had that kind of response," says Chipola Regional Workforce Development Board Executive Director Richard Williams. The average wage is $13 per hour. Three shifts keep the place running around the clock.
Williams says the addition of the distribution center has had a trickle effect, adding jobs indirectly and bringing whole families to the area.
"Obviously there are the jobs at the distribution center, but beyond that it's brought in jobs related to the center," he says. "It also opened up the industrial park to other businesses and put Marianna on the map. We're a net exporter of labor so getting those jobs is big for us. It got other (companies) to look at us that wouldn't have done so before." Two other companies — Arizona Chemical distribution center, which employs 45 people, and Oldcastle, a pre-cast concrete pipe company with 110 employees — built at the distribution park, as a direct result of Family Dollar coming on board.
The distribution center's impact has also had a synergistic effect economically. As Williams explains, "There's the ripple effect, people were leaving local jobs to go to Family Dollar," he says. "Those other companies then started providing better benefits, which led to people returning to those jobs. Then Family Dollar increased their benefits, so all the employees in the area benefited."
In addition, whole families have relocated to the area, he adds. "Families who shop here, who buy their gas and groceries here, and contribute to the economy."
Florida State Rep. Marti Coley says the Family Dollar Distribution Center is vital to the overall economic growth of the community. "The distribution center is an incredible asset to our area," Coley says. "It has created new jobs that helped stimulate our local economy and brought a sense of pride and purpose to those it employs. I am tremendously proud to have such a business in the region."
Many products are manufactured in China and shipped to major U.S. seaports such as Long Beach, Ca., and Savannah, Ga. The goods are then sent by rail and or truck to the suppliers, who then deliver their products to the Family Dollar distribution centers. The Marianna site services Tallahassee, Jacksonville, Orlando, Tampa and Miami, as well as Mobile, Ala., and Atlanta and Savannah, Ga.
The Mariana Jackson County Distribution Park, which was built for Family Dollar with plans to entice future companies to build distribution centers there, is the only such park in the state of Florida. But in the last five years there have been no new projects. "One big hit from the recession was construction, the other was distribution," says Stanton. "Essentially, for the last four or five years there has been little additional capacity in the form of construction and distribution."
As the economy slowly recovers over the next decade, Marianna and Jackson County have a place for new projects and hope to draw on the success story of the Family Dollar center. As Stanton says, "We're ready."