Marianna is Raising Its Game
Hoping to land aerospace contractors at its Airport Commerce Park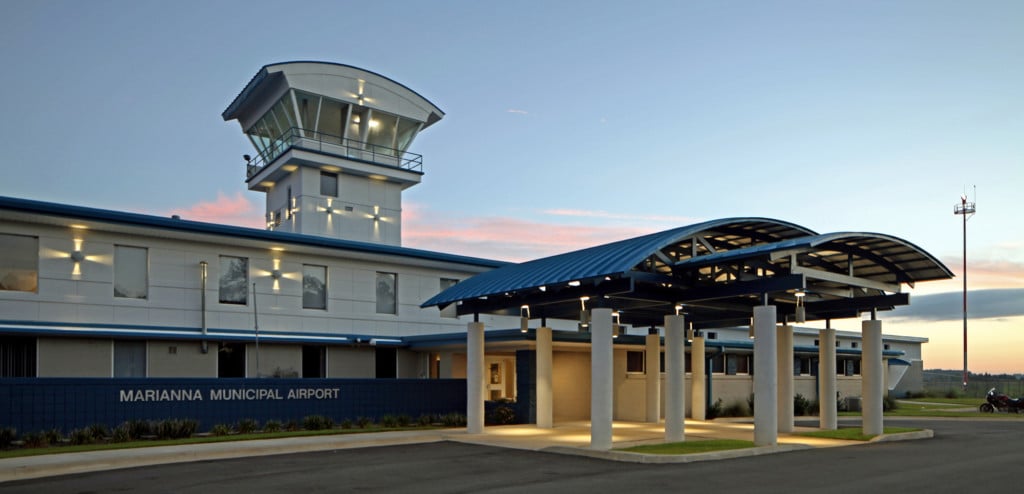 With the expected completion of a runway extension by year's end, Marianna city officials and economic development proponents hope to have in place another key element to attract the aerospace industry to the Marianna Airport Commerce Park (MACP).
"We have a runway that's 4,900 feet, which limits the size and type of aircrafts that can land here," said Marianna City Manager Jim Dean. "If we go to 6,000 feet, it expands our ability to take larger aircrafts. And yes, the aerospace industry is our primary target."
Indeed, that industry is a target across Northwest Florida, given its several military installations and ready workforce of retiring military personnel that make the region a lure to aviation companies.
Roy Baker of Opportunity Florida, which covers a region including Jackson County, amplifies the point.
"The 1,100-foot extension allows the side of the park that touches the runway to target companies that do maintenance, repair and overhaul (MRO) of the larger planes," he said. "And, the area off the airport apron could be for other industries, such as small manufacturing, light industry or value-added manufacturing."
Bill Stanton, Jackson County Development Council executive director, believes the runway extension, combined with the site's shovel-ready designation, will boost Marianna's competitiveness.
"It will allow us to compete with Tallahassee, Panama City and Pensacola," he said. "We still have the issue that our population and workforce are smaller, but if a project is under 1,000 employees, we can compete."
The runway extension is the latest of many improvements undertaken in recent years to enhance the MACP's competitiveness, especially the 237 acres adjacent to the airport that were certified a Florida First Site in 2015 as part of a Gulf Power initiative.
To meet certification, the site underwent a rigorous screening process to ensure its shovel-readiness and minimization of businesses' start-up risks, said Jennifer Conoley, senior economic development project manager at Gulf Power.
"Certification is one competitive factor that communities use to set themselves apart from the competition," Conoley explained. "And, certainly, runway extensions and anything that make properties more attractive to targeted industries is key."
Other improvements that have benefited the MACP include upgrading the airport's terminal and infrastructure and contracting a fixed-based operator to run the facility.
"There are a number of things happening," Dean said. "It's not any one thing that you can put your finger on that's going to flip the switch. It's a combination of things that will hopefully impact our ability to grow the park."
So far, the certified acreage remains vacant — but then, only two of nine regional sites certified in 2015 have attracted activity.
"It's not unusual," Baker said. "In this line of work, if you can land two or three out of 100 prospects, you're doing excellent."
The certified acreage aside, other parts of the park have enjoyed success, most recently the addition of a fabric company. All told, the park holds 12 businesses, not counting the Sunland Center and federal prison, government facilities that together employ about 1,100 people.
A former 1940s U.S. airfield that Marianna and Jackson County have been repurposing since 1962, the park lies near two state roads and I-10, a designated Jacksonville-to-Pensacola manufacturing/logistics corridor.
Kim Wilmes is president/CEO of Florida's Great Northwest, which markets a 12-county region. She pointed out that Marianna already enjoys a reputation as a manufacturing and distribution center, and the runway puts it in the running for aviation companies. The challenge, she said, will be providing the talent.
"You need a pipeline of skilled employees for companies to succeed," Wilmes said. "You need schools offering certifications in skills that are aligned with aviation."
That challenge is one Marianna can meet, Baker said.
"Chipola College is set up to add programs quickly," he noted. "It can adopt a program to meet the needs of an MRO employer that did planes."
Stanton agrees.
"Chipola trained workers for Catalyst Fabric Solutions under a state program," he said. "So, yes, we have the capability to mount such a program."
As for the availability of a regional workforce, Baker underscored his argument regarding the need to think beyond county lines when pursuing projects.
"Many citizens in Jackson County work in other counties and vice versa," Baker said. "We need to erase county lines and think regionally, because the real competition is Georgia and Alabama."
Nimbleness is another of Marianna's assets.
"Rural communities can move quickly," Wilmes said. "The fact that everyone knows each other and pulls together on projects is significant, because time is money to companies."
Stanton all but boasts about the rapidity.
"If a company wanted to locate on the park's certified site, we could come to an agreement, call a meeting within 24 hours, get them approved and the next day they could start construction," he said. "I don't know of another entity in Florida that can move that quick."