Margaritaville Development Proceeds Apace
Active-living community rich in amenities conducts tours leading up to first-release lottery of homesites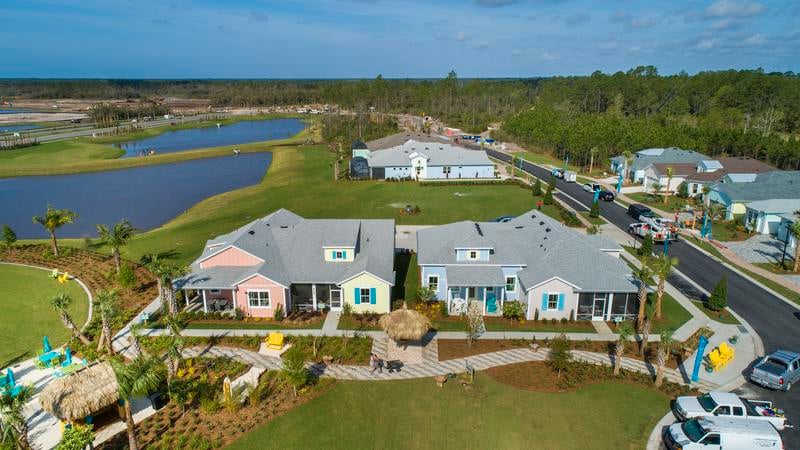 The curious and the serious entered the Sales Center, their arrivals staggered by appointment times, and enjoyed the kind of reception that one might look for at a five-star hotel.
Greeters in logo apparel offered visitors coffee or tea and led them to a large room at the center of which a site map under glass depicted future amenities planned for Latitude Margaritaville at Watersound: pickleball and tennis courts, a community room and fitness center, an amphitheater, bocce ball courts and horseshoe pits, a beach-entry pool — never would Margaritaville employ a term such as "zero entry."
For those unfamiliar with nearby Panama City Beach, Margaritaville staff described activities available there. Then, visitors were free to tour 13 models including "conch cottages," villa homes and single-family dwellings, all dressed in colors from a coastal palette and staged with shells and fishes.
"The feedback from the people who have come through has been that they really appreciate this tours approach," said Bill Bullock, a division president with Minto Communities, the master builder for the Watersound project. "They don't feel pressured and they feel like they are getting VIP treatment — because they are — and they feel safe."
Watersound will become the third Margaritaville community, joining similar developments in Daytona Beach and Hilton Head, South Carolina, and at a mind-bending 170,000 homes at build out, it will be by far the largest.
Previous Margaritaville launches featured splashy kickoff parties that attracted thousands. People camped out in line for days to be in a position to reserve a homesite. It was if a residential development was planned and a Duke basketball game broke out.
"Especially six months ago, when we started planning our grand opening activities, we figured that bringing in people from all over the country for a big party would be a CDC disaster," Bullock said. "We made the responsible decision to engage people with tours instead."
Tour-goers are invited to fill out a reservation card that places them in a lottery-style drawing for the estimated 250 homesites that will comprise the development's first release. Tours will be conducted throughout April. Floor plans range in size from a "Bamboo" cottage home's 1,204 square feet to the "Trinidad" single-family home's 2,568 square feet.
Latitude Margaritaville at Watersound is a joint venture among the Minto Group; Margaritaville Holdings, whose key principle is the songwriter and entertainer Jimmy Buffett; and the St. Joe Company, a developer headquartered in Panama City Beach. It got started when Minto and Margaritaville jointly approached St. Joe looking for a site large enough to accommodate a substantial active-living community.
"When we began talking about the concept of doing a community here, the conversations were actually pretty easy, and we thought it was a perfect fit," said St. Joe president and CEO Jorge Gonzalez. That collegiality has been undiminished through the planning stage to the onset of execution.
"That helps," Gonzalez said. "If you have drama with partners, that's hard."
"We're in a no-drama zone," added Margaritaville Holdings CEO John Cohlan. "No shirt, no shoes, no problem, no drama."
Margaritaville is the brand licensee and steward for the Watersound project. It defines what will be the experience of living there, the vibe, the Latitude attitude. In that regard, Cohlan might serve as the perfect avatar with his shock of white hair, intense tan, white shirt and blue blazer. Socks? Fuhgeddaboudit.
"A lot of the elements of the Margaritaville lifestyle are here in their authentic state," Cohlan said during a Watersound site visit.
"Look at that picture of the surf and the beach," he said, pointing to an image that is part of a digital slide show displayed on a wide screen at the sales center. "That's who we are and that's where we are. At the end of the day, we are all about fun, leisure, meeting new people, and sharing a fundamental attraction to the experience of paradise."
Near the sales center is a banner on a temporary fence. "Pardon Our Dust While We Work to Perfect Paradise," it reads.
"That's really what we are trying to do and we have been doing it for a long time," Cohlan said. "You have worked your whole life, and what have you earned the right to do? You have the right to go to Margaritaville and become part of paradise and this is as perfect a place as we could imagine for people to spend the next phase of their lives."
The Margaritaville brand encompasses hotels, resorts, residential developments, merchandising and restaurants. All, the $1.6-billion company likes to say, are "island inspired."
Margaritaville Watersound, located off State 79 north of Panama City Beach, will be largely self-contained. That is, people will leave the property when they want to — surely to visit the Gulf of Mexico from time to time — not because they have to. Associated retail development is underway and will include a grocery store as an anchor.
Bullock, the builder, said inquiries about Watersound have come primarily from Florida and also from the Midwest, the Northeast and from California where an exodus of people and businesses is taking place.
"You come to Florida where there is no state income tax — and where else can you buy a new home in a world-class community with amenities like we are offering for less than $250,000?" Bullock said. "People from around the U.S. have wanted this location for a long time."
A shared culture
Cohlan spoke to "commonalities" among people who choose the Margaritaville lifestyle.
"The soundtrack of people's vacations in this country for a long time has been the music of Jimmy Buffett," he said. "You don't have to necessarily be a big fan, but the music reminds you that the best times in the lives of many people are their vacations. The thread that connects people is that they like the idea of vacation, and Margaritaville is essentially being on a permanent vacation."
Cohlan said that at Margaritaville developments, residents are surrounded by like and kind and are removed from the general public milieu. It's like a charter school at the other end of life.
"Residents have written testimonials and one of the common comments is how easy it is to meet people at Margaritaville," Cohlan said. "If you like the idea of a palm tree, that's a commonality. If you like the idea of a drink at 5 o'clock, that's a commonality. There is a shared culture."
Both Cohlan and Gonzalez visited The Villages, the granddaddy of large-scale, active- living, age-restricted communities in preparation for getting into the business.
"It was a great uplifting experience to see all these people having so much fun," Cohlan said. "The red SOLO cup is out at 4 o'clock. It felt in a positive way like Cocoon," a move in which residents of a Florida rest home discover a fountain of youth that has been created by the activities of aliens.
"The Villages were designed at the time for people who were born in the 1930s and '40s," Cohlan said. "We have the luxury of building a community for people who were born in the '50s, '60s and '70s. Their frame of reference is different and instead of redoing or expanding or updating, we get to build from the beginning something that is relevant."
Retiree Life has changed, Gonzalez said.
"You can't knock the success of The Villages," he said. "It's a product of a particular time and place. The traditional older model was that everyone retired at the same time, they all got the same gold watch, and everybody disappeared into a witness protection program. Today, a lot of people don't even like the word, retirement. They prefer transition. They are transitioning to another phase of their lives. What they want to see in amenities, programs and the way they behave are quite different."
Gonzalez anticipates that a significant percentage of Margaritaville Watersound residents will be retired military personnel.
"I hear from folks from all over the country and they start the conversation by saying that they were stationed at Tyndall or Eglin and moved away," Gonzalez said. "But they remember Northwest Florida as one of the most military friendly places in the country and they have been looking for a way to get back. Now they have a reason and a way to do that."
When you are developing what will become the single largest residential community in the country, it's complicated, Bullock said. The work makes for a giant Gantt chart.
"But Minto has been doing this for 60-plus years and once you get this machine going, it somewhat self-perpetuates," Bullock said. "Between Daytona and Hilton Head, we sold more than 100 homes last month. Here, the sky is the limit."
Practically speaking, anyway. The Margaritaville Watersound property extends 15 miles west along the Intracoastal Waterway from the sales center. Eventually, development may cross the Bay/Walton county line.
"It's hard to get your arms around it," Bullock said.
"Governance," Gonzalez said, "will be provided by a traditional homeowner's association very similar to what you would find in other planned communities. Over time, the developer will step back as residents get more involved."
What of the folks whose names aren't drawn in the first-release lottery? They will become eligible for lots in the second release, Bullock said.
Said Cohlan: "The losers will ultimately get to win, because there are no losers at Margaritaville."