Making Room for More Good Ol' Days
J.H. Dowling Inc. has thrived in trying times by honoring old traditions and embracing new strategies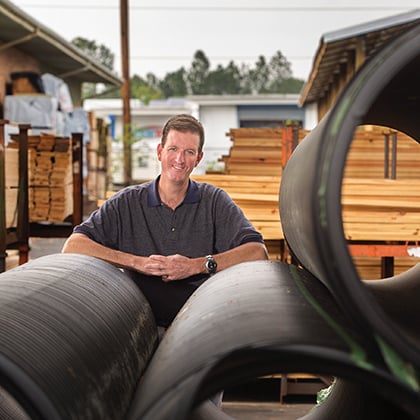 Jim Dowling is nostalgic about the Tallahassee lumberyard where his grandfather started the family business. Pieces of the original metal siding, a single door and old-style single-pane windows from the original structure hang on display in his new facility.
As he ushers in a new era in the history of the 70-year-old J.H. Dowling Inc., the third-generation owner reflects on the hard work — and heart — that he has learned is necessary to thrive in an ever-leaner marketplace.
"Riding in the big ol' delivery truck was my favorite part of the job," Dowling says about his time working in the lumberyard and warehouse at the tender age of 12.
From his vantage point, working his way up in the family construction-supply business, he learned a lot.
From their 800-square-foot contractor/hardware store on Madison Street on the southwest side of Tallahassee, the Dowlings have seen many things come and go.
"Madison Street was a mecca of commercial business, back in the day," Dowling remembers. "Between Woodward, Gaines and Macomb streets, there were at one time seven lumberyards."
But it was an era of gentlemen's business, where neighboring companies shared equipment, products and friendships. All the businesses in the district worked hard — and fairly — to serve their customers' needs.
It is this work ethic that the Dowling men passed along to each other — and a commitment to treating people right.
If You Help Them Build It
Dowling's grandfather, J.H. "Ham" Dowling Sr., retired from the Florida Highway Department as chief highway engineer in 1946 and became a materials broker for the road-building industry.
In 1956, he started J.H. Dowling Inc. Soon enough, Ham Dowling Jr. was working alongside him, and the father-son company expanded into commercial construction to gird up its transportation-contractor supply business.
By the 1990s — and at the youngest Dowling's insistence — the company made the leap into residential hardware supplies. It may just have been what allowed the company to ride out the tumultuous mid-2000s.
"My grandfather, who died in 1984, always came to work in a gray suit, top hat and pocket watch," Jim Dowling recalls. "He came to the office every single day, up until just a month before he died."
Now his own father, Ham Dowling Jr., is the senior executive who, at 84, still makes it into the office to read The Wall Street Journal a few times per week.
From their most recognized location at 75 W. Madison St., the company sustained its workforce and weathered significant economic downturns without a single layoff or pay cut — all while friendly competitors were shutting doors all around them.
Dowling says the secret to the business' survival was diversification. While other businesses stayed in essentially the same silo and became ever more specialized or never changed, J.H. Dowling Inc. expanded to different segments of the construction industry.
With a product offering that encompasses guard rail, silt fencing and other materials for the road- and bridge-building industry statewide, as well as commercial construction supplies, such as contractor-size loads of wood and steel and framing packages for residential houses, J.H. Dowling supplies a wide swath of contractors and thus diversified its customer base.
While others were closing, Jim Dowling says his family's business "outgrew their original location 25 years ago, but nostalgia kept Dad from letting me expand."
In October 2016, J.H. Dowling opened the doors to its new facility just 3 miles from its former home. The sprawling, 6-acre complex includes 4,535 square feet of office space, 8,049 square feet of retail storefront and an enormous "DOT warehouse," plus seven lumber storage "barns" onsite.
"We are the largest locally owned hardware store in Tallahassee," Dowling says proudly. He also likes to point out that his business is the oldest supplier in the area with the newest lumberyard.
But it almost didn't happen.
Up, Up and Away
Dowling gets a little soft-hearted when he talks about the decision to relocate the business. For years, he says, rumors were flying fast and furious about J.H. Dowling closing its doors … and it just wasn't true.
He could have just sold out and walked away to a comfortable life. But as his competitors closed one by one around him, Dowling felt a strong need to keep the loyal staff of more than 20 employees he'd worked with for a lifetime. He couldn't imagine telling them to go.
So instead, he began looking for a bigger parcel to expand the business — but he knew he wanted to keep his customer base and his employees close to home.
Through the long process of evaluating three major properties in the area, Dowling waited for the right opportunity. It came in the form of Shawn McIntyre, partner at North American Properties in Fort Myers.
North American Properties has developed much of the College Town area near FSU, and it offered Dowling a deal he couldn't refuse.
Using a 1031 Tax-Deferred Exchange, North American Properties essentially offered Dowling a land swap and developed the new site for a revitalized J.H. Dowling lumberyard and retail store.
In just 82 days — from demolition to rebuild — Dowling's $3.5 million project was completed, a feat he simply could not have accomplished on his own.
North American Properties offered him a turnkey operation and helped Dowling revamp two old buildings and a vacant lot for the expansion. The 200 offices in one of the buildings alone was overwhelming at first, he says. But in the end, Dowling's staff and the North American Properties professionals upgraded the site with new elevations, HVAC, plumbing, stormwater mitigation and more.
Taking a thriving business from a 1.7-acre site to a redeveloped 6-acre expansion is an undertaking in itself, but the compressed timeline was another stress factor for Dowling.
"Shawn (McIntyre, partner, North American Properties) needed to get to work on the old Dowling site as soon as possible," he explains. "We had only 82 days, because he's got to build a five-story student housing complex and parking garage on my old lot … and he has a deadline of June 2018."
As a nod to the place's history, McIntyre is calling the new 115-unit, 414-bed development, "The Lumberyard."
Into the Fire
Once North American Properties got the new J.H. Dowling site in play, Dowling had to figure out how to site the business and plan his new digs.
The new retail expansion would allow many exciting opportunities for the company, and he turned to Orgill, the world's largest independently owned hardlines distributor, which provides retailers across North America with access to more than 75,000 products and retail services.
For his warehousing layout, Dowling relied on Scotty's Builder Supply alum and longtime employee Rob Stefanick to supervise the move and meticulously plan the merchandise layout.
Efficiency was one of the first returns on investment that Dowling realized.
"We are so much more efficient, fluid and fast," he says. For instance, pulling a framing package for a house used to take half to three-quarters of a day in the smaller warehouse. Now, that task takes just about an hour.
The expansion also allowed Dowling to bring in more retail-friendly product lines, such as electrical and plumbing supplies and fasteners. He has also added a lawn and garden section to the store.
"We want to be the go-to place for everything hardware, from commercial to residential needs," he explains.
Looking Forward
Dowling has learned a lot through this process, but mainly he has learned that it pays to trust your gut — and listen to your heart.
"Let God do His work," he says. Bad times are necessary to help you appreciate the good ones.
He also believes that being selfless is a major ingredient in his success. Doing what's best for others — employees and customers — means very little turnover and very loyal shoppers.
With the prime location near one of the fastest-growing parts of Tallahassee and Leon County, and being situated near the National High Magnetic Field Laboratory, Florida State University, Tallahassee Community College and Florida A&M University, J.H. Dowling is at the nexus of several growing institutions.
Dowling prides himself in offering the best products at a fair price. He also strives to keep his family of employees happy and productive. Add to that the constant battle of fighting negativity and overcoming adversity — and diversifying your business, customers and products — and you have the Dowling recipe for success.
As for the return on investment of his $3.5 million, Dowling is sure that what you sow is what you reap. It will take time, he knows.
"But what wins my heart is more important than money, and that's keeping those 22 jobs and not letting my employees down," he says. "My motto is 'Go Big or Go Home,' but also to stay true to my roots and my family's legacy. We haven't been in this business for 71 years by treating people badly."
See the new J.H. Dowling Inc. at 3019 Jackson Bluff Road, Tallahassee.