Made in Tallahassee
Showcasing local manufacturers operating globally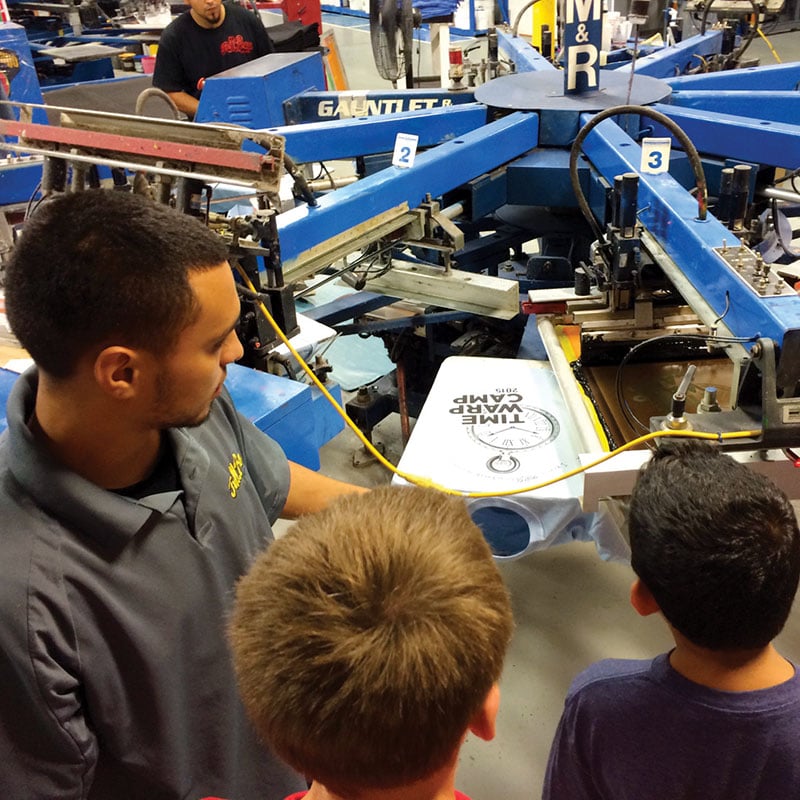 In 2015, the Economic Development Council of Tallahassee/Leon County Inc. (EDC) launched a campaign aimed at showcasing high-tech manufacturing centers located in and around Leon County. The "Made in Tallahassee: Produced Regionally, Sold Globally" initiative features Tallahassee businesses that produce goods for sale in the Southeast and beyond.
"Our MSA (Metropolitan Statistical Area) is home to a rich and diverse network of visionaries, suppliers and component manufacturers and a tremendously productive workforce," says Ben Pingree, the EDC's executive vice president. "We are highlighting these visionary businesses to statewide, national and global audiences, as well as bringing awareness among our local community and drawing attention to those high-tech and high-wage industry sectors that are key to our community's future success."
A different local business is showcased each month, ranging from clothing producers to high-tech systems and software manufacturing. Businesses eligible to participate in the program must meet the following criteria:
Be located, founded or headquartered within the Tallahassee MSA (which includes Leon, Gadsden, Jefferson and Wakulla counties), or have a local economic footprint;

Have operated in the region for at least three years;

Produce products or services with a regional, national or international impact.
The "Made in Tallahassee" initiative is meant to show that Tallahassee is home to not only the state capital and one of the state's largest public research universities but also to a booming industry of manufacturers and suppliers. From electronics and computer systems to clothing and fashion, Tallahassee businesses span the industrial gamut.
Here are some of the high-tech manufacturing centers located in the region.
Full Press Apparel
"If it has mass, we can brand it" is the mantra of one of the more creative manufacturers spotlighted by the "Made in Tallahassee" initiative. Full Press Apparel, Tallahassee's premier "visual brander" since 1997, manufactures screen-printed T-shirts, embroidery and promotional items for individuals, Florida State University, Greek organizations, student groups, businesses and more.
Until recently, Full Press — owned by Tracey and Dan Shrine — had been selling, designing and manufacturing branded items at its Gaines Street location. Now, there are two offices. The original Gaines Street location serves as the sales headquarters, and the new Garber Drive facility on the city's northwest side is the corporate headquarters as well as the manufacturing and production center.
"We have the best of both worlds," says Tracey Shrine. "Our (Garber Drive) production facility allows large truck deliveries and pick ups for nationwide shipping. There really aren't any limitations any more. We're able to keep a campus presence down in the college hub and work with local businesses from our Gaines Street location, and we also have an expanded production facility. We've grown leaps and bounds since then."
Between the two locations, Full Press now has more than 40 full-time employees working in design, sales, production and marketing. It's also dedicated to its community.
"One of the big things we do as a business is philanthropy," says Tracey Shrine. "We give 10 percent of our net sales back to nonprofit associations. An event we do every year is Dance Marathon at FSU. For every sorority and fraternity that gets their shirts printed with us, Full Press gives a percentage to the Children's Miracle Network. We have children ourselves, so it's important for us to celebrate children's networks."
While Full Press is focused on the local community, that doesn't mean the Shrines don't do business all over the United States. Their company designs and manufactures branded products for sale to colleges, businesses, state agencies and nonprofits across the nation. Full Press is a licensed Greek vendor, meaning it is authorized to print for more than 47 different Greek organizations, allowing it to do business with fraternities and sororities at universities across the country.
Full Press Apparel was selected as a "Florida Company to Watch" by GrowFL, an organization focused on growing and promoting second-stage businesses (those that have grown past the start-up stage).
MCCi
The first company to be featured by the "Made in Tallahassee" initiative, MCCi is the top reseller of Laserfiche software in the world and has been operating in Tallahassee for over a decade.
Laserfiche software is a set of programs designed to provide "enterprise content management." It's meant to improve efficiency, reduce waste, improve organization and create automated business practices, freeing up employees from performing tasks on paper that the software is able to do automatically.
A Tallahassee native, MCCi's founder and CEO, Danny Barstow, started the business as an arm of the Municipal Code Corporation in 2003. Since then, MCCi has branched off and developed its own business culture with an emphasis on sales and growth under the leadership of Barstow.
Initially, MCCi had only four employees. Now there are around 50. From its new 11,000-square-foot corporate headquarters, MCCi provides business solutions software to more than 700 clients, including state agencies, higher education institutions, K-12 schools, professional licensing boards and private businesses. Solution-based software is provided to any business or organization looking to improve efficiency and decrease waste by changing from paper-based to computer-based systems.
The Laserfiche software provides "a way to move into a paperless environment so that they can archive their records electronically, access them electronically and be mobile-ready," says Barstow. MCCi provides the software, the training and the technical installation that allows organizations to go digital.
The benefits of doing business in Tallahassee? "The way of life," says Barstow.
"Economically we would be better to be located in a major hub, but we choose to be here just because we like it here. Most of our staff travels all over the country, but when we come home, we're reminded that we really like it here."
MCCi was also selected to be a part of GrowFL's "Florida Companies to Watch" campaign in 2014, highlighting the business' efforts at growth and expansion in the high-tech industry.
"The leaders here are also more pro-growth than they have been in the past," says Barstow. "Programs like the 'Made in Tallahassee' campaign and GrowFL's 'Florida Companies to Watch' show that, as a city, Tallahassee is making a concentrated effort to grow its manufacturing presence and to bring more business to the local area."
Danfoss Turbocor
Based out of Innovation Park in Tallahassee, Danfoss Turbocor is the industry leader in designing, manufacturing, marketing and supporting the world's most efficient commercial refrigerant compressors. By partnering with Florida State University, Turbocor is able to utilize some of the most advanced research tools and resources to design its products.
With the help of local talent, the company produces "oil-free magnetic bearing compressor technology" used in the production of commercial refrigerant compressors that utilize some high-level engineering. These "superconducting" magnetic ball bearings allow for some of the world's most efficient air conditioning units, which are used in schools, hospitals, businesses and other large buildings that use a lot of electricity to keep cool.
Danfoss is a Danish company with subsidiaries all over the world, including Turbocor in Tallahassee.
"Danfoss company history dates back to 1933 in Nordborg, Denmark. Today, it is a privately owned company and world leader in energy-efficient and innovative solutions, employing 24,000 people in over 100 countries," says Director of Sales Jose Alvarez.
According to Alvarez, Turbocor was started in 1993 in Australia by an international team of designers and engineers. Turbocor then moved from Australia to Montreal for a period of time before settling in Tallahassee in 2007.
While based in Tallahassee, Danfoss Turbocor serves markets all over the world. According to Alvarez, "Our main markets are the USA, Europe and Australia, followed by China and India as emerging markets." One of the company's biggest clients, he adds, is Daikin, "the No. 1 refrigeration and air conditioning company" in the world.
With such an international market, why did Danfoss Turbocor decide to locate itself in Tallahassee? Principally, it was because of the partnership that Turbocor was able to establish with Florida State University.
"The proximity and collaboration that Danfoss Turbocor has had with the Aero-Propulsion Lab, MagLab and Material Lab has become instrumental in establishing Tallahassee as the global competence and design center for oil-free magnetic bearing technology," says Ricardo Schneider, president and CEO of Danfoss Turbocor.
Alvarez says the Innovation Park facility and a partnership with the National High Magnetic Field Laboratory (MagLab) and other research facilities at FSU have been instrumental in the success of Turbocor's advanced coolant products.
"Tallahassee does have a unique opportunity to become a specialized technology market that no other city can claim," says Alvarez. "This specialized market could easily be focused around magnetics, engineering and the manufacturing of energy-efficient technologies."
Alvarez says Danfoss Turbocor has high hopes for manufacturing in Leon County, stating that enticing magnetic technology manufacturers to the area could make Tallahassee the "Magnetic Capital," with the MagLab, Florida State University and Danfoss Turbocor as anchors.
Teligent EMS
Also located within the Tallahassee MSA (in Gadsden County) is Teligent EMS, a manufacturing plant that produces high-tech electronics for other companies, including Syn-Tech Systems and Danfoss Turbocor. The company provides manufacturing services — everything from designing and testing prototypes to delivering final products, including circuit boards and other electronic components — for the medical, aerospace, networking and communications industries using robotics-assisted manufacturing techniques.
Teligent EMS was founded in 2002, and was home to around 80 employees. Now, the company employs more than twice that number working around-the-clock shifts at Teligent's production facility.
According to Teligent EMS Human Resources Manager Chelsea Douglass, Teligent serves a wide range of industries located far and wide.
"Our markets include industrial, instrumentation, medical, defense, avionics, communications, transportation and computer/networking," she says. "Nationally, we service companies such as Northrop Grumman, BAE and L3 Communications, to name a few."
Teligent's main production facility is located in Havana, about 20 minutes north of the state capital.
"Great schools and warm, considerate people make living in this region of the state a pleasure," says Douglass. "In addition, the universities create a dynamic that encourages achievement and fosters entrepreneurship. And Tallahassee Community College has fully embraced local industry, specifically manufacturing, by providing much-needed industry-specific training that is helping us fill the shortage of skilled labor in the area."
Teligent EMS has also worked extensively with the Tallahassee EDC and the Chamber of Commerce to promote business efforts in the county.
"I believe you can see the beginnings of a business renaissance in the area," says Douglass. "It has been very exciting to see our community in support of entrepreneurship and the growth of business while providing tangible support to the manufacturing sector in particular."